12 ways to Actually Look Younger naturally
1. Use retinoid creams
Retinoids are vitamin A derivatives that help your body produce more collagen or skin protein to make you look younger by getting rid of wrinkles & age spots and…
2. Use EGFs
EGFs or epidermal growth factors are peptides that thicken your skin and they may help produce collagen faster than retinoids and Perfective Ceuticals Divine Age Guardian Serum
contain EGFs
3. Eat more Antioxidants
Antioxidants will get rid of the free radicals in your skin that cause wrinkles and you can easily get more antioxidants in your diet by eating more fruits & vegetables, beans and nuts but to be certain that you're getting enough antioxidants to look younger naturally…
4. Sleep 6-to-8 hours every night
When you don't get enough sleep you are more likely to become fatigued and stressed out and when you get fatigued and stressed out…
Your body will release a hormone called cortisol that damages your skin and Not getting enough sleep leads to red & puffy eyes and you can easily look many years younger by getting into the habit of getting 6-to-8 hours of sleep each night or at the very least…
Take a vacation where you can relax more, sleep more and reduce stress to look many years younger.
"When I drink too much alcohol, go on a few hours of sleep, don't eat well, and don't sweat, I look five to ten years older" - Brooke Shields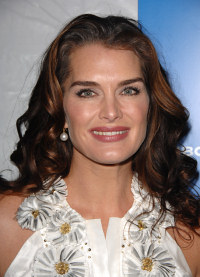 Brooke Shields
5. Exfoliate 1-to-3 times a week
When you exfoliate your skin you are basically removing all the old ugly dead skin cells (along with all the nasty oil, dirt & germs) to instantly reveal your younger looking face plus…
6. Get monthly chemical peels or microdermabrasion
A Chemical peel or microdermabrasion is an advanced form of exfoliation done by your dermatologist where the upper layer of skin is removed to stimulate more collagen production and also like regular exfoliation…
You'll look younger instantly after a Chemical peel or microdermabrasion but if you can't afford the monthly doctor visit then use an over-the-counter chemical peel like DermaNew
7. Get more moisture
You need to get more water or moisture into your skin to make your skin look more smooth and radiant and…
You simply need to use a moisturizer daily like Dove Deep Moisture Facial Lotion
to keep water in your skin and to also prevent water from getting out of your skin and Moisturizing daily will immediately make you look much younger.
8. Get whiter teeth
People with yellow, stained or grayish teeth tend to look older so see how to make your teeth whiter to look younger.
9. Fix your posture
Standing up straight will quickly make you look younger by making you look thinner so see 4 exercises to improve your posture
10. Exercise
Exercise helps you look younger by circulating more nutrients & oxygen to your skin to make you look more radiant.
11. Lose weight
According to Dr. Donna Casey…
Simply losing 10 pounds can make you look 10 years younger but you need to lose weight the right way and go on the best diet plan for you because…
Going on a fad diet or constant yo-yo dieting will actually cause your skin to sag making you look older.
12. Maintain Muscle
When you lose muscle mass due to inactivity and/or poor diet your body fat % will increase making your skin sag causing you to look older so it's best that you stay active, do body sculpting exercises and/or lift weights to build muscle
Make sure you also see…
You may also want to see…