One of the beautiful things about clothes is they have a way of enhancing your swag. So here's a quick list of 10 ways to dress to look at least 10 pounds slimmer in no time flat.
10 Ways to Look Slimmer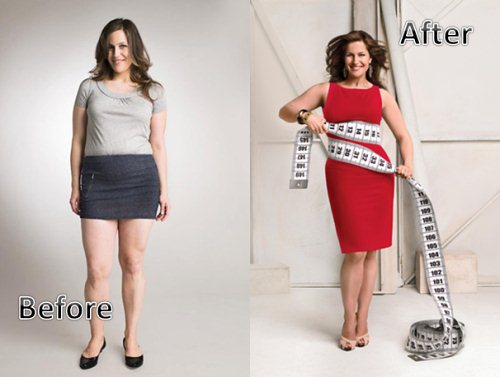 1. Choose the right undies
This comes first because it is most important. Buying the right underwear is quite possibly the most underrated quick-fix in the fashion world.
Underwear is one of those things we're often too lax about but a pro knows the truth, the right underwear can do away with issues like your pooch (also known as front butt), muffin top and a host of other unflattering physical quirks that can put your sexy on hiatus → Lose belly fat in 5 steps
A quick note: Flabby arms can ruin an otherwise sleek look. There is shapewear made specifically to tame arm flab. But another good idea if you are a little iffy on your arms is to go with a ¾-length sleeve → Top 5 exercises for flabby arms
2. Stand up straight
Surprised? Good posture will work miracles on your physique.
Women tend to have the best posture when wearing heels. If good posture is not your thing, what you'll want to do is square your shoulders, lift your chest, pull in your tummy and lift your chin slightly. Why? Well, good posture makes you look and feel taller (natural confidence booster)
By squaring your shoulders and lifting your chest, you automatically create a wider top and smaller waist. Then you pull in your tummy to provide adequate support for your spine. Mom was right about that one.
3. Wear high heels
As unnatural as it may sound to walk around all day in a pair of tiny little stilts, high heels are a fashion yes if you're trying to look slimmer.
First of all, heels promote good posture and we already talked about how important good posture is to a slimmer visual appearance. Next, they elongate your frame, which also helps you to look slimmer.
Note: if you're suffering from an affliction like cankles (a lack of distinction between where your calf and your ankle), wear a barely-there, low-cut pointed stiletto. It visually lengthens the leg, creating a slimmer appearance → How to get rid of cankles
4. Choose a knee-length skirt
It may be tempting to try to turn up your sex appeal with a mini skirt, but if you're carrying extra weight, you don't want to stop the fabric at the chunkiest (sorry to hurt your feelings) part of the leg.
Go for knee-length skirts. Skirts have a great way of silhouetting your shape without spilling the beans on the exact size of your thighs. Think Betty Boop. Besides, showing a little knee is sexy.
5. Wear thick tights
Thick tights act like shapewear for your thighs. They smooth out lumps and bumps as well as slim the appearance your thighs. Thick tights can come in handy if you choose to break rule #4
As well, they help to harness the majesty of your thighs to keep your thighs from rubbing together when you walk → How to get thinner thighs
6. Go with high-waist everything
Low-rise is the muffin top's worst enemy. If you have belly fat that makes you feel a little insecure, you must avoid the low-rise trend like your self-worth depends on it.
High-rise pants and even underwear hit right at the smallest part of your midsection, naturally cinching an area that's already smaller than the rest of your belly. That's a good thing.
If your high-rise pants are a different shade (perhaps a darker shade) than your top, the color difference will trick the eye into thinking it's seen a tiny waist and a big, pretty bell-shaped bottom.
Don't forget to wear the right underwear to avoid accentuating your pooch (aka Mr. Potatohead nuts). Look for hi-cut shapewear with a paneled front.
7. Wear belts
Belts can perform the same function as high-waist pants. If you have unwanted belly fat, you give yourself a slimmer appearance by wearing your belt higher.
That doesn't mean pulling your pants way up like Forrest Gump. Instead, add a belt as a fashion accessory to your top to create your very own empire waist.
8. Sport a nice jacket
Jackets that hit right below your natural waistline are a good idea, especially if the jacked has a cinched waist. A waist-length jacket will slim your midsection and accentuate your bottom.
9. Avoid baggy clothes
If you're carrying extra weight and feeling a little uncomfortable about it, you'll probably want to cover up. DON'T. A big body is just fine.
A big body in giant clothes is not so fine. Big clothes make you look bigger than you are and usually make you look messy as well. Nobody looks good in frumpy clothes. Go for a more tailored look.
10. Create straight lines
The thing you always want to do with your clothes if you're trying to look slimmer is trick someone else's eye into seeing vertical lines. That's the reason you were advised to stand up straight, wear stilettos and avoid frumpy clothes.
Think about the pinstripe suit. Pinstripes are so popular because they are both elegant and flattering for men and women. Tunics are another great choice because V-neck tops naturally cause you to see someone top to bottom.
More Ways to Look Slimmer
Losing Weight to Get Slimmer
More Womanly Tips