3 Ways To check your Body Fat percentage…
1. Use the visual body fat charts below…
Women click here for your chart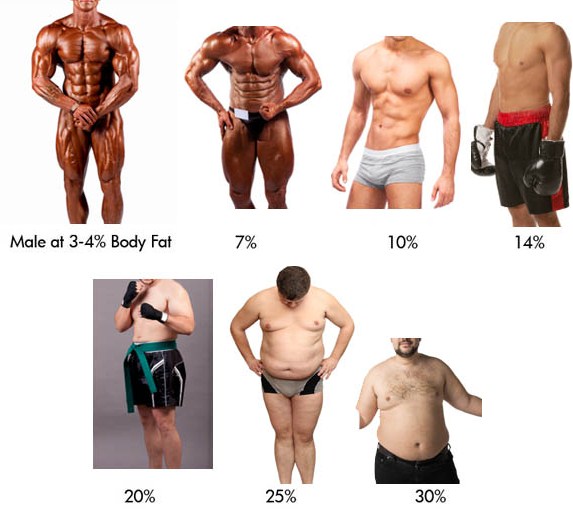 Women: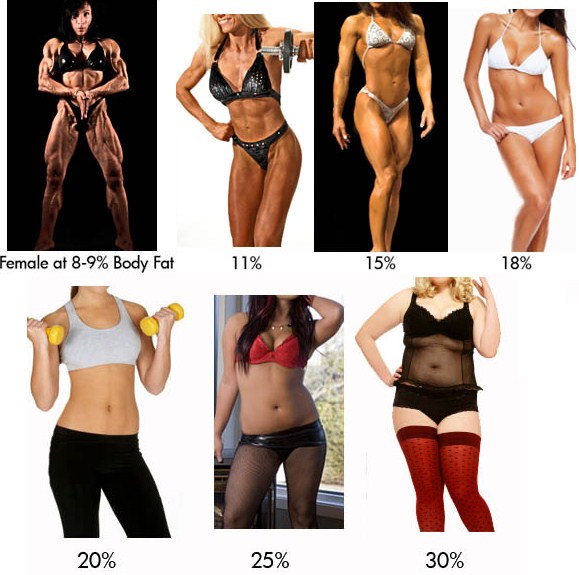 The pictures above are from LeighPeele.com and she goes into more detail here about visual bodyfat percentages but look at these other 2 pictures from LeighPeele.com…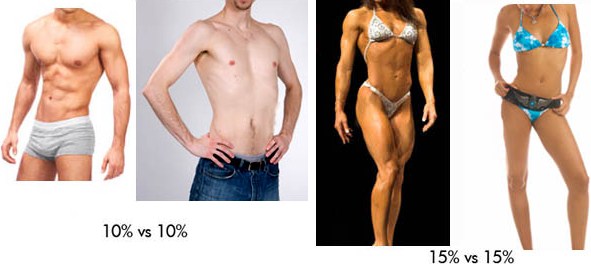 As you can see from the pictures above body fat % means how much fat you have and not how much muscle you have so for example…
You can be 10% body fat and look ripped or you could be 10% body fat and be very skinny with very little muscle mass & very little ab definition.
2. Use the cartoon chart…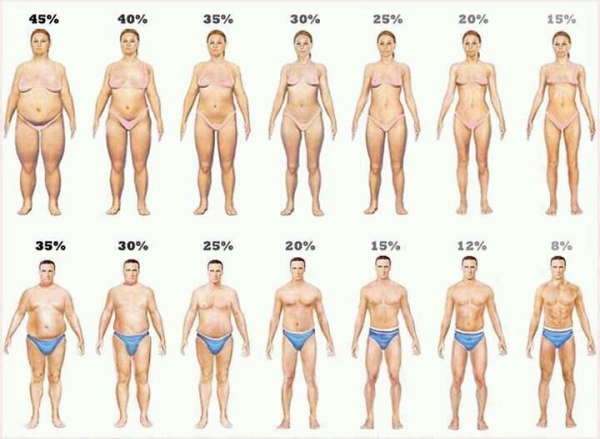 3. Use the body fat calculator below…
Select "Man" or "Woman"
Enter your height in inches (measure without shoes)
Enter your waist size in inches (measure at the navel/smallest point)
Women only, enter your hips size in inches (measure at your hips' largest point)
Enter your neck size in inches (measure at your neck's largest point)
Man Woman
Height (inches)
Waist (inches)
Hips (inches)
Neck (inches)
Your Estimated Body Fat % is &…
Thanks to Fat Burning Furnace for letting us use this fat burning tool!
For Men A Body Fat Percentage of…
2-to-4% IS Way TOO Low and…
6-to-13% Is a Good range and is what most athletes have plus at this level you should be able to see your six pack abs and…
14-to-17% is also good and it generally means you are in good physical shape and…
18-to-25% is acceptable but needs improvement and…
25% & over is considered TOO FAT or Obese and…
For Women A Body Fat Percentage of…
10-to-12% IS Way TOO Low and…
14-to-20% Is a Good range and is what most athletes have plus at this level you should be able to get a flat stomach and…
21-to-24% is also good and it generally means you are in good physical shape and…
25-to-31% is acceptable but needs improvement and…
32% & Over is considered TOO FAT or Obese
Make sure you also see…
New Workouts