12 Ways to Speed Up Your Metabolism
1. Go for the After Burn
The more intense you workout = The more calories you'll continue to burn "after" your workout is over keeping your fat-burning metabolism higher all throughout the day.
HIIT or High Intensity Interval Workouts causes the greatest after burn effect where You'll continue to burn calories or lose weight for another 12-to-48 hours after you've finished working out.
Please Note: all weight loss activities have some sort of after burn effect but only the after burn effect of high intensity activities keeps your fat-burning metabolism higher for a much longer period of time.
2. Exercise less but more frequently
Scientists are now saying you can actually lose more weight & keep your metabolism fired up longer by doing 4 smaller 10-minute workouts instead of ONE big 30-to-40-minute workout.
Check this out: In a recent University of Pittsburgh study… Women who did 4 separate 10 minute workouts during the day lost 30% more weight than women who did one big 40 minute workout everyday so what this really means for you is this…
If you have time - you can boost your metabolism by doing 4 smaller 10 minute workouts at a moderate-to-high intensity (see how to lose weight at home) or if don't have time for 4 separate 10 minute workouts…
You can still keep your metabolism higher all day long by going for the after burn (see #1) with ONE longer interval workout.
3. Drink at least 1 liter of ice cold water daily
Not only does water help prevent you from getting bloated by flushing out excess water weight but as far as increasing your metabolism goes…

The fat burning process of metabolism needs water to work effectively and your body has to raise your metabolism to burn extra calories to warm up the Ice cold water you drink.
Check this out: A Clinical Research Center in Berlin found that after you drink 17 ounces of water - Your fat-burning metabolism increases by 30% within 10 minutes of drinking water.
Eating more fiber & protein increases your metabolism because your body burns the most calories digesting foods high in fiber & protein and…
You can easily get more fiber in your diet by eating more complex carbs and you just need to make protein at least 30% of your diet to get the metabolism boosting effects.
See 4 ways protein helps you lose weight faster
5. Skip breakfast & Do Intermittent Fasting
Intermittent fasting increases your metabolism because it causes your body to release more adrenaline (or norepinephrine) and when you get that energy boost from adrenaline… Your body is forced to bun more fat in order for you to get all that extra energy. Watch Intermittent Fasting 101
6. Naturally Boost your HGH
HGH (or Human Growth Hormone) naturally increases your metabolism beacuse its a hormone that helps you burn more fat while helping you build & maintain the sexy muscles you have which also increases your metabolism. Top 9 ways to naturally increase your HGH
7. Drink Green tea
According to a study in the American Journal of Clinical Nutrition, Green tea helps you burn 35-to-43% more calories a day and…

Another study showed that men who drank green tea for 3 months lost almost twice as much weight than those who didn't drink green tea.
8. Got MILK?
You can boost your fat burning metabolism by 70% according to this study when you include at least 3 servings of dairy or 1000mg of calcium in your daily diet.
More calcium in your diet helps shut off the hormones that create fat causing you to burn more fat especially when you're on a weight loss diet
During a Purdue university study…
Women who ate 3-to-4 servings of low-fat dairy everyday burned more fat & more calories after meals and…
This study said you may be able to lose an extra 10 pounds of fat just by eating 3-to-4 servings of low-fat dairy like yogurt, cheese, and skim milk.
9. Add Spices to boost your metabolism by 20%
Different studies have said that spices can increase your metabolism by 8-to-20% for at least 30 minutes after eating them - for example…
An Oxford University study proved that hot peppers can increase your fat-burning metabolism by adding just 3 grams of chili peppers to meals and In a British Study… Spicy mustard made people burn an extra 45-to-75 calories over 3 hours and…
All you need to do to get a metabolism boost from spices is to add a little bit of cayenne pepper or spicy mustard to your favorite recipes.
10. Improve your thyroid function
Your thyroid basically regulates your metabolism and you may be able to increase your metabolism simply by eating more seafood, nuts & seeds because All of these foods are high in Selenium, Vitamin E, Iodine
, Zinc & Copper
and…
All of those nutrients are essential for better thyroid function to help boost your metabolism and not having enough of those nutrients will cause your metabolism to slow down and/or you may develop hypothyroidism and as a matter of fact…
People who have hypothyroidism or slow metabolisms add more Selenium, Vitamin E, Zinc, Iodine & Copper to their diets to naturally treat hypothyroidism to help speed up their metabolism.
11. Caffeine
12. Gain Muscle
FALSE: 1 pound of muscle burns 50 calories per day. If this were true then no body would be fat.
FACT: 1 pound of muscle burns about 6-to-12 calories per day which isn't a lot but…
Gaining 5 pounds of muscle adds up to you losing or keeping off an extra 5 pounds a year but the main reason why muscle increases your metabolism is because…
When you have more muscle your body has to do more work (or burn more calories) to help all your muscles recover from training.
Make sure you also see…
NowLoss.com Created by Adrian Bryant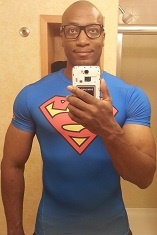 Adrian is one of the world's most sought after Body Transformation Specialist. Many People (like these here) have used NowLoss.com to Look Better Naked for free.
Even Models seek out Adrian's advice and Doctors use Adrian's unique techniques to help their patients lose weight fast and his new YouTube Channel already has over 35 Million views!
Contact Adrian Follow Adrian on FaceBook, Instagram & Twitter