16 Ways to Boost Your Metabolism to Lose Weight Faster
1. Laugh
Click Play to Boost Metabolism
This test confirms that laughing for 10 minutes can boost your metabolism by 20% so imagine how much fat you'll burn watching The Hangover, Bridesmaids or Office Space
2. 66℉
Your metabolism increases (or burns up to 500 extra calories every 6 hours) once you get in an environment that's under 66℉ (19℃) because it activates the brown fat in your body.
Brown fat burns off the ugly white fat you have for energy to generate enough heat to keep you warm or to keep your body at its normal temperature of 98.6℉ (37℃)
During this experiment people Increased their fat burning metabolism by burning an extra 250 calories every 3 hours (or 500 calories every 6 hours) in a room less than 66℉ (19℃)
And according to this study your metabolism is actually 11.5% higher in the colder winter seasons.
How To Burn 500 Calories Everyday Without Exercising
3. Eat More Protein
Protein increases your metabolism so much you'll lose at least 11 pounds in 12 weeks like the people in this test by

making protein 30% of your diet.

Protein increases your metabolism mainly because it's hard for your body to digest meaning you'll burn an extra 260 calories per day or lose 26 pounds a year when protein is 30% of your diet.
Bonus: Protein also curbs your appetite making you lose weight faster.
4. Skip Breakfast &…
Do Intermittent Fasting to boost your metabolism because it forces your body into releasing more fat burning hormones like adrenaline & HGH
Watch the Intermittent Fasting 101 video below for more weight loss tips…
5. Got MILK?
You can boost your fat burning metabolism by 70% according to this study when you include at least 3 servings of dairy or 1000mg of calcium in your daily diet.
More calcium in your diet helps shut off the hormones that create fat causing you to burn more fat especially when you're on a weight loss diet
During a Purdue university study…
Women who ate 3-to-4 servings of low-fat dairy everyday burned more fat & more calories after meals and…
The Purdue study said you may be able to lose an extra 10 pounds of fat just by eating 3-to-4 servings of low-fat dairy like yogurt, cheese, and skim milk.
6. Ice Baths
Watch Conan boost his metabolism in a cold bath…
Boost your metabolsim by 93% in a slightly cold 68℉ (20℃) bath or Boost your metaoblsim by 530% in a 57℉ (14℃) bath. (see the actual study)
Go here to see how to properly take an ice bath along with some safety guidelines.
7. Get the After Burn
The more intense you workout = The more calories you'll continue to burn "after" your workout is over keeping your fat-burning metabolism higher all throughout the day.
HIIT or High Intensity Interval Workouts causes the greatest after burn effect where You'll continue to burn calories or lose weight for another 12-to-48 hours after you've finished working out.
HIIT Workouts…
More HIIT Facts
1 HIIT workout burns at least 225 extra calories or boost your metabolism by at least 10% after you workout (proof)
This study & this study show how HIIT increases fat burning hormones like adrenaline while this study shows HIIT can boost the fat burning hormone HGH by 10x!
This study verifies you'll seriously burn more fat while you sleep after doing HIIT.
10 HIIT Workout Rules to Burn 48% More Belly Fat
8. Exercise Less but more frequently
Scientists are now saying you can actually lose more weight & keep your metabolism fired up longer by doing 4 smaller 10-minute workouts instead of ONE big 30-to-40-minute workout.
Check this out: The women this University of Pittsburgh study who did 4 separate 10 minute workouts during the day lost 30% more weight than women who did one big 40 minute workout everyday.
If you have time - you can speed up your metabolism doing 4 smaller 10 minute workouts at a moderate-to-high intensity (as you'd do in this home weight loss workout plan) or if don't have time for 4 separate 10 minute workouts…
You can still keep your metabolism higher all day long by going for the after burn (see #6) with ONE longer interval workout.
9. Drink at least 1 liter of ice cold water daily
Not only does water help prevent you from getting bloated by flushing out excess water weight but as far as increasing your metabolism goes…

The fat burning process of metabolism needs water to work effectively and your body has to raise your metabolism to burn extra calories to warm up the Ice cold water you drink.
Check this out: A Clinical Research Center in Berlin found that after you drink 17 ounces of water - Your fat-burning metabolism increases by 30% within 10 minutes of drinking water.
10. Boost HGH
HGH (or Human Growth Hormone) naturally increases your metabolism beacuse its a hormone that helps you burn more fat while helping you build & maintain the sexy muscles you have which also increases your metabolism.
11. Improve Thyroid Function
Your thyroid basically regulates your metabolism and you may be able to increase your metabolism simply by eating more seafood, nuts & seeds because All of these foods are high in Selenium, Vitamin E, Iodine
, Zinc & Copper
All of those nutrients are essential for better thyroid function to help boost your metabolism and not having enough of those nutrients will cause your metabolism to slow down and/or you may develop hypothyroidism and as a matter of fact…
People who have hypothyroidism or slow metabolisms add more Selenium, Vitamin E, Zinc, Iodine & Copper to their diets to naturally treat hypothyroidism to help speed up their metabolism.
12. Green Tea
Green Tea increases your fat-burning metabolism by 4% by increasesing the amount of hormones that increase fat burning like adrenaline and adiponectin.
In this experiment people lost twice as much weight by burning 183 extra calories per day taking a green tea supplement
Green tea also increases your metabolism by activating brown fat (see #2)
This lady Lost 106 pounds drinking green tea.
13. Spice it up
Different studies have said that spices can increase your metabolism by 8-to-20% for at least 30 minutes after eating them - for example…
An Oxford University study proved that hot peppers can increase your fat-burning metabolism by adding just 3 grams of chili peppers to meals.
A British Study showed that spicy mustard made people burn an extra 45-to-75 calories over 3 hours.
All you need to do to get a metabolism boost from spices is to add a little bit of cayenne pepper or spicy mustard to your favorite recipes.
14. Caffiene
Caffiene increases your fat-burning metabolism by 11% or more depending on how much you take. Caffeine is found in most fat burners like Hydroxycut & Lipo-6 and Green Tea itself has caffiene in it.
15. Gain Weight for a Faster Metabolism
The more you weigh = the faster your metabolism is because your body has to burn more calories/use more energy to take care of a bigger body but instead of gaining ugly fat for a faster metabolism…
Gain muscle that makes you look slimmer to speed up your metabolism to burn off fat.
To gain muscle mass…
Tip: Wear a weight vest while working out to lose weight faster because your body is forced to burn more calories or use more energy to move a heavier body.
16. Kissing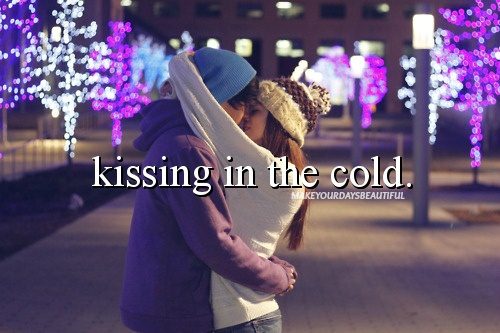 Kissing gives you an adrenaline boost that doubles your resting metabolic rate. Try kissing in the cold (see #2) like the couple above to really ramp up your metabolism.
More Tips
How to Lose Weight Fast with Adrian's DVDs Because…