Green Tea Helps You Burn Fat Faster Because…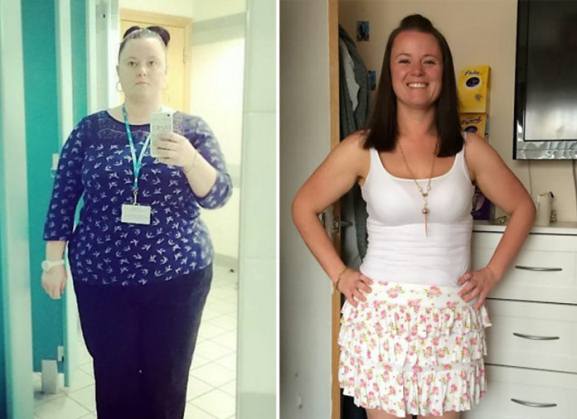 The lady above ⇑ lost 106 Pounds drinking 9 cups of green tea everyday which is the same as taking a green tea supplement [Read her story]
Green Tea increases your fat-burning metabolism by 4%. [proof]

People lost twice as much weight by burning 183 extra calories per day taking a green tea supplement. [see the experiment]
You'll burn 17-to-24% more fat working out when taking green tea at least 30 minutes before exercise. [proof & more proof]
Green tea suppress appetite by increasing appetite suppressing hormones like CCK & by regulating blood sugar which reduces your cravings. [proof & more proof]
Green tea increases the amount of hormones that break down fat or increase fat burning like adrenaline and adiponectin. [proof & more proof]
Green tea gives you more energy making you workout longer & harder meaning you'll burn more fat when working out. [proof]

Dr. Nicholas Perricone told Oprah Winfrey she could lose 10 lbs. in 6 weeks drinking green tea instead of coffee.

Coffee has organic acids that raise your blood sugar, raise insulin. Insulin puts a lock on body fat. When you switch over to green tea, you get your caffeine, you're all set, but you will drop your insulin levels and body fat will fall very rapidly. So 10 pounds in six weeks, I will guarantee it.Dr. Nicholas Perricone

Green tea activates brown fat that burns off your ugly white fat for energy. How to activate brown fat for faster fat loss
Supermodel Sophie Dahl used green tea to help her go from a size 16 to a size 12.
You'll lose 4 times more belly fat using green tea according to this study
Green Tea is a diuretic that removes excess water weight from your body that makes you look bloated.
A 10 year study by the National Cheng Kung University Hospital of Taiwan showed that green tea drinkers had 5% less bodyfat than non-green tea drinkers.
Other Benefits of Green Tea: Green Tea Helps Prevent Parkinson's and Alzheimer's, it fights some cancers like ovarian, bladder and esophageal cancers and Green Tea helps prevent heart attacks.
To Lose Weight With Green Tea…
You'll need to drink 5-to-10 cups a day to get the weight loss benefits or you can simply take a green tea supplement
Avoid any green tea drinks that are loaded with sugar or artificial sweeteners that'll actually lead to weight gain negating any weight loss benefits.
More Weight Loss Drinks
More Weight Loss Foods
More Tips
Trending