The Top 2 Weight Loss Supplements That Actually Work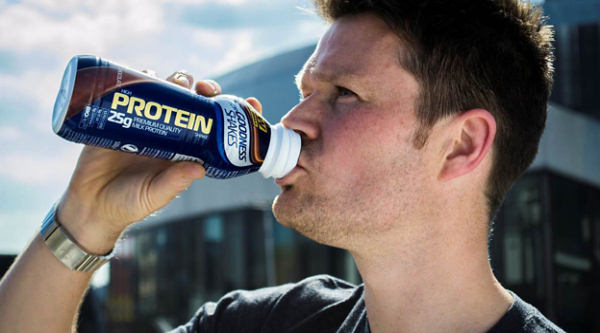 1. Protein
Protein whether it comes from food, shakes or supplements helps you lose weight faster because when protein is at least 30% of your diet,
When buying protein supplements,
2. Fat burners
Fat burners help you lose weight faster in 4 ways,
They increase your metabolism by activating fat burning hormones like adrenaline & noradrenaline.
They suppress your appetite making you eat less.
They give you more energy to help you workout longer, faster & harder so you'll burn more calories
They make it so that more fat is burned instead of carbs/sugar when you're working out
The Lipo-6 Fat Burner helped them lose weight faster↓
When buying fat burners,
When using fat burners,
7 More Weight Loss Supplements That Work
1. Glucomannan
Glucomannan is a natural fiber supplement best taken before meals. Glucomannan expands and takes up space in your stomach making you feel full. This prevents you from eating too much and just enough to lose weight.
More is not better. Only take 1 gram of Glucomannan before meals. You'll lose up to 6 pounds in 8 weeks with Glucomannan as shown in this test
Do not use Glucomannan pills.
Use Glucomannan powder that dissolves in water or add to your food.
The pills have a higher risk of a choking hazard
by expanding in your throat before it reaches your stomach.
Glucomannan pills are banned in Australia due to this.
2. Diuretics
Diuretics don't burn fat, give you energy or even suppress your appetite. Diuretics only help you lose water weight very fast but,
When using diuretic supplements,
3. Fats that burn fat
Omega-3, CLA & MCTs are Fats that burn fat you can supplement with to lose weight faster because,
4. Curcumin & 5. Garlic
Curcumin (Turmeric Extract) & Aged Garlic Extract help you gain more brown fat
6. Caffeine & 7. Green Tea
Caffeine and/or Green Tea are the most important ingredients of any fat burner
10 Weight Loss Supplements That Do Not Work
These 10 weight loss supplements have very little or no scientific evidence proving they actually work.
1. Colon Cleansers
2. Green Coffee Bean Extract
The study claiming Green Coffee Bean Extract helps you lose 17 pounds in 22 weeks was funded by a company profiting off the sale of Green Coffee Bean Extract.
A later study would also show mice couldn't even lose weight with Green Coffee Bean Extract.
3. Raspberry Ketone
The only study to suggest Raspberry Ketone may work was one where Raspberry Ketone was paired with other proven fat burners like Caffeine and Garlic. No human studies say Raspberry Ketone helps you lose weight.
4. Alli
5. Hoodia
It's supposed to suppress your appetite so much you'll forget to eat. NOT TRUE at all according to this 15 day experiment where no one lost any weight due to a decreased appetite.
6. Guarana
Guarana contains caffeine but not enough by itself to help you lose weight. Guarana can be useful when combined with caffeine and other fat burning ingredients.
7. Garcinia Cambogia (HCA)
Garcinia Cambogia does a good job of helping rats lose weight but no studies of yet have shown any significant weight loss results for humans.
8. HCG
Does hCG actually work? The FDA requires anyone selling HCG to put this on their label…
HCG HAS NO KNOWN EFFECT ON FAT MOBILIZATION, APPETITE OR SENSE OF HUNGER, OR BODY FAT DISTRIBUTION. HCG HAS NOT BEEN DEMONSTRATED TO BE EFFECTIVE ADJUNCTIVE THERAPY IN THE TREATMENT OF OBESITY. THERE IS NO SUBSTANTIAL EVIDENCE THAT IT INCREASES WEIGHT LOSS BEYOND THAT RESULTING FROM CALORIC RESTRICTION, THAT IT CAUSES A MORE ATTRACTIVE OR "NORMAL" DISTRIBUTION OF FAT, OR THAT IT DECREASES THE HUNGER AND DISCOMFORT ASSOCIATED WITH CALORIE-RESTRICTED DIETS.
9. Body Wraps
10. Laxatives
Dangerous! See why
Do I Need Supplements Lose Weight?
No! Of course not! Many people have lost weight & kept it off forever without using supplements and… Weight loss supplements are NO GOOD without a solid diet & exercise plan
Don't believe that taking OR NOT taking weight loss diet supplements will make or break your weight loss dreams.Adrian Bryant, Body Transformation Specialist
More Tips
Swipe to See Everybody, Tap to Pause
Click Arrows to See Everybody, Click Photo to Pause