The Top 2 Weight Loss Supplements That Actually Work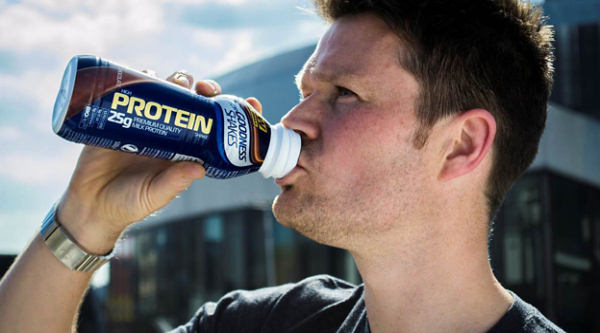 1. Protein
Protein whether it comes from food, shakes or supplements helps you lose weight faster because when protein is at least 30% of your diet…
You won't eat as much (exactly 441 less calories according to this study) because protein makes your body release a lot of appetite suppressing hormones like CCK & GLP-1 while lowering hunger causing hormones like ghrelin.
You'll burn at least 260 extra calories per day or the same amount you'll burn with an hour of exercise with more protein in your diet (see the proof)
After this 12 week experiment women lost 11 pounds in 12 weeks doing nothing but adding more protein in their diet.
For every 100 calories of protein you eat… 30 of those calories are burned off during digestion because protein is very hard for your body to process and protein increases your metabolism by maintaining & building lean muscle.
When buying protein supplements…
You only need to use protein shakes, bars and/or meal replacements (MRPs) if you are unable to get enough protein in your diet from food.
Avoid protein bars that contain lots of sugar which will make it tougher for you to lose weight.
Optimum Nutrition Whey, Combat Crunch Bars or even Quest Protein Chips are all examples of good protein supplements that aren't loaded with sugar.
Protein will ONLY make you gain muscle ONLY if you're using these 7 Steps to Build Muscle as Fast as Possible
2. Fat burners
Fat burners help you lose weight faster in 4 ways
They increase your metabolism by activating fat burning hormones like adrenaline & noradrenaline.
They suppress your appetite making you eat less.
They give you more energy to help you workout longer, faster & harder so you'll burn more calories
They make it so that more fat is burned instead of carbs/sugar when you're working out.
Watch how the Lipo-6 Fat Burner helped people lose weight faster…
When buying fat burners…
When using fat burners…
The best time to take fat burners is before a HIIT workout to burn more calories and/or you can take your fat burner before your first meal to suppress your appetite to end up eating less calories throughout the day.
Don't use your fat burner everyday because you'll build up a tolerance to the caffeine where you'll no longer get the same energy boosting benefits unless you take days or weeks off from using it. How quickly you build up a tolerance varies from person-to-person.
You can try using your fat burner only 3 days a week (or just on days you do HIIT workouts) so you can use your fat burner as long as possible without building up a tolerance.
8 More Weight Loss Supplements that work
1. Glucomannan
Glucomannan is a natural fiber supplement that is best taken before meals and it expands and takes up space in your stomach making you feel full preventing you from eating too much and just enough to lose weight faster.
2. Diuretics
Diuretics don't burn fat, give you energy or even suppress your appetite. Diuretics only help you lose water weight very fast. See how to lose 5 pounds in 2 days for how to quickly lose water weight without diuretics but…
When using diuretic supplements…
You must know that Diuretic supplements & prescription based diuretics like Hydrochlorothiazide are not meant to be used for no longer than 3-to-7 days.
Long term use of a diuretic supplement can cause dehydration, cramping and other side effects.
If you're eating too much salt or not drinking enough water then there's not much Diuretics can do to help you lose water weight.
The rapid weight loss from Diuretics could be temporary depending on how you got bloated or gained water weight before taking Diuretics.
3. Fats that burn fat
Omega-3, CLA & MCTs are Fats that burn fat you can supplement with to lose weight faster because…
4. Curcumin & 5. Garlic
Curcumin (Turmeric Extract) & Aged Garlic Extract can help you gain more brown fat
Brown fat increases your metabolism by burning off your ugly white fat to get the energy it needs to generate enough heat to keep you warm but…
You'd gain more brown fat while losing more weight using these cold exposure techniques rather than only relying on Curcumin & Garlic to gain more 'fat-burning' brown fat.
6. Yohimbine HCL
All the fat on your body contains alpha-2 and beta-2 receptors and without getting too overly scientific… The beta-2 receptors speeds up fat burning and the alpha-2 receptors slows down fat burning and your stubborn belly, hip and/or thigh fat has more alpha-2 receptors than beta-2 receptors so…
One way to get rid of your last 5-to-10 stubborn pounds is to take a natural alpha-2 blocker like Yohimbine HCL to make it easier for you to burn off your stubborn fat when used with diet and/or exercise.
To use Yohimbine HCL…
Take it 30-to-60 minutes before your cardio or HIIT fat loss workouts on an empty stomach (before your first meal or during your fasting period) because too much insulin prevents Yohimbine from doing its job.
Start off with half the recommend dosage and work up to the recommend dosage of…

11 mg for a 120lb person
14 mg for a 150lb person
18 mg for a 200lb person
22 mg for a 250lb person
When buying Yohimbine HCL…
Get Yohimbine HCL instead of yohimbe. Yohimbe is the herbal form where only a small percentage of it has the useable Yohimbine HCL for fat loss.
Yohimbine HCL usually comes in 2.5mg pills so a 150lb person would need to take 6 pills to get full effect (2.5mg per pill x 6 pills = the recommended 14mg for a 150lb person)
Should you use Yohimbine HCL?
Yohimbine HCL is a stubborn fat burner that's not meant for overweight people Adrian Bryant, Body Transformation Specialist
7. Caffeine & 8. Green Tea
Caffeine and/or Green Tea are almost always the most important ingredients in any fat burner.
Caffeine increases your fat burning metabolism by 11% or more depending on how much you take
Caffeine gives you more energy to workout harder and longer to burn more calories to lose weight faster.
Green tea increases your metabolism by 4% while also helping you burn 24% more fat when working out.
10 Weight Loss Supplements That Do Not Work
These 10 weight loss supplements have very little or no scientific evidence proving they actually work and if you find any please let me know
1. Colon Cleansers
TOTAL SCAM.
2. Green Coffee Bean Extract
The study that claimed Green Coffee Bean Extract could help you lose 17 pounds in 22 weeks without diet & exercise was actually funded by the company profiting off the sale of Green Coffee Bean Extract. A later study would also show that mice couldn't even lose weight with Green Coffee Bean Extract.
3. Raspberry Ketone
The only study to even suggest may Raspberry Ketone work was one where Raspberry Ketone was paired with other proven fat burners like Caffeine and Garlic. No human studies to my knowledge exist that proves supplementing with Raspberry Ketone helps you lose weight.
4. Alli
It works but not without some nasty side effects.
5. Hoodia
Its supposed to suppress your appetite so much that you'll forget to eat but not true at all according to this 15 day experiment where no one lost any weight due to a decreased appetite.
6. Guarana
Guarana contains caffeine but not enough by itself to help you lose weight but Guarana can be useful when combined with caffeine and other fat burning ingredients.
7. Garcinia Cambogia (HCA)
Garcinia Cambogia does a good job of helping rats lose weight but no studies of yet have shown any significant weight loss results for humans.
8. HCG
See Does hCG actually work? The FDA requires anyone selling HCG to put this on their label…
HCG HAS NO KNOWN EFFECT ON FAT MOBILIZATION, APPETITE OR SENSE OF HUNGER, OR BODY FAT DISTRIBUTION. HCG HAS NOT BEEN DEMONSTRATED TO BE EFFECTIVE ADJUNCTIVE THERAPY IN THE TREATMENT OF OBESITY. THERE IS NO SUBSTANTIAL EVIDENCE THAT IT INCREASES WEIGHT LOSS BEYOND THAT RESULTING FROM CALORIC RESTRICTION, THAT IT CAUSES A MORE ATTRACTIVE OR "NORMAL" DISTRIBUTION OF FAT, OR THAT IT DECREASES THE HUNGER AND DISCOMFORT ASSOCIATED WITH CALORIE-RESTRICTED DIETS.
9. Body Wraps
Just see Do body wraps work for weight loss or help you lose inches?
10. Laxatives
Dangerous! See why
Do I Have To Use Supplements Lose Weight?
No! Of course not & Many people have lost weight & kept it off forever without using supplements or even surgery and weight loss supplements are NO GOOD without a solid diet & exercise plan
Don't believe that taking OR NOT taking weight loss diet supplements will make or break your weight loss dreams.Adrian Bryant, Body Transformation Specialist
More Tips
New Workouts