Thank you so much for your "Now Loss Diet". I have been using it, eating whatever I want and have lost 31 lbs so far.Alecia
Damn bro thanks alot with your tips dieting! I lost like 40 lbs doing the fast food diet counting calories!Carlos
FACT:

You can eat whatever you like & still lose weight IF YOU Follow these 5 steps…

This easy diet is for anyone who loves salty, sugary & fatty foods &…
*Do the workout below while on this diet to lose up to 4 pounds every week!

1. Eat 1200-to-2000 calories per day

2. Eat anything you want & still lose weight

Despite what you've heard…

It's really not exactly true that eating bad foods like candy, snacks & fast foods makes you fat… It's the amount of calories you eat that determines whether you get fat, get slimmer or stay at the weight you're at (look at the chart below…)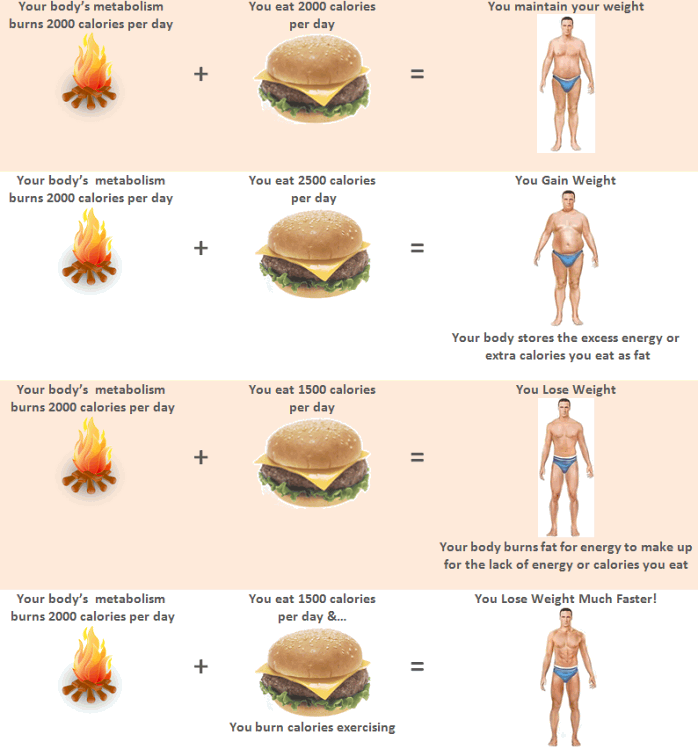 And See "Can you eat anything you want & still lose weight?" for more info but to sum everything up for you in the simplest way possible…
If you weigh 150 pounds and you need to eat about 2000 calories per day to maintain your weight and if you eat 2500 calories per day of the healthiest foods like oatmeal, veggies & baked chicken then You're going to gain weight from eating too much and vice versa…
If you only eat 1500 calories worth of pizza, snacks and candy daily then You're going to lose weight simply because you're not eating enough to maintain your weight but before you get excited about eating candy all day to lose weight… See 4 reasons why most of your 1200-to-2000 calorie diet should come from healthier weight loss foods but…
Since the average person needs to eat anywhere between 2000-to-3000 calories per day to maintain their weight… You'll easily lose weight fast eating 1200-to-2000 calories per day no matter what you eat so…
Even if your budget forces you to eat a lot of unhealthy foods or if you're a child or someone who is forced to eat the same thing everyday then don't worry… You'll still lose weight eating anything you want as long as you eat 1200-to-2000 calories per day.
3. Eat whenever you want?
Basically it does not matter when or where you eat as long as you

eat the right amount of calories to lose weight so…
Feel free to eat 5 small meals a day or eat 1-to-2 BIGGER meals per day and…
The only time it really matters WHEN you eat is if you're going to workout. So to burn fat faster…
It's best that you workout first thing in the morning on an empty stomach before breakfast (and yes it's okay to drink water during your morning workout) and if you're unable to do this then don't worry because you will still lose weight eating 1200-to-2000 calories per day.
4. Drink at least 1 liter of water per day
You want to drink at least 1 liter of water per day to prevent any water retention/bloating or false fat gains because your body actually holds onto water when you don't drink enough water &…
You may have to drink more than 1 liter of water per day if you're going to eat a lot of bad foods like these here to lose weight because most bad foods are high in sodium/salt which cause you to retain water and you'll need to drink that extra water to flush out that excess water weight and just so you'll know…
1 liter is 33 ounces or 4 cups or basically TWO 16 ounce bottled waters.
5. Keep a food journal
You need to use this food journal here or websites & apps like myfitnesspal.com, my-calorie-counter.com, Calorie Counter by FatSecret or My Diet Diary Calorie Counter to help you track what foods and how many calories you are eating each day so you can easily make changes to help you lose weight faster so for example…
If you've been eating an average of 1500 calories per day and you are not happy with how fast you are losing weight then you can start eating an average of 1200 calories per day to speed up your weight loss but…
If you were not keeping a food/calorie journal you'd have NO IDEA what to do to lose weight faster and although it does not matter what you eat to lose weight as long as you eat 1200-to-2000 calories per day…
The reason why you want to keep track of what foods you're eating is because…
You may for example be very hungry or have massive cravings and you can look at your food journal to see whether or not you need to have less bad foods in your diet and more weight loss foods in your diet to fight hunger and have less cravings and/or you can simply eat closer to 2000 calories per day to fight hunger but…
4 reasons why most of your 1200-to-2000 calorie diet should come from these weight loss foods here is because…
Although you can eat whatever you want, whenever you want & still lose weight on this 1200-to-2000 diet…
Because of the 4 reasons above it's best that you gradually over a period of days, weeks or months Work your way up to a point where 80% (or 960-to-1600) of your 1200-to-2000 calories comes from these weight loss foods here and the other 20% (or 240-to-400 calories) comes from these bad foods so that way…
You'll lose weight as fast as possible &…
You won't have to go cold turkey & you can still enjoy the salty, sugary & fatty foods you like &…
You'll be satisfied much longer (on lesser calories) with very little or NO cravings at all so…
Let's recap the 5 simple steps to lose weight…
Eat 1200-to-2000 calories a day.
Eat anything you want.
Eat whenever you want.
Drink 1 liter of water per day.
Keep a food journal.
And it's really that simple. If you need any extra help with this diet just leave me a question or comment here but…
Before you start this easy diet…
Make sure you know how to count calories
Use 1 of these food journals…
Consider using 1 of these workout plans to lose weight faster
Believe this diet will work for you like it did for Jake…
He lost 84 lbs. in 9 months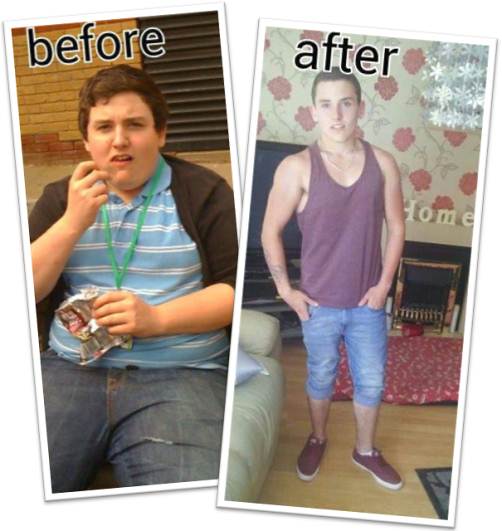 I used a lot of dieting tips and mainly calorie counting from your website and used a lot of the techniques U showed in your videos. Thanks mate, Jake Payne
How fast will I lose weight eating anything I want on this diet plan?
Make sure you look at these weight loss factors but…
If you have over 20 pounds to lose then expect to lose 2+ pounds per week or…
If you have less than 20 pounds to lose then expect to lose 1-2 pounds per week but generally…
When you exercise you can expect to lose 10 pounds every 4-to-6 weeks and in your first week you may lose over 5 pounds &…
Your weight loss rate will get slower and slower as you get closer to your weight loss goal.
Do 1 of these 4 workouts with the 5-step diet to lose weight MUCH faster…
You may also want to look at…
See the video to better understand how to lose weight eating whatever you like…
I have read alot of blogs and diet plans but nobody seemed to explain the thing with sugar and salt making you crave for food… They just said it will make you gain weight not because you will crave and EAT MORE but just by eating it it makes you fat thats what they said… and 1 word for Adrian - LEGEND ! You are my idol man Marian Atanasov

NowLoss.com Created by Adrian Bryant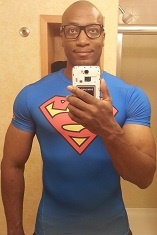 Adrian is one of the world's most sought after Body Transformation Specialist. Many People (like these here) have used NowLoss.com to Look Better Naked for free.
Even Models seek out Adrian's advice and Doctors use Adrian's unique techniques to help their patients lose weight fast and his new YouTube Channel already has over 35 Million views!
Contact Adrian Follow Adrian on FaceBook, Instagram & Twitter