If I'm eating the right amount of calories to lose weight…
Can I Eat Anything I Want & Still Lose Weight?
Yes because…
You lose or gain weight based on how much or how many calories you eat and NOT What You Eat.
This is how you gain weight
Let's say your metabolism burns 2000 calories per day or your body only needs 2000 calories per day to maintain your current weight but you constantly eat 2500 or 500 extra calories everyday then you're going to gain weight because your body takes those extra calories and stores them as fat and it DOES NOT matter where those extra calories you eat comes from.
So if you eat too much or too many calories (of anything whether it's healthy or unhealthy) you're going to gain weight.
This is how you lose weight
Again, let's say your metabolism burns 2000 calories per day but you constantly eat 1500 calories per day then You're going to lose weight because you're not eating enough calories to maintain your weight.
Whenever you don't eat enough calories (regardless of what you eat) your body will burn off your bodyfat for energy (causing you to lose weight) to make up for the lack of energy/calories you're not eating.se
Examine the picture below to get a better idea of how to lose, gain or maintain your weight eating whatever you like…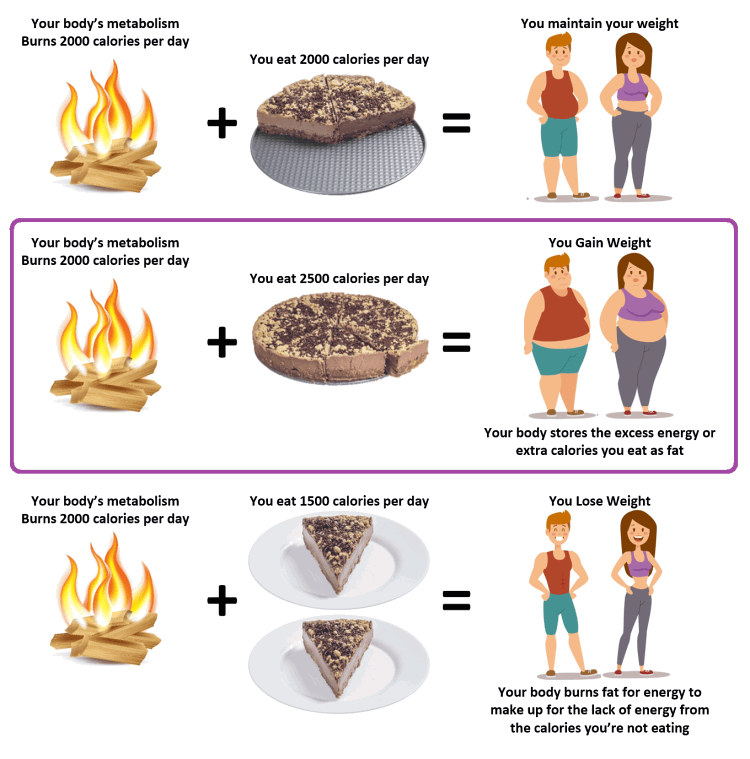 He Lost 27 Pounds in 2 Months Eating Twinkies
Mark Haube, a professor of human nutrition at Kansas State University lost 27 pounds in 2 months and he lowered his bad cholesterol by 20% eating things like Twinkies, Oreos & Doritos To prove that it does not matter WHAT you eat when you're trying to lose weight.
John Cisna lost 56 pounds eating nothing but McDonald's because he ate less than 2000 calories per day. (read the full article)
John Cisna lost 56 pounds on a McDonald's diet
Yes, you'll seriously lose weight eating anything you want but…
It'll be tougher to do so because if you eat a lot of unhealthy processed salty & sugary foods they'll increase your hunger and cravings which may cause you to gain weight or not lose much weight at all by making you eat too many calories &…
A diet high in unhealthy salty and sugary foods will also make you gain false fat or water weight but you can flush out any excess water weight by actually drinking more water.
More Tips
New Workouts