6 reasons that'll make you stop drinking soda today

1. Gives you ugly teeth (see the picture above)
The phosphoric acid in soda weakens your bones and rots your teeth so bad that even this teeth whitening tutorial here won't help you.
Don't believe me? There have been reports of people who have put a broken tooth in a bottle of soda and then in 10 days the acids in the soda dissolved the tooth completely.
2. You wouldn't drink toilet bowl cleaner would you?
If you got shitty toilet stains and nothing to clean it with then don't worry… Just use a can of soda and let the carbonic, citric, and phosphoric acids in soda breakdown the stains exactly the same way they weaken your bones and rot your teeth.
Bonus: You can also use soda to clean tough stains off vitreous china, soda removes grease stains from clothes, soda removes rust spots from chrome car bumpers and soda cleans corrosion off car battery terminals.
Watch the video below of how to remove rust with soda…
3. Soda (even diet soda) makes you fat
The artificial sweeteners contained in diet soda tricks your brain into increasing your cravings for more food and as you should know… The more you eat = the more weight you gain and also…
A University of San Antonio study found that people who drank diet soda increased their waist lines 6 times more than people drinking any other kind of drink (including non-diet sodas!) plus…
Drinking regular soda is like drinking 20+ packets of pure sugar! And when you digest pure sugar it is very easily converted into fat and it makes your blood sugar rise and drop so fast that you'll quickly be craving another can of soda or another bad food that causes weight gain and…
Depending on your current weight & height… You could easily gain over 20 pounds per year just by drinking only 2 glasses of soda per day and…
Soda leeches vitamin A, calcium and magnesium out of your body which are all needed to help you lose weight.
4. Makes it harder to lose weight but…
Not because of the reason stated above but because in theory… The carbonation from soda binds to the fat cells making it harder for you to burn fat but in reality…
The carbonation causes you to get bloated making you gain false fat which will give you the appearance that you put on a few pounds.
5. Do you like Cancer?
The caramel coloring in soda is purely for looks but its a carcinogen and if you don't know… A carcinogen is any substance directly involved in causing cancer and…
The aspartame & potassium benzoate in sodas breaks down into the carcinogens formaldehyde & benzene after you digest them
6. Starting today you'd lose 1 pound a week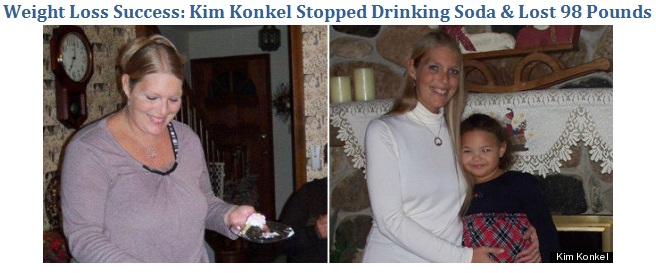 (See full story here)
Once you start replacing all the soda you drink with water and/or green tea to get your caffeine fix… You'll lose on average 1 pound per week just by doing that.
Add in exercise along with some simple dieting rules and you'll be losing at least 10 pounds every 4-to-6 weeks
How you can use water to make you stop drinking soda
Although water won't necessarily curb your soda addiction…
You can drink 8 or more ounces of water before each meal (or before each can of soda) to fill you up to try to prevent you from drinking so much soda or better yet…
Before you drink any soda during the day… Make your own personal rule where You have to drink at least 1 liter of water before you drink any soda that day and each week…
Increase your water intake by however much you want so hopefully…
By your 4th or 5th week you are drinking 2 liters all the way up to a ONE gallon of water before you drink any soda and this way…
Even though you are still drinking soda it won't be as bad for your health since the amount of water you're drinking far outweighs the tiny amount of soda you're drinking daily.
2 steps I personally followed to stop drinking soda…
Step 1: Slowly stop drinking soda
Each week you want to drink less & less soda until you stop completely and the best way to do this is to…
Start off the first week drinking 1/4 or a quarter less sodas than you do now - so for example…
If you're drinking 10 sodas now… You would drink 7 sodas the first week… 5 sodas the 2nd week and so on until you're not drinking any sodas at all and by the way…
When I say "sodas"… I'm talking about 20 oz. cans of soda so… If you drink 2 or 3 liters of soda a week - just remember about three 20 oz. cans of soda equal 1 liter of soda.
Use the calculator below to figure out how many sodas you need to drink each week to eventually stop drinking soda completely…
The reason why you don't start off NOT drinking any soda at all is because it's going to be real hard to do so and you may suffer painful caffeine withdrawal headaches and…
Cutting back little by little every week will keep the headaches from coming but eventually… You're going to have to detoxify your body and flush out all the toxins causing your withdrawal headaches.
Step 2: KILL your cravings for soda
When you're to the point where you're only drinking about 3 cans of soda a week you want to start detoxifying your body by…
Exercising and…
Drinking more water and…
Eating lots of raw fruits and veggies and…
Eating like this not only flushes the toxins out of your body but it also help kill the sugar cravings you have for soda and other fattening foods and guess what…
That's how I personally stopped drinking soda and this method may not be scientifically tested or researched but it worked wonders for me.
More Weight Loss Drinks
More Weight Loss Foods
More Tips
Adrian Bryant created NowLoss.com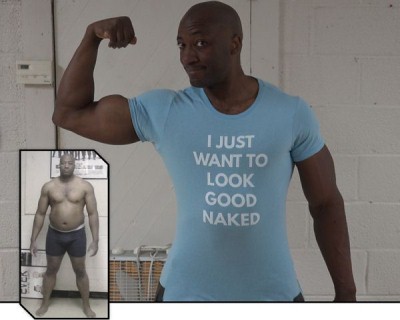 Patrick Raynes
You should look into The Makers Diet by Jordan Rubin. It's not really a diet, it's more of a detox/body cleansing. But one of the benefits is weight loss . We did it 2 years ago and as a result my Dad lost 20 lbs. and our bodies felt better and we had a lot more energy.
The website is: www.makers-diet.net
January 22, 2015
Adrian Bryant
just use whatever oz cans you are used to
January 14, 2014
B
It's a fairly easy concept: Don't Drink Soda.
February 09, 2014
Yvette
You and your abuse of commas should not be complaining about grammar.
June 03, 2013
NoSodaNoMore
So did I, until around 25, then the shit hit me like a freight train. Like anything, it catches up to you eventually.
September 05, 2013
Saxa
WTF, shut up crackhead. This is advice that the writer is giving. It's a suggestion and a damn good one at that. You don't HAVE to follow it. If you're in such good shape why are you even looking at anything in this site. This site is for people who are interested in getting better. Not for cocky punks like yourself. This advice will work for MOST people. While not all people, if they are a special case, but most people. So mind your own business and stop being rude to people who are just trying to help others. Freaking imbecile. And I can testify to this information as I am not fat. I'm 22 years old at 5'2 and I fluctuate between 122 and 118 lbs without working out. After I attempted working out for 6 weeks, I was able to get down to 114. But I did not cut out soda or change any of my eating habits. As soon as I quit soda, I know for a fact I will lose MUCH, MUCH MORE. My skin will get better and all excess fat should drop off. I eat bread once a week but I eat 3 big meals a day and am not shy about eating. So I am not doing all I can do to lose weight at all. But as soon as the soda is dropped I will be in the best shape of my life. I know this because I am studying to be a doctor and am also studying nutrition and this is common sense in our field. If you do not know what the hell you're talking about, you should not spit your two cents where it isn't needed unless you're 100% sure you're correct, or you just look stupid and upset people. Do not just use yourself as an example for everyone because you aren't everyone and the world doesn't revolve around you. So shut up.
December 07, 2014
Angelkt
Are you serious??? You are an idiot...do you know that DIET anything is NOT good for you and diet soda actually causes diabetics more problems than regular ???!!! I applaud Adrian for his courage and motivation to actually help people...most people don't have time to do the research he does so what if he cuts and pastes it is actually good solid medical info so who are you to put him down. BTW I am a medical professional who is finally feed up with you lay people thinking you know it all. Go ahead keep drinking your diet stuff and when it finally does you in then who will you have to blame ? I say KUDOS Adrian we love your spirit and keep it up!
November 21, 2013
MK
I am working on quitting the soda now. Quit smoking earlier this year using a refillable e cig can order on line (Charleston e cig) stepped down the nicotine until I reached 0 that way I had no side effects. You do have to be mindful of what you eat when you quit smoking as your taste bubs were somewhat damaged by the smoking as they come back food taste much better so be careful how much you eat.
November 12, 2013
Jade
HI,
Try and quit if you can. It can bring on migraines (I get them) and also heighten anxiety which can bring headaches. I quite cold turkey a few summers ago and lost a stone in 3 weeks. I am back on it but I am buying the small 250 ml cans and when I get the craving having one of them or a zero. Its crazy how addictive it is. Wish I was never given it as a child but hey it was the 80s.
March 10, 2013
sarah
im the same way exactly but i also drink alot of water i just love sodas to much to give them up...
August 05, 2012
Susan
A friend of my parents drank nothing but soda. She kept 2 liter bottles in most rooms of house. She had a heart attack that almost took her life. Dr told her to cut out the soda or next time she would be dead. Her oldest daughter was like her. She never drank anything but soda. She didn't make it to her 50th birthday. She died from cancer.
Just something for all of us to think about.
December 07, 2013
Debbie
That is great... I drink to many Dr. Peppers too and I am going to start cutting back tomorrow.. I hate it but I have to do it... Keep up the good job...
July 17, 2012