Can I Eat Anything I Want & Still Lose Weight?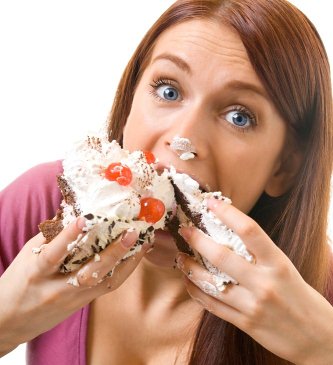 If I'm eating the right amount of calories to lose weight can I still eat anything I want and still lose weight?
In theory yes because…
Losing weight is basically all about eating less and/or exercising more so if you are eating less by eating the right amount of calories to lose weight then you can seriously lose weight eating anything you want whether you eat weight loss foods like fruits & vegetables or bad foods for weight loss like cake and ice cream and…
You see stories of this all the time when you hear about people who've lost weight on the NowLoss Diet, cookie diet, the fast food diet and most recently the Twinkie diet and let me ask you this…
Have you ever been stranded on an island?
Probably not but if you were somehow forced to eat only 1200 calories worth of fast food, snacks & candy you would probably develop some serious health problems but you would certainly lose weight fast on only 1200 calories a day but…
In practice…
More often than not it is actually going to be harder for you to stick to a diet where you are allowed to eat anything you want - for example…
Let's say you're on a 1500 calorie weight loss diet and you're going eat 2-to-3 snickers bars each day to get your 1500 calories. So far so good but the problem is…
Snicker bars and other foods bad for weight loss causes your blood sugar levels to raise and drop quickly making you hungry craving for more food which is going to cause you to overeat and gain weight (not lose weight) but…
If you can seriously stick to a crazy diet of just snickers bars and not be tempted to eat more then more power to you because…
You are 1 of those unique people like Mark Haub (the professor of human nutrition at Kansas State University) who lost 27 pounds in 2 months on his very own Twinkie diet…
Mark Haub was strict enough on himself to eat only 1800 calories worth of mostly Twinkies & other foods but seriously ask yourself this…
"Can I seriously stick to a diet like the cookie or Twinkie diet and not be tempted to eat more than what I need to lose weight?"
Well imagine being on a potato chip diet where you're only allowed to eat 5-to-20 chips per meal or ½ bag of chips per day for a total of 1200-to-1800 calories…
Could you stick to it and maintain that diet long enough to keep off the weight you lose permanently?
How many times have you opened a bag of chips and stopped after having just 3, 5, 10 or 20 chips? Not often right?
That's why Whenever you are on a weight loss diet (especially one where you eat less than 1500-to-1800 calories) you want to eat a higher ratio of weight loss foods over anything you want to eat so…
It doesn't matter whether you go on the Twinkie diet, cookie diet or 1 of my diet plans because you need to pick a diet plan you can stick to for a very long time to keep the weight off permanently.
So what's the final answer?
Can you really eat anything you want to lose weight as long as you're eating the right amount of calories?
The answer is yes - of course you can but the answer quickly becomes no if what you're eating (like the bad foods here) is causing you to get hungrier forcing you to eat more making you gain weight.
Make sure you also see…