Can Marijuana Help You Lose Weight?
Yes, Certain marijuana strains will suppress your appetite causing weight loss depending on their CBD vs. THC levels.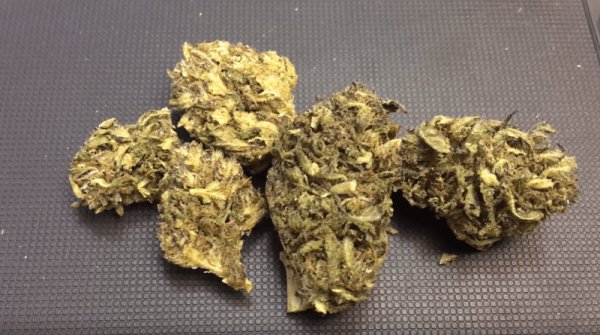 The AC DC strain kills your appetite
CBD & THC
THC (tetrahydrcannabinol) causes the psychedelic effects of marijuana.
CBD (cannabidiol) mainly provides the purported health benefits of marijuana.
Studies
suggest CBD may help in invigorating brain functions,
managing stress
& other mental disorders, preventing seizures, and even lower the risks for cancers.
How THC & CBD Affect Your Appetite
THC activates your body's CB1 receptors. CB1 receptors tell your brain your body is hungry and this is why you get "the munchies" or a bigger appetite.
CBD activates your body's CB2 receptors. CB2 receptors shut off your CB1 receptors which is why CBD suppress your appetite.
CBD also creates brown fat. Brown fat increases your fat-burning metabolism so,
If you're using marijuana for weight loss… Look for strains with lots of CBD.
5 Marijuana Strains For Suppressing Appetite
1. ACDC
ACDC has a 30:1 CBD to THC ratio. This strain is also best for people who want to avoid getting high. ACDC is a great medicinal marijuana due to its high CBD content.
2. Durban Poison
Durban Poison is a strain of cannabis from South Africa known to produce a clear-headed effect.
3. Green Crack
Green crack (developed in California) is popular for creating energizing and upbeat effects. Its earthy taste and citrusy scent have earned it huge followings.
4. Lemon G13
Lemon G13, as the name suggests, is known for the unique smell it produces.
5. Super Silver Haze
Super Silver Haze produces well balanced mental and physical effects.
Marijuana Isn't Magic!
More Tips
Swipe to See Everybody, Tap to Pause
Click Arrows to See Everybody, Click Photo to Pause