6 Tips & Tricks To Hide Your Double Chin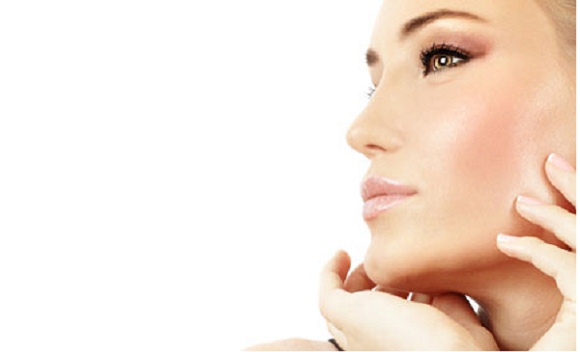 Numerous individuals are dealing with a double chin. The so-called "double chin" can occur due to disproportionate weight loss or gain, as well as due to aging. Those who experience this problem usually feel ashamed and wish to conceal it.
Of course, you will not be able to totally camouflage a double chin, but you can still try various methods which can aid you diminish its appearance.
1. Unbutton your shirt
The first thing you can do is to opt for low cut shirts, because they don't emphasize your issue. Try a shirt that features two or three buttons and leave them undone. This is a really efficient tip for men.
Note that if you intent to conceal your double chin with the help of a high collared shirt, you won't obtain the result you expect; you will get exactly the opposite. Eyes will be distracted from that specific area when you put on shirts that feature low neck lines.
2. Make-up: the perfect trick
You should know that make-up will also aid you conceal a double chin if you consider that surgery or other diminution ways are not suitable for you. It is advisable to ask a qualified cosmetologist for advice, since he/she will explain you exactly how to apply the make-up in order to mask your problem.
Apply the foundation cream patiently if you want it to blend it perfectly. This will diminish your double chin problem, and it will eliminate all noticeable lines formed between your face and chin.
3. Plastic surgery
A double chin surgery remains probably the most efficient method when it comes to totally eliminating excess fat or skin, but also the most expensive one. There are two different ways to perform the surgery…
One is represented by liposuction, and this procedure is meant to eradicate fat stores from a specific part of your body.
The other alternative is referred to as chin tucks, and it involves pulling your skin stretched, and eliminating the flabby skin.
4. Lose weight
Even though you don't have the possibility to totally conceal your double chin, you should try these diminution methods. Apart from them, you can also go for easy exercises and for a modification in your diet. If you do all these, you will definitely like the results. If you burn excessive fat, you will see that your double chin will progressively fade away.
5. Platysma exercises
The exercises you can perform in order to get rid of the unsightly double chin are referred to as platysma exercises. You can do them while being alone in a separate room, but you can as well do them wherever you want.
Still, probably you will prefer some privacy due to the facial muscles you engage during the exercises. In case you don't care about what others think of you, feel free to perform them anywhere you wish.
Directions for double chin exercise…
The initial exercise involves you leaning your head against something rigid.
When your head is back, you have to lengthen your tongue as much as possible while counting to ten.
When you get to ten, you have to progressively put your tongue back inside.
This type of exercise is useful because it engages the muscles that control your chin. Once you starting executing the exercise, you will realize why it is better to be alone during it. Everyone is aware of the fact that sticking your tongue out in an open space is not a good-mannered deed.
Double Chin Exercise Video
See more double chin exercise videos
In case you are interested in a different exercise which doesn't require you sticking your tongue out, take a look at the following one. Firmly close your mouth, stand up and try to touch your chest with your chin. Then, you have to lift your head and drop it down again. At the beginning, you should repeat the exercise several times, but if you truly want to see an improvement, increase the number of repetitions every week.
Finally, there are numerous exercises you can try in order to solve your double chin problem. These two mentioned above represent only the beginning. The important thing is to be self-assured and to work without fail if you want to obtain great results. It would be perfect if you could perform the exercises on a daily basis. Also, you shouldn't forget about the tips related to the clothes you wear!
Author Bio: Jason Phillips is the author to this article. He is a regular contributor at many sites. His site http://www.cosmeticsurgeryclinic.co.uk/ offers you the complete range of cosmetic surgery procedures and treatments for women and men.