If you can't lose weight…
The 1st thing you want to do Starting tomorrow is…
Take a Food Journal & Write down everything you would normally eat & drink and do this for about 1-to-3 days (if the amounts & types of foods you eat vary each day then you do want to do this for 3 days or more) but after 1-to-3 days…
If you see that you've been eating the right amount of calories & still can't lose weight…
After you've double checked everything & you still can't lose weight…
Then you simply need to eat less (at least 250 calories less) even if you're eating mostly weight loss foods because the bottom line is this…
If you eat TOO MANY calories, You'll gain weight or not lose

very much weight at all and another thing you want to check on is…
When you use the weight loss calculator, make sure you don't overestimate your activity level and…
ONLY COUNT the activities or exercises you do that ARE NOT part of your regular job (even if it's an active one) or regular daily routine and to help you determine your activity level…
You can wear a pedometer on one of your normal days to see how close you get to taking 10,000 steps a day which is considered being moderately active but also…
Start exercising If you can't lose weight or If you're exercising & still can't lose weight…
DO NOT make any excuses for not exercising so…
Be Patient &…
Here's 5 more reasons why you may not be able to lose weight
1. You sleep less than 5-to-7 hours a night…
Your body produces a hormone called Ghrelin which makes you hungrier so you'll eat more & gain weight when you don't get enough sleep but when you do get enough sleep…
Your levels of the hormone Leptin are normal & Leptin makes you more satisfied & not hungry (Leptin means "thin" in Greek) - Read fast weight loss tip #21 about sleep & weight loss
2. You have TOO much STRESS
Your body produces another hunger hormone called Cortisol which makes you overeat to deal with the stress you're having causing you to gain weight so if you're getting stressed out a lot… See 100 ways to conquer stress
3. You may have Hypothyroidism or other conditions
Hypothyroidism is a condition where your thyroid is not functioning at a normal level making your metabolism slow and only a doctor can diagnose you with Hypothyroidism but you can learn more about Hypothyroidism symptoms here and…
Fibromyalgia, Sleep apnea, Polycystic ovary syndrome (PCOS), Cushing's syndrome, and Metabolic syndrome can also cause you not to lose weight.
4. Are you on any Drugs that may cause you to gain weight?
Antidepressants, Steroids like Prednisone, Migraine Medications like Depakote can all make you want to eat more to gain weight and…
Antihistamines like Benadryl and Sleep medications can slow down your metabolism which slows down your weight loss and…
The extra estrogen in Birth Control Pills can cause you to put on up to 5 pounds of excess water and…
This all doesn't mean you should STOP taking the drugs you need to help your condition but at the same time…. If you're trying to lose weight it's best to ask your doctor for alternative medications to prevent weight gain and…
It's also a good idea to see your doctor right away if you 'unexplainably' gain weight while on a new drug even though you know for sure you're eating right and staying active.
5. You may be retaining excess water weight making you bloated
Eating too many bad foods & salty foods + not drinking at least 1 liter of water everyday will cause you to retain water and put on "false fat" so…
Make sure you eat mainly weight loss foods here & drink enough water to flush out any excess water weight and…
You can also Look at all this stuff if you can't lose weight…
You may also want to look at…
If you have PCOS, Hypothyroidism or Fibromyalgia…
NowLoss.com Created by Adrian Bryant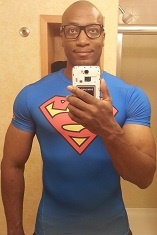 Adrian is one of the world's most sought after Body Transformation Specialist. Many People (like these here) have used NowLoss.com to Look Better Naked for free.
Even Models seek out Adrian's advice and Doctors use Adrian's unique techniques to help their patients lose weight fast and his new YouTube Channel already has over 35 Million views!
Contact Adrian Follow Adrian on FaceBook, Instagram & Twitter