Play the video below If you're not losing weight fast enough…
For Fast Weight Loss Workout #3 - You're going to…
Run for 20 Seconds as fast as you can so…
You can run back & forth from any distance or…
You can run in place or…
You can even run up a hill or stairs and then you'll…
Rest for 10 Seconds and then you'll…
Do Jumping Jacks for 20 Seconds as fast as you can and then you'll…
Rest for 10 Seconds and then you'll…
Do Ski Steps for 20 Seconds as fast as you can and then you'll…
Rest for 10 Seconds and then you'll…
Do a Push-Up followed by a Jump as fast as you can for 20 Seconds and then you'll…
Rest for 10 Seconds and then you'll start over &…
Repeat steps 1-thru-7 and then you'll…
Rest for 1 minute (to complete 1 full set that last almost 5 minutes) and then you'll…
Repeat steps 1-thru-10 1-to-3 more times for a full 10-to-20 minute workout.
7 Guidelines for Fast Weight Loss Workout #3…
Do this workout 1-to-2 times per day for 15-to-40 minutes (completing 3-to-8 sets each workout) 2-to-4 days per week or if you have a busy schedule…

Do this workout 3-to-5 times per day for 10 minutes (only completing 2 sets each workout) 3-to-4 days per week and if you're not in shape…
Do this workout 1-to-4 times per day for only 5 minutes (just doing ONE set) until you get fit enough to do at least 2 sets back-to-back for 10 minutes and…
If the exercises in Fast Weight Loss Workout #3 are too hard then…
Once Fast Weight Loss Workout #3 gets too easy…
Make sure you're doing all the exercises in this routine as fast as you can and/or…
Rest less than 1 minute between sets and/or…
Change up the order you do the exercises so for example… Do Jumping jacks & Ski Steps before you run saving the Pushups + Jumps for last or…
Do a different high intensity workout for fast weight loss.
On the days that you are not doing Fast Weight Loss Workout #3…
Fast Weight Loss Workout #3 can be used with any of the free weight loss plans here.
How much weight can you lose doing Fast Weight Loss Workout #3?
That depends on the several weight loss factors here and…
Generally you can always expect to lose 10 pounds every 4-to-6 weeks but…

The more overweight you are means you can expect to lose more than the normal 10 pounds every 4-to-6 weeks and vice versa…
If you are not overweight with less than 10 pounds to lose then you should realistically expect to lose less than 10 pounds in 4-to-6 weeks or expect to lose 1-to-2 pounds per week.

Diet also plays a factor but try not to starve yourself by going lower than 1000-to-1200 calories per day so…
Here's More Fast Weight Loss Workouts You Can Do…
Click Photos To Watch A Fast Weight Loss Workout Video Now
Make sure you also see…
NowLoss.com Created by Adrian Bryant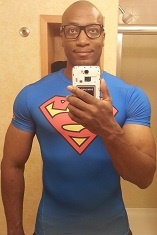 Adrian is one of the world's most sought after Body Transformation Specialist. Many People (like these here) have used NowLoss.com to Look Better Naked for free.
Even Models seek out Adrian's advice and Doctors use Adrian's unique techniques to help their patients lose weight fast and his new YouTube Channel already has over 35 Million views!
Contact Adrian Follow Adrian on FaceBook, Instagram & Twitter
Get These Free Videos…
(Offer Expires in 0:60 Seconds)
Lose 22 Pounds in 23 Days with the Emergency Diet.
How to Lose 20 Pounds in 30 days with a Bed Sheet.
How to Get a Flatter Stomach in 60 Seconds using a chair.