5 Rules To Lose Weight Without Counting Calories
(Play the video below if you hate reading)

1. Eat Only Weight Loss Foods
See the 15 best weight loss foods
Weight loss foods are lower calorie foods that fill you up quicker, keep you satisfied longer while curbing your cravings & killing your appetite for long periods of time so when you eat more weight loss foods…
*You eat a lot less &
Lose a lot more weight
*But you're actually eating MORE FOOD. You're just eating Less Calories because weight loss foods have a 'low calorie

density' meaning they pack a small amount of calories in a lot of food (see rule #4 for below more info)
Weight loss foods are also 'highly thermogenic foods' meaning every time you eat them it increases your metabolism because your body has to burn a lot of fat just to digest them.
Weight loss foods keep your blood sugar levels under control so you'll burn more fat instead of storing fat.
Avoid these foods as much as possible, make weight loss foods at least 80% of your diet & although it's true you can lose weight eating whatever you want…
You will find it extremely difficult (as you may already know) to lose weight without counting calories eating these bad foods
2. Eat UP To 4 meals a day
It doesn't matter WHEN you eat because it's all about HOW MUCH you eat when it comes to weight loss &…
Since you're following Rule 1 by eating mostly weight loss foods you're going to lose weight faster not eating a lot of calories but…
You may want to eat every 2-to-4 hours and you can combine these 5 rules with intermittent fasting for faster fat loss.
Please Note: Rule 2 says "UP TO 4" so it is okay if you have only 1,2 or 3 meals some days as long as you don't go over 4.
Quick tip - Make eating meals boring: Eating the same meals over & over will cause you not to look forward to eating which will also eventually make you eat less & lose more weight
3. Before each meal…
Eat at least 1 raw fruit or vegetable with 8 ounces of water so you wont eat as much (calories) at each meal while still being full & satisfied after your meals but actually…
Rule #1 is already preventing you from eating too much. Rule #3 is just extra insurance to guarantee you'll lose weight super fast (see below about how Paul lost 75 pounds using rule #3)
Instead fruits & veggies + water before meals you can drink 8oz of vegetable juice or V8 instead and NO…
4. Stop eating at each meal when you feel 100% satisfied
Feel free to eat as much as you like at each meal until you're 100% satisfied because when you follow Rules 1 & 3…
The weight loss foods are going to fill you up and satisfy

you quicker on less calories making it extremely difficult to gain weight & ridiculously easy to lose weight because…
Weight loss foods are low density foods meaning there's a tiny bit of calories in a lot of food so you can eat a lot more weight loss foods without gaining weight and you'd be too full anyways before you even get to that point so for example…
You'd have to eat 9 medium sized carrots (and good luck trying to do that) to get same amount of calories contained in a bag of M&M'S…

Also look at this example of Boiled Potatoes which are awesome for weight loss vs. Potato chips which are bad for weight loss…
If you eat ONE potato weighing 136 grams you'll only be eating 119 calories where you'll quickly start to get satisfied afterwards but…
If you eat 136 grams of plain potato chips you'll be eating a whopping 760 calories and you'll probably still be hungry, eat more and gain more weight after that.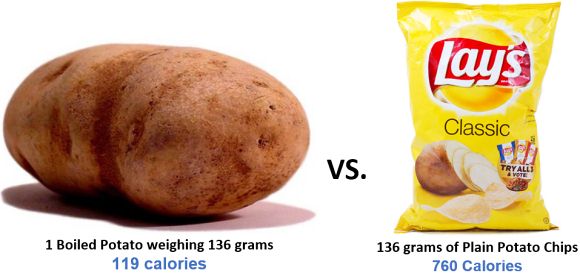 Remember: Since you're eating mostly weight loss foods… Feel free to eat as much as like at each meal without worrying about gaining weight but STOP EATING at each meal once you're 100% satisfied
Quick tip - Eat slower to lose weight faster:
Eating slower gives your belly time enough to tell your brain "Hey, I'm Full, STOP Eating"
5. Only Drink Water or…
If you want to lose weight even faster…
Lost 75 Pounds Using Rule 3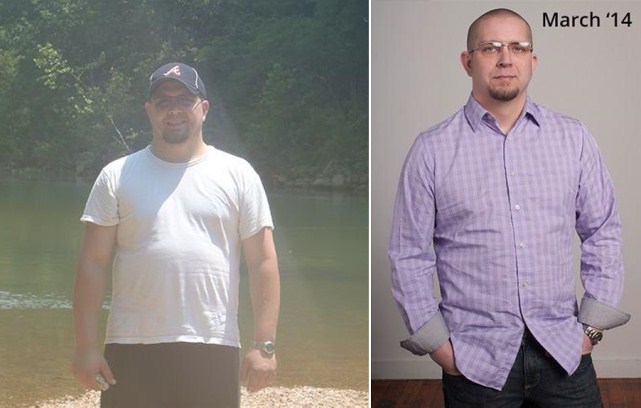 Hey man, just wanted you to know your tips and your motivation helped me achieve this. The biggest rule I followed was to drink as much ice cold water as possible before every meal (see rule #3). Still do that to this day.
I really watched your food tips, such as oatmeal burns calories. Once I got my metabolism up, it just fell off.
Paul Adams
The truth about NOT counting calories to lose weight…
By following these rules where you're making at least 80% of your diet weight loss foods you will certainly lose weight easily at a steady pace without counting calories but…
You may come to a point where you're not satisfied with how fast you're losing weight or maybe you'll hit a weight loss plateau and it's only at that point (which usually only happens when you have only 10-to-20 stubborn pounds of fat to lose…)
Where you'll have to seriously consider tracking your calories so you can see exactly how much you need to eat to keep losing weight at a pace you're satisfied with.
Make sure you also see…