Make Your Own Fat Loss Workout With The Clean & Press…
When designing your Clean & Press workouts…
Do only 35-to-100 reps each workout and…
Use weights that aren't too heavy or too light meaning…

The weights should be heavy enough where you can do 5-to-10 reps at a time and…
Not so light where you can do 10-to-20 reps at a time and…

Take 3-to-10 days off between your clean & press workouts and…
To get ripped faster with each Clean & Press workout you do…
Make sure you do your 35-to-100 reps faster and/or…
Add exercises like Jumping jacks or jogging in place to your workouts and/or…
By adding more weight to your Cleans & Presses.
Here's some sample Clean & Press workouts…
Workout A
Warm-up 5-to-10 minutes and then…

Time yourself and Do 35-to-100 reps and afterwards…
Record the time & write down how long it took you to finish 35-to-100 reps and then…
Take at least 3-to-10 days off and…
Repeat steps 1-thru-4 again but try to do your 35-to-100 reps in less time and…
Workout B
Warm-up 5-to-10 minutes and then…
Do 5-to-10 reps and then…
For 30-to-60 seconds Do jumping jacks, ride a bike, jog in place, jump rope, or any activity that keeps you highly active for 30-to-60 seconds and…
Repeat this process until you've done 35-100 reps and…
Take at least 3-to-10 days off.
Go here to see a full workout demo of Workout B using dumbbells.
Workout A Demo
Workout B Demo
More workouts to get you ripped…
Click on photos to start doing a workout
Make sure you also see…
NowLoss.com Created by Adrian Bryant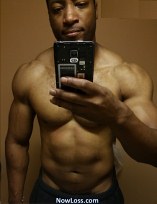 Adrian Bryant is a Body Transformation Specialist. Many People (like these here) have used NowLoss.com to Look Better Naked for free.
Even Models seek out Adrian's advice and Doctors use Adrian's unique techniques to help their patients lose weight fast and his new YouTube Channel already has over 35 Million views!
Contact Adrian Follow Adrian on FaceBook, Instagram & Twitter
Get These Free Videos…
(Offer Expires in 0:60 Seconds)
Lose 22 Pounds in 23 Days with the Emergency Diet.
How to Lose 20 Pounds in 30 days with a Bed Sheet.
How to Get a Flatter Stomach in 60 Seconds using a chair.