5 total body circuit training workouts
Watch this 15 minute circuit training workout
Circuit training basically means… you'll be doing a series of different weight training exercises in a row without stopping.
When you circuit train you get your heart rate up as you do the weight training exercises back-to-back without stopping.
Circuit training is a good way to combine both:
Aerobics to burn extra fat calories and…
Weight training to build and maintain muscle
Pick 1 of the 5 Circuit training workouts at the top of this page and… You only need to do one of the above workouts for 10-to-20 minutes.
To get a better workout make sure that you have everything setup before you start the circuit. Stopping in the middle of a circuit to setup equipment would defeat the purpose of having a circuit. The constant stopping to get equipment would take away the aerobic fat burning benefit.
Circuit training or any other weight training workouts should be performed 2-to-3 times a week.
More workouts you should use…
NowLoss.com Created by Adrian Bryant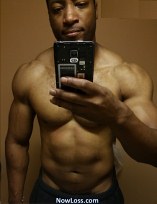 Adrian Bryant is a Body Transformation Specialist. Many People (like these here) have used NowLoss.com to Look Better Naked for free.
Even Models seek out Adrian's advice and Doctors use Adrian's unique techniques to help their patients lose weight fast and his new YouTube Channel already has over 35 Million views!
Contact Adrian Follow Adrian on FaceBook, Instagram & Twitter