4 Ways To Get Rid of Wrinkles Without Surgery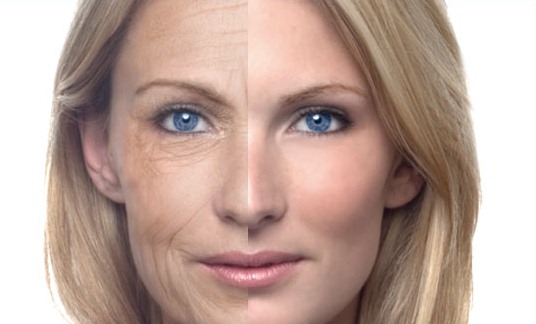 1. Use Retinoids because they actually work!
Retinoids are the ONLY thing approved by the FDA as an anti-wrinkle treatment.

For FDA approval, drug companies have to do scientific studies that absolutely prove retinoids get rid of wrinkles. It is the only thing on the market that has such concrete evidence Miami dermatologist Dr. Leslie Baumann

Every study done on retinoids from the early 70's up until now has proven again & again that Retinoids actually really do get rid of wrinkles and even age spots & acne.

Retinoids have a better-established track record than any other wrinkle-reduction creams. Dr. Glogau, Voted by US News & World Report Among the Top 1% of Dermatologists

In 6 weeks to 6 months you'll see a major reduction of the

wrinkles you have now from using retinoid creams.
Retinoids get rid of your wrinkles by making more collagen & hyaluronic acid in your skin to reverse the thinning of your skin making it thicker to help smooth out & erase your wrinkles but unless you live outside the US…
You'll need a prescription to use these retinoids creams like adapalene (Differin) tretinoin (Retin-A or Renova) and tazarotene (Tazorac or Avage) so if that's going to be a problem then…
2. After Retinoids, Retinol is your best option
Although Retinol is not as powerful as Retinoids…
According to this study here a group of senior citizens whose average age was 87 years old saw a dramatic reduction of their wrinkles in 6 months.
You do not need a prescription and some of the best Retinol products are…
Don't use Retinoids or Retinol if you're pregnant or breastfeeding.
For the best results…

Use your retinoid or retinol creams at night because the exposure to the sun makes retinoids & retinol less effective.
Do not use Benzoyl peroxide or Alpha hydroxy acid (AHA) with retinoid or retinol creams because they'll make them useless.
When buying Retinol products (other than the ones suggested) make sure they come in opaque packaging (meaning anything but a glass jar) because exposure to light will degrade the Retinoid and Retinol making it useless.
Make sure you use sunscreen to prevent losing any collagen that the retinoids is building up to help you get rid of wrinkles.

To prevent or limit any dryness, flaking, redness or irritation…

Follow your doctor's orders if using Retinoids or…
Follow the instructions on the label if using Retinol.
Wait about 20 minutes after washing your face, then apply the retinoid or retinol cream and finally apply a moisturizer 5-to-10 minutes later to prevent any side effects.
Start using the creams once every other night or even once every 3-to-4 days to give your skin time to build up a tolerance the creams before you start using it every night &…
Even if you do experience the dryness, flaking, redness or irritation side effects they'll usually go away within the first 2 weeks but…
Only apply a pea sized amount of the Retinoid or Retinol cream for your entire face because…

More is not better and too much too soon will definitely lead to flaking and may make your skin look thinner and…
Since Retinoid treatments can cost about $50 an ounce you don't want to use it all up too soon before you give it a real chance to produce results.

If you have dry or sensitive skin then…

You may want to use 1 of the other options on this page to get rid of wrinkles or…
Before using the stronger Retinoid medications you can start off using retinol or…
Your could ask your doctor for the less milder adapalene (Differin) before using the stronger tretinoin (Retin-A or Renova) or tazarotene (Tazorac or Avage)
3. Put Vitamin C on your face
Look at this study & this study and you'll see Vitamin C can get rid of your wrinkles within 12 weeks to 3 months because just like retinoids & retinol…
Putting Vitamin C on your face forces your skin to produce more collagen to smooth out your wrinkles so Make sure you use a good topical vitamin c product like Avalon Vitamin C Renewal Creme, SkinMedica Vitamin C or Hyper-C Serum or you can do it the old fashioned way…
You can simply rub the juices of foods high in Vitamin C over your face and the reason why most of those home remedies for wrinkles work is because they involve something high in Vitamin C
9 Vitamin C Home Remedies to Get Rid of Wrinkles
Rose Water: Apply a face mask made of Rose Water, honey & turmeric. Rose water contains 20 times more vitamin C than an orange.
Sea buckthorn Seed Oil: Massage a dime sized amount of Sea Buckthorn Seed Oil onto your face and leave it on your face for up to 30 minutes before washing it off. After Rose water Sea Buckthorn has the highest vitamin C content.
Orange Juice: Mix 1 tsp. plain yogurt, honey & ½ tsp. of orange juice and then leave the mixture on your face for 10-to-20 minutes before washing it off.
Pineapple: Put pineapple flesh on your face and then let it

dry for 20 minutes before washing it off.
Tomato: Add a few drops of glycerin to tomato juice & then use a cotton ball to put the juice on your skin.
Lemon Juice: Mix 1 tsp. of sugar with 2 tablespoons of lemon juice and then massage the mixture into your skin and then wash off after 10 minutes.
Papaya: Mix 1 part of cooked oatmeal in 2 parts of mashed papaya & then leave the mixture on your face for 10-to-20 minutes before washing it off.
Strawberries: Mash up at least 4 strawberries & then add Rose Water to make a paste & then put it on your face for 10-to-20 minutes before washing it off.
Cabbage Juice: Massage cabbage juice into your face and then let it dry for 10-to-20 minutes before washing it off.
4. Do Facial Exercises
Play the video below and let the 63 year old 'wrinkle free' lady explain how facial exercises will erase your wrinkles…
If you're interested in getting a full anti-wrinkle facial workout then go to carolynsfacialfitness.com &…
You can even do neck toning exercises to get rid of turkey neck…
Important: Do these 5 things while you're getting rid of your wrinkles
1. Wear sunscreen or…
Limit your exposure to the sun, stay away from tanning beds which should be called 'wrinkle beds'
Wear sunglasses (and reading glasses) so you won't squint as much which will give you eye wrinkles or crows feet.
If you're using retinoids, retinol or vitamin C or any other anti-wrinkle cream on your face during the day then put your sunscreen on last but Its best that you use your anti-wrinkle product at night where it'll be more effective (out of the sun) &…
You need to wear sunscreen and/or limit your exposure to the sun because the UV rays from the sun (& tanning beds) breaks down the collagen in your skin causing wrinkles which is simply the opposite of what 1-thur-3 above do to get rid of your wrinkles.
2. Don't Smoke!
If you smoke then see 12 videos that'll make you quit smoking forever because…
Smoking prevents your body from making collagen.
Smoking increases free radical damage that destroys collagen.
Smoking limits blood flow to your skin leading to dry skin making it much easier for you to get wrinkles.
A study done at the Twin Research Unit at St. Thomas Hospital in London confirms that the twin who smoked had 40% more wrinkles than the twin who didn't smoke.
3. Sleep On Your Back because…
Sleeping on your side causes you to get wrinkles on your cheeks and chin.
Sleeping on your belly causes you to get wrinkles on your forehead.
If you can't get out of the habit of sleeping on your back or side then get an anti-wrinkle pillow that doesn't put too much pressure on your face as you sleep.
Get at least 7-to-9 hours of sleep each day to help you produce enough HGH to prevent wrinkles by keeping your skin elastic and thick.
How the right kind of bed can improve the way you look
4. Anti Wrinkle Diet
More Antioxidants: These foods high in antioxidants will basically prevent the harmful free radicals from making you look older and some studies like this one here suggest that antioxidants can even help get rid of wrinkles.
Add Phytoceramides: One reason why your skin gets rougher, drier & wrinkly as you get older is because you lose ceramides so taking Phytoceramides will rehydrate, remoisturize & plump up your skin from the inside out making you look younger by reducing the appearance of wrinkles.
Cut back on sugar: Sugar can cause 'glycation stress' which can damage your skin's collagen and cause you to get wrinkles so make sure most of your diet comes from these good foods & eat less of these sugary foods.
Cocoa Rather Than Coffee: Cocoa consists of epicatechin as well as catechin that can help keep your skin protected from getting damaged in the sun. It can also help your skin feel smoother. 6 very good reasons why chocolate isn't so bad
More water: Not drinking enough water leads to drier skin which makes it easier for you to get wrinkles so drink at least 1 Liter or 33 ounces of water daily.
5. Basic Skin Care
Exfoliate: Exfoliating gets rid of all the dead skin making your wrinkles less noticeable.
Don't Over-wash: Washing your face with tap water can take away the oils that are used to help protect the skin against skin problems as well as wrinkles. By washing your face too often, you can actually wash away these oils and barriers that protect your skin.
Moisturize: Use moisturizers with humectants to attract more water into your skin cells to prevent wrinkles.
More Tips
How to Lose Weight Fast with Adrian's DVDs Because…