4 Fats That Burn Body Fat
1. Omega-3 fats
Omega-3 fats help you burn fat by helping your body respond better to a hormone called Leptin (Leptin is the Greek word for thin) and…
Seafoods like salmon, flaxseeds & nuts are high in Omega-3 fats or you can take an Omega-3 Supplement
5 more weight loss facts about Omega-3 fats
When combined with a calorie-counted diet and increased exercise, the effects of fish oil on weight loss could prove substantialdietician Juliette Kellow
See 79 foods high in Omega-3 fats
2. CLA (Conjugated Linoleic Acid)
Without making any diet or lifestyle changes…
CLA caused a group of overweight men to lose 1 inch off their waistlines as seen in this study and in a similar study women also reduced their waistlines by 1.2 inches and…
A group of overweight people in this study lost 9% of their body fat and increased their lean muscle mass by 1-to-2% with CLA over the course of a year.

CLA doesn't make a big fat cell get little. What it rather does is keep a little fat cell from getting big. Michael Pariza, director of the Food Research Institute

Organic beef & dairy products are high in CLA or you can take a CLA supplement
3. Omega-6 Fats
Many studies show how the Omega-6 fats Gamma-linolenic acid (GLA) & Linolenic acid (LA) help you burn fat - for example with GLA…
People lost between 9-to-11 pounds in 6 weeks while taking GLA during a study done by Dr Mri who's a researcher and consultant at the Welsh National School of Medicine in Cardiff but…
The good & bad news about most studies involving GLA is you have to be at least 10-to-20% overweight to see any results but…
GLA prevents weight gain in people who've lost weight plus GLA is also an appetite suppressant since it raises the levels of serotonin (and serotonin is a hormone that makes you feel full and eat less) and…
GLA raises your metabolism by making the "Brown fat" in your body burn calories to keep your body warm and… Brown fat (or Brown Adipose tissue or BAT) is not the same as the ugly "white" fat that accumulates on your arms, belly, thighs and other problem areas because…
Brown fat's main job is to burn fat calories for energy to keep your body warm but usually brown fat is not as active in overweight people and that's why You need GLA so you can "turn on" Brown fat so it can help you burn off the ugly "white" fat and…
As for the other Omega-6 fat Linolenic acid (LA)…
Women lost 2-to-4 pounds of fat and gained firmer muscles just by supplementing with Linolenic acid (LA) without any significant changes to their diet & exercise programs over a 16 week study and…
GLA & LA can be found in Borage Oil, Evening Primrose Oil and these 28 foods high in Omega-6 fats and please note that…
CLA is also an Omega-6 fat but…
You need to eat equal amounts of Omega-3 & Omega-6 fats or…
You need to make sure you eat up to 4 times more Omega-3 fats than Omega-6 fats for health reasons and…
This is something that you really don't have to worry about if you eat a healthy diet that includes most of these weight loss foods here while avoiding most of these bad foods here (especially the fast foods) that causes you to eat more Omega-6 fats.
4. MCTs (medium chain triglycerides)
MCTs will increase your metabolism, your body is more likely to use MCTs for energy instead of storing it as fat and MCTs help curb your appetite and because of these facts…
Farmers will not feed their animals foods high in MCTs like coconut oil because it will keep their animals very lean and…
A group of 31 overweight people lost an average of 7 lbs. during a 16 week study when they included MCT oil in their muffins and in another 12 week study…
2 groups of people were put on almost the same exact diet but the only difference was… One group got it's fat mainly from regular dietary fat while the other group got it's fat only from MCTs and…
The group taking MCTs lost 8½ lbs. (2½ lbs. more than the other group) and…
The combined results of many studies on MCTs all conclude that you can lose up to 12-to-36 pounds a year just by replacing the regular fat in your diet with MCTs and…
Coconut Oil & Palm Oil are all good sources of MCTs or you can use a MCT supplement
How to include these fats in your diet to lose weight faster…
Remember: Fats only need to be 10-to-30% of your diet if you're trying to lose weight or build muscle and…
You want to make sure that Most of or… ALL the fats you eat are Omega-3, CLA, Omega-6 and/or MCT fats if you want to burn fat faster and…
You can easily get most of those fats by eating more lean proteins like fish, organic beef, nuts & beans but if you find you can't get enough of these healthy fats in your diet…
You can take Omega-3, CLA, Omega-6 and/or MCT supplements
28 foods high in Omega 6 fats
Safflower oil
Wheat germ oil
Walnut oil
Sesame oil
Mayonnaise dressing (without cholesterol)
Margarine (hydrogenated)
Olive oil
Turkey
Chicken
Almonds
Black currant seed oil
Eggs
Avocado
Flax/linseed oil
Rapeseed oil
Canola oil
Hemp oil
Soybean oil
Cottonseed oil
Sunflower seed oil
Corn oil
Pumpkin seeds
Cashews
Grapeseed oil
CereCereals
3 things high in MCTs
Coconut oil
Palm oil or Palm kernel oil
Other stuff you can eat to lose weight…
Make sure you also see…
NowLoss.com Created by Adrian Bryant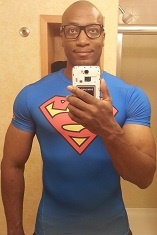 Adrian is one of the world's most sought after Body Transformation Specialist. Many People (like these here) have used NowLoss.com to Look Better Naked for free.
Even Models seek out Adrian's advice and Doctors use Adrian's unique techniques to help their patients lose weight fast and his new YouTube Channel already has over 35 Million views!
Contact Adrian Follow Adrian on FaceBook, Instagram & Twitter