Fast weight loss workout #1
Here's the workout routine you'll do to lose weight faster…
You do what you see in the video above 2-to-4 times and then you Do ONE 10-to-20 minute interval workout and…
Remember: If you get tired while doing this workout - It's Okay to stop and rest as long as you need to complete this fast weight loss workout routine at least 2 times but… You do want to get to a point where you only take 1 minute breaks after you finish doing a certain exercises within this workout routine and…
To burn even more fat while doing this workout routine…
It should take you 25-to-50 minutes to go thru this fast weight loss workout routine 2-to-4 times and do the
1 interval workout
at the end and…
You should only do this weight loss workout 3-to-4 times a week
When can I expect to see results?
Depending on how much you weigh and the type of diet you're on… You can expect to lose up to 4 pounds a week with this weight loss workout so if you're trying to lose as much weight as you can… It's best to do this workout routine while doing one of these weight loss diet plans and…
After your first 3 workouts - You should also expect to…
Start building a nice six pack & a flatter belly from doing the abdominal crawl exercise included in this workout and…
Your upper body will be less flabby & much firmer due to the pushups you're doing in this workout and…
Your legs will take on a nicer shape because of the Jump squats you do in this fast weight loss workout.
More weight loss workout routines…
NowLoss.com Created by Adrian Bryant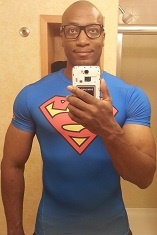 Adrian is one of the world's most sought after Body Transformation Specialist. Many People (like these here) have used NowLoss.com to Look Better Naked for free.
Even Models seek out Adrian's advice and Doctors use Adrian's unique techniques to help their patients lose weight fast and his new YouTube Channel already has over 35 Million views!
Contact Adrian Follow Adrian on FaceBook, Instagram & Twitter