26 Muscle Building Tips That'll Make You Look Like This…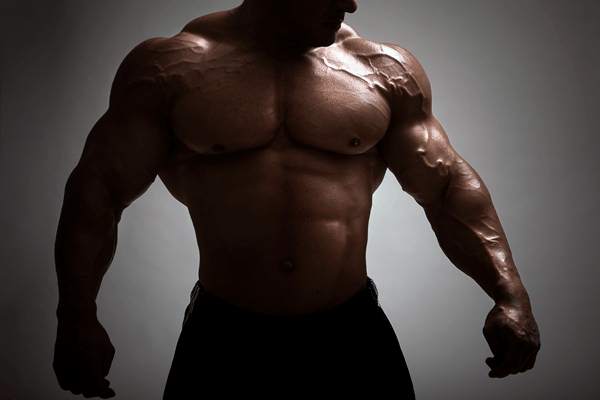 1. Stop Doing Bicep Curls &…
ONLY Do JUST Compound Exercises and here's why…
Your muscles get bigger as they get stronger &…
Your muscles get stronger from lifting heavy things over & over &…
Your muscles can't get that much bigger & stronger from doing isolation exercises where you're using much lighter weights but…
Your muscles will quickly get bigger and stronger when you do compound exercises where you're lifting much heavier weights so for example…
WHY waste your time trying to get a bigger chest with an isolation exercise like dumbbell chest flyes using maybe 20-to-50 pounds in each hand when on the other hand…
You can get a much bigger chest (AND Arms AND Shoulders) much faster by doing a compound exercise like the dumbbell bench press using heavier 40, 60 or even all the way up to 150 pounds in each hand so…
2. To Get Bigger Chest, Shoulders & Triceps…
Just do Dips OR the Bench Press for 4-to-10 sets doing 5-to-12 reps per set 1-to-2 days per week &…
You won't have to waste your time doing isolation exercises like chest flyes, shoulder front raises or triceps extensions.
3. To Get Bigger Biceps & a Bigger Back…
Just do chin-ups or pull-ups or if you can't do at least 5 of them…
Then do heavy rows or cleans for 4-to-10 sets doing 5-to-12 reps per set 1-to-2 days per week &…
Your biceps will get much bigger doing chin-ups & pull-ups instead of you doing bicep curls and to give you some proof…
Play the video of me with my 18 inch arms below doing 3 chin-ups with 70 pounds around my waist…
4. To Get Bigger Legs…
5. Do More!
Your muscles can't get any bigger & stronger if you keep lifting the SAME amount of weight, Doing the SAME number of reps and/or sets every workout so…
You need to BEAT Your Last Workout by making each workout tougher than the last one by…
Doing More Sets and/or…
Doing More Reps and/or…
Lifting Heavier Weights and that way…
Your muscles will get bigger & stronger each time you workout so…
Let's say for example in your last workout you did 5 sets of bench presses using 200 pounds for 8 reps on each set, then in your next workout…
6. Do More Right Now!
Instead of waiting until your next workout to use heavier weights and/or do more reps…
You can start using heavier weights and/or do more reps on each set you do so instead of you doing a workout where you may do 5 sets of the bench press using 200 pounds for 8 reps on each set…
You can get stronger and build muscle faster if you tried to do just a little more on each set by doing your workout like this…
Set 1: 200 pounds for 8 reps
Set 2: 215 pounds for 8 reps
Set 3: 225 pounds for 8 reps
Set 4: 225 pounds for 10 reps
Set 5: 235 pounds for 6 reps
Play the video below to get a visual idea why you need to always do more to get bigger & stronger muscles…
Remember because this is very important…
The fastest way to gain muscle is to keep beating your last workout and/or set by pushing yourself more & more each time even if it's only by an inch! so make sure you…
7. Write Down Everything!
Write down every muscle building exercise you do &…
Write down how many sets you did for each exercise &…
Write down how much weight you lifted on each set &…
Write down how many reps you did on each set &…
Write down the date you did the exercise so that…
Each time you workout you can look at what you wrote down to see exactly how many sets, reps and/or how much weight you need to lift to DO MORE or to DO MORE Right Now to beat your last workout or set to gain muscle faster so…
Use 1 of these training logs to write down everything…
8. Never Count Higher Than 12 &…
Once you get to point where you're easily doing 10-to-12 reps on almost every set then it's time to increase the weight, lift heavier and get even stronger because usually…
When you do more than 10-to-12 reps the weight isn't heavy enough to make you that much bigger & stronger &…
If you do end up doing more than 12 reps on a set then don't count it as part of your workout and Don't write it down in your workout journal &…
The only time you should go over 12 reps is if you're doing isolation exercises or using fast muscle building techniques like drop sets or forced reps but…
9. Do At Least 5 Because…
When you do less than 5 reps per set you're probably going to be using a super heavy weight that's ONLY good for building more power & strength with very little muscle gain because…
You need to do at least 5+ reps to break down or fatigue your muscles just enough to make them get bigger so make sure that you…
Use heavy weights with compound exercises that allow you to ONLY be able to do 5-to-12 reps per set &…
10. Work The Muscle, Not The Weight
Look at the 2 short 30 second videos below of the 2 guys who are doing bicep curls &…
Notice how in the 1st video the guy is working the weight and NOT his muscles by using bad form, jumping & using momentum to lift the weight but…
In the 2nd video that guy is working his muscles and NOT the weight by using good form so he will actually see his arms get bigger.
Bad form = He is working the weight = He may build some power but not much muscle
↓
Good form = He is working the muscle = His arms will get bigger
↓
You don't have to use perfect form on every rep you do because as you get deeper into the 5-to-12 rep range your form will start to get worse but…
Once you get to point in your set where you are 100% cheating, using only momentum or completely bad form then you need to stop because you're wasting your time working the weight & not the muscle so…
Still make sure you use heavy weights but be sure that you use a weight where you can do at least 5 reps in near perfect form because again…
The better your form is = the better workout your muscles will get.
Tips 11-thru-19 tell you how to eat
11. Don't Get Fat!
Gaining muscle doesn't mean you have to "bulk up" & eat everything in sight, buy mass gainers or eat 3 big macs everyday because…
12. Protein! Protein! Protein!
When you workout using the first 10 tips you're going to do massive damage to your muscles so when you eat enough protein…
You'll be able to repair & rebuild your muscles into bigger ones because…
20-to-30% of your muscles are made up of protein (the rest water) so you must eat enough protein to give your muscles the building blocks it needs to get bigger so…
Make 25-to-50% of your 2000-to-3000 calorie diet protein &…
Make the other 50-to-75% of your diet carbs and/or fats & if you're not good at math…
Use this tool here to see exactly how much protein you need and…
13. Buy Protein!
You probably won't be able to get all the protein you need eating high protein foods because you may not have time or it's too tough to eat all that protein so when it comes to the best supplements…
You must buy Protein powders/shakes, MRPs and/or Protein Bars along with eating high protein foods to help you easily get all the protein you need to gain muscle mass but…
14. More Is Not Better!
If more than 50% of your diet is protein causing you not to eat enough carbs for energy then…
You may lose some muscle mass because your body may have to burn some muscle for energy & without enough carbs…
You may not have the energy to have a real intense workout to build some serious muscle mass plus…
15. Carbs Are OK &…
Carbs make your muscles look bigger than they actually are because some of the carbs you eat get stored in your muscles &…
Those carbs attract a lot of water into your muscles making your muscles fill up & expand past their normal size so that's why you also need to…
16. Drink Lots Of Water Because…
70-to-80% of your muscles are made up of water so…
17. Eat Whatever You Want (No Joke!)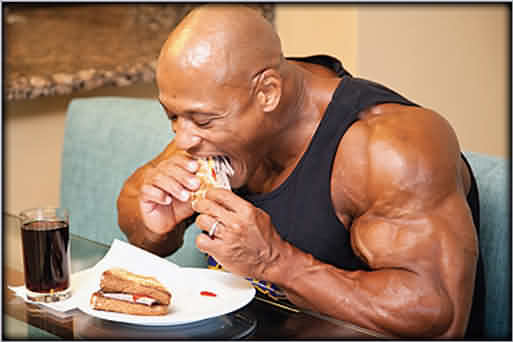 As long as you're eating 2000-to-3000 calories per day with 25-to-50% of that being protein then You'll gain muscle mass NO MATTER what you eat but before you start eating fast food burgers for protein and pizza & ice cream for carbs & fats…
It's best that at least 80% of your diet comes from these healthy foods and protein supplements because…
Eating a lot of crap will not give you the energy you need to lift heavy and do a lot of reps plus…
Eating crap will increase your hunger, making you eat more than 3000 calories and cause you to look like this
Don't eat a lot of crap as you gain muscle.
18. Eat Whenever You Want
It ALSO does not matter WHEN you eat or how many meals you eat each day as long as you're eating 2000-to-3000 calories per day with 25-to-50% of that being protein but realistically…
It's going to take you at least 2 meals spaced 2-to-3 hours apart to eat all 2000-to-3000 calories.
19. Write This Down Also…
Write down how many calories you eat each day &…
Write down how much protein, carbs & fats you eat &…
Write down how much water you drink so that…
If you ever get to a point where you are not gaining any muscle even though you're working out correctly then you can look at what you wrote down &…
You can eat more calories everyday to gain muscle mass and/or…
You can eat more protein (as long as it isn't over 50% of your diet) and/or…
You can eat more or less carbs & fats while drinking more water but also…
If you're getting way too fat while you're gaining muscle then see what you wrote down and start eating less &…
Use 1 of these food journals to write down everything…
20. There Are No Magic Pills!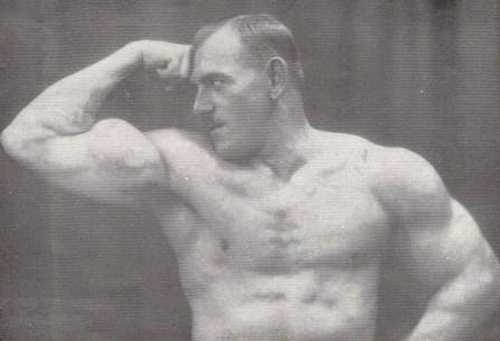 The guy in the picture above is Herman Goerner and he looked like that in the 1920's way before creatine, before fat burners & before steroids so outside of protein…
Don't waste any money on those fancy supplements because you still have to work your butt off, eat right, get protein & rest to truly gain muscle fast.
21. You Don't Get Bigger At The Gym
You ONLY get bigger muscles after you finish working out when you give your muscles a chance to rest, recover & rebuild into bigger ones with a proper diet & enough protein so…
If you keep working out the same muscles over & over doing damage to it everyday then…
Your muscles will never get bigger because you're not giving your muscle enough time to rest, recover & grow but…
When you workout a certain muscle only 1-to-2 days a week then you'll be giving that muscle all the rest it needs to grow. See sample workout schedules here
22. Skip A Workout
If you ever end up lifting the same amount of weights and doing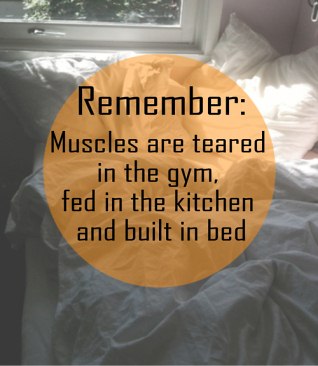 the same amount of reps for 2-to-3 muscle building workouts in a row then…
You need to skip your next 1-to-2 workouts to Give your muscles time to rest long enough to get bigger & stronger so that the next time you workout…
You can Do More & beat your last workout by lifting more weight, doing more reps and/or sets because…
If you're not getting stronger every time you workout then you're wasting your time since you won't be able to workout with enough intensity to build muscle.
23. Take It To The Next Level By…
Building muscle faster Doing More reps and/or lifting heavier weights Using 1 or more of these 11 fast muscle building techniques…
24. You'll Get Abs Later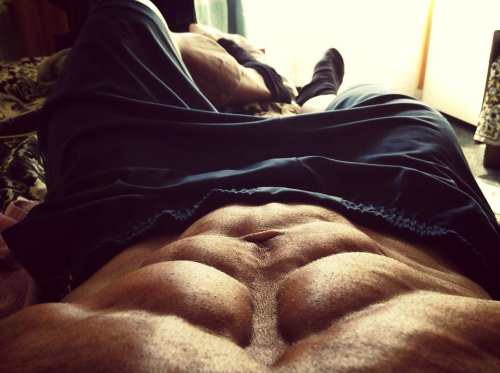 You're going to probably gain enough fat to hide your abs (but not so much where you'll get a pot belly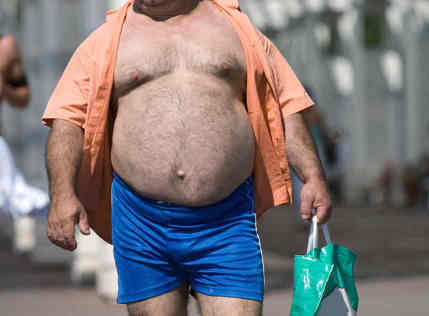 Eating way too much) while gaining muscle so for right now…
25. Burn Some Fat (totally optional)
You can minimize the amount of fat you gain (or even lose a lot of fat if you're already fat) as you gain muscle mass by using these 8 rules along with this tip here
26. Play the 'So That' Game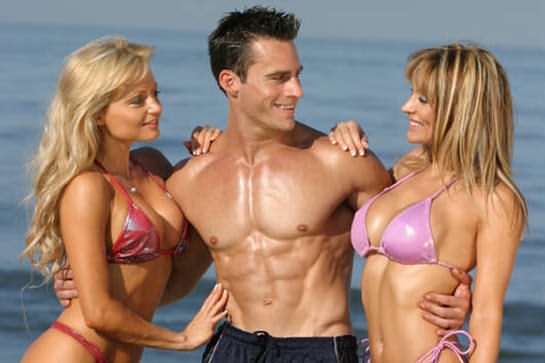 The 'So That' game is a game you play to help you come up with enough reasons to motivate you to build muscle faster and here's an example…
I want to build muscle to look better SO THAT…
I can be more confident about myself SO THAT…
Other guys will want to look like me SO THAT…
I can be attractive to any woman on the planet SO THAT…
I can have 2 women like the guy in the photo above ↑
And try to get as many 'So Thats' as you can because the more you get = the more motivated you'll be to build muscle.
Out Of The 26 Tips…
These are the 4 most important action steps you can take right now to gain muscle…
Do mostly compound exercises. (Tips 1-thru-4)

Do Dips or any Bench Press exercise for chest shoulders & triceps for 4-to-10 sets of 5-to-12 reps 1-to-2 days a week.
Do Pull-ups, Rows or Cleans for Back & Biceps for 4-to-10 sets of 5-to-12 reps 1-to-2 days a week.
Do Squats or Leg Press for legs for 4-to-10 sets of 5-to-12 reps 1-to-2 days a week.

Keep a Training log & try to get stronger each time you workout. (Tips 5-thru-7)
Eat 2000-to-3000 calories per day, Make 25-to-50% of your diet protein & Invest in protein. (Tips 11-thru-13)
Eat whatever you want, eat whenever you want & keep a food journal. (Tips 17-thru-19)
You could also take action by simply
Using this plan to gain lots of muscle mass
Don't Panic! Troubleshoot
If you ever get to a point where you've hit a muscle building plateau or you're not satisfied with the results you're getting then…
Be patient
Don't expect to gain 50 pounds of solid muscle in 5 months &…
You may gain up to 40 pounds in a year but half of that 40 pounds will probably be fake muscle where the mass you gain is from your muscles being able to hold more water and store more carbs.

I Will Help You Look Good Naked…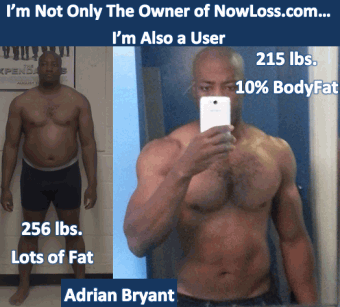 Subscribe or Follow:





Adrian Bryant
which workout was you referrinf to?
September 21, 2013
John
The one where you say to pick one compound movement, & 1-3 more isolation moves. A(chest,tri,shoulders)B(back,biceps)C(legs)...
But if you have another workout you recommend, I have been working out for 4yrs now consistently, and i haven't grown much. i've sorted my diet out recently. I'm looking for what to do now workout wise..
Thanks
September 21, 2013
Adrian Bryant
they can all be done on the same day but I'd prefer if you did them on separate days so you can put more intensity and focus into each workout
September 22, 2013
Adrian Bryant
what exercises are you doing? how much do you weigh and how much protein are you eating?
July 24, 2013
Adrian Bryant
not at all. as long as you get enough protein in your diet and rest
April 28, 2013
Brandon
hey, im 16, almost 17, i had the same problem ur having. get into the gym, do over head press, barbell rows, bench, LOTS of compound excersies that move more than one joint. and use heavy weight. heavy enough so u can only do 5-8 reps. i went in and could ony over head bench 65, now im at 110-125 in a month. give it a try. garentuee u wont be dissappointed.
March 12, 2013
Fahad
Hi Eric,
I found myself in the same situation a year ago, and i fuond out that with age, your body changes and does not respond to different things as it used to. What helped me was tweeks in my workouts that i did and also my diet. And when and what i eat before and after workouts. Timming was essential for me. I also eat foods that helped raise my testostrone naturally. I have added High intensity tech in my workouts, which has helped alot, and the most importatnt is the Mind muscle connection and taking the last to such a failure that i can not lift anymore weight. Its all about keeping your body guessing as your body is a magnificat thing and can adopt to a certain routine very easily and get efficient at it. let me know if you want to know more details about the program i do.
January 23, 2013
Brandon
lift heavy weight, heavy enough that u can only do 5-8 reps. ive been in ur position. trust me.do lots of compund excercises
March 12, 2013
Dave
Hey Samad,
I suffered from the same problem you did, low libido, lack of energy, etc.
Have you gotten your testosterone level checked lately? Your testosterone level is the number one determining factor to how much of a sex drive you have.
First, we need to recognize the symptoms of low testosterone and know how it affects men at all ages, even young guys like yourself. The symptoms of low testosterone can include lack of libido, lack of motivation, decreased energy levels, decreased size and strength, fat gain, depression, mood swings and a general sense of not feeling like a man.
Don't let low testosterone get the best of you - If you feel like you might have low testosterone then get tested and get treatment. Low testosterone is what makes men, men and without it, your health can take a serious toll as well.
In addition to treatment, you should be attempting to raise your natural testosterone levels by all means necessary. To help you get started, check out this article on How To Natually Increase Testosterone Levels
November 04, 2012