It's going to be more challenging to lose your last 10 lbs. because…
1. You're a weight loss veteran
After easily losing your first 20+ pounds you're not going to be able to lose weight as fast as you once did eating the same amount of calories, not making any diet changes and/or doing the same exact workout over & over so to lose your last stubborn 10 pounds…
You're going to need more aggressive diet strategies where…
You're going to have to workout smarter by…
2. You need to be more patient because as you lose weight…
You'll lose weight slower & slower so although you lost your first 20 pounds in less than 4-to-6 weeks…
You can expect it take up to 2 months to lose your final 10 pounds mainly because…
Be patient and don't doing anything extreme like Beyonce did to lose 20 pounds in 2 weeks and then gain all the weight back.
Only expect to lose ½-to-2 pounds a week when you're losing your last 10 pounds
NowLoss.com Created by Adrian Bryant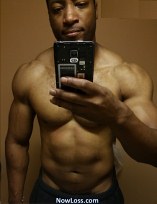 Adrian Bryant is a Body Transformation Specialist. Many People (like these here) have used NowLoss.com to Look Better Naked for free.
Even Models seek out Adrian's advice and Doctors use Adrian's unique techniques to help their patients lose weight fast and his new YouTube Channel already has over 35 Million views!
Contact Adrian Follow Adrian on FaceBook, Instagram & Twitter