It's going to be more challenging to lose your last 10 lbs. because…
1. You're a weight loss veteran
You've been through all the calorie cutting diets and all the daily cardio workouts so after you've lost your first 20+ pounds easily… Your body is mostly used to 90% of the diet strategies, diet pills and workouts you've been doing so to lose your last stubborn 10 pounds…
You're going to need more aggressive diet strategies where…
You're going to have to workout smarter by…
2. Your own body doesn't want you to lose your last 10 lbs. &…
Your body will release hormones that will increase your appetite & cravings to get you to eat more so you can stop losing weight because…
Your body wants to hold onto that little bit of stubborn fat you have leftover after you lost lots of weight as emergency survival energy but it's all about YOUR MIND Over Matter so…
If you diet & workout smarter and be more patient you can easily lose your last 10 pounds so YES…
3. You need to be more patient because…
As you lose weight… You'll lose weight slower & slower so although you lost your first 20 pounds in less than 4-to-6 weeks…
You can expect it take up to 2 months to lose your final 10 pounds mainly because…
Be patient and don't doing anything extreme like Beyonce did to lose 20 pounds in 2 weeks and then gain all the weight back so only expect to lose ½-to-1 pound a week when you're losing your last 10 pounds so…
To lose your last 10 pounds…
If you have more than 10-to-20+ pounds to lose &…
You're having a hard time losing weight then you don't have any "stubborn" fat and what you need to is…
I Will Help You Look Good Naked…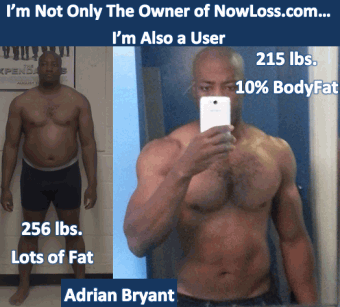 Subscribe or Follow:





Adrian Bryant
2000 or a little less may be want you need to maintain your current weight but you need a food journal to track calories so you'll know exactly how much you need to lose or maintain weight
September 18, 2013
Carla
You might want to try eating more lean meats and/or legumes. Both have lots of protein, and legumes are full of fiber. So you can't eat too many without feeling full, and it takes longer for your body to break down, so you stay full longer.
October 21, 2013
Adrian Bryant
that's not true at all. eating less will always cause you to lose weight faster so simply put...
if 1200 is not working then try 1100 but more likely you'll need to amp up workout intensity and/or time
July 24, 2013
Adrian Bryant
the reason why you are not losing much weight is simply becasue you don't have much fat on your body to lose
April 26, 2013
Alie J
You're anorexic, please don't loose any more weight, eat 3000kCal per day to gain at least 7kg but you may need to put on more weight before you're better.
You need help, please don't make the same mistake as I did!
Same advice to anyone else: if you can't loose weight then maybe your body is telling you that you're trying to go too far?
Bear in mind the BMI chart is only a rough guide. It's possible to be suffering from undernutrition, even if your BMI is above 18.5.
Indeed an overweight BMI is more healthy for many people than a BMI of under 21. If your BMI is below 25, any weight loss is probably a bad idea.
June 17, 2013
Adrian Bryant
you'll continue to lose weight but maybe not at the same rate and as you get closer to your goal your weight loss will get slower and slower
March 12, 2013
Adrian Bryant
Any workout will help you lose weight right now but the higher the intensity = the faster you will lose weight
December 24, 2011