Here's What 16 Celebrities did to lose weight…
Ricki lake lost 127 pounds via a 1200 calorie

daily diet and doing 4.5 mile hikes 4 times a week.
Marissa Jaret Winokur lost 45 pounds with a 1200-to-1800 calorie daily diet and… She did 1 hour of Cardio Barre class (a combination of cardio & ballet), ran 45 minutes and swam daily plus… Marissa lost 7 more pounds being on dancing with stars.
Nick Carter went from 224 pounds to 175 pounds & dropped his waist size from 38 to 34 by eating only 1400 calories a day & avoiding alcohol but… Nick did have one cheat day a week where he ate ice cream and to lose his 40+ pounds…

Nick hit the gym 6 days a week lifting weights and using the elliptical and to maintain his weight… Nick now only workouts 4-to-5 times a week.
Missy Elliot lost 71 pounds after being motivated to lose weight by her doctor who told her she would have a stroke if she didn't do anything about her weight so…

Missy Elliot lost 71 pounds by eating tiny Mini Meals all day to increase her metabolism, and instead of Fast Foods she ate more Weight Loss Foods like brown rice and… Missy started going to the gym working out on the Stairmaster, doing spin classes, dancing, and light weights.

Janet Jackson lost 60 pounds with a 3 meal, 2 snack, 1300-to-1600 calorie a day diet plan and Janet's diet also contains protein with every meal and snack to help curb hunger and for her workout… Janet Jackson did Interval Training and here's an example of one of Janet's workouts according to her trainer…

She'll walk on the beach for a minute, then side-shuffle for 30 seconds, then run for a minute - Next…
She'll go to a reverse lunge with 3 pound weights for 30 reps, and back to a run again and in another workout…
Janet Jackson hits tennis balls with her trainer and If she misses… Janet has to do pushups and If she misses again… She'll do walking lunges around the court.

Jennifer Hudson also lost 60 pounds by cutting out fried foods and her reported weight loss meals consisted of palm size servings of protein (grilled chicken), fiber (veggies & fruit), and complex carbohydrates plus…

She wakes up at 4am to run for an hour, followed by an hour long workout in the gym with her trainer by doing stuff like 4 sets of squats, push-ups and sit-ups.
Joey Fatone lost 40 pounds using NutriSystem and by being a contestant on dancing with the stars which had him doing 5 hour a day, 6 day a week dance rehearsals.
Tyra banks lost 30 pounds in 5 months by engaging in high intensity interval training which includes running and walking on a treadmill and boxing and for her diet…

Tyra stopped eating at IHOP breakfast, a burger or pizza for lunch and steak and some sort of sweet come dinnertime and instead… Tyra ate better by cooking soup dishes for herself from her favorite cookbook 400 Best-Ever Soups by Anne Sheasby.
Monica Seles lost 33 pounds going from a size 14 to a slim size 6 with a diet of 60 percent protein, 20 percent carbs & 20 percent healthy fats and she also did 20 minutes on the elliptical machine and 30 minutes of body sculpting twice a week plus she did 10 minute walks everyday.
Queen Latifah lost 20 pounds on Jenny Craig and going to the gym 5-to-7 days a week by spending 1 hour either on a treadmill or elliptical.
Fergie lost 20 pounds on a low 1200 calorie diet with meals made by Carrie Wiatt of DietDesigns.com but she now maintains her weight with a 1600 calorie daily diet and a very active lifestyle and Fergie also uses 2 tablespoons of Apple Cider Vinegar each day to help speed up her metabolism, break down fat and even block fat formation.
Keely Osbourne lost over 15 pounds just by making better food choices so… Instead of having ten sodas a day - she only had one soda and instead of having potato chips - she ate rice cakes and here's another weight loss tip from Keely…


Renee Zellweger, Dennis Franz and Stevie Nicks have all used the Atkins diet to lose over 30 pounds.
And here's how 5 more Celebrities lost their last 10 pounds…
Lauren Conrad lost her last 10 pounds by eating 6 meals a day for a total of 1,500 calories a day and her diet was mostly fish, beans, other proteins & veggies but she does eat more carbs on her cheat day and…

Lauren did 1 hour sessions of weight training and treadmill work twice a week and She stayed active during the other days of the week by doing 45 minute hiking sessions in LA's Runyon Canyon to lose her last 10 pounds and… Whitney Port also lost over 20 pounds doing the same thing her co-star Lauren Conrad did.
Penelope Ann Miller lost 10 lbs in 8 weeks eating 1600 calories a day by eating every few hours making sure she got most of her carbs from fruit & veggies and avoiding bad foods plus…

Penelope worked out for 60 minutes 3 times a week with her personal trainer and did 2 additional cardio workouts on her own to help her lose 10 pounds in 8 weeks.
Natasha Bedingfield lost her last 15 pounds in 4 months by doing 30 minute intervals 3 times a week and working out with a trainer on weights twice a week.
Anna Faris lost her last 10 pounds to look better for her role in the new movie House Bunny by doing Pilates 6 times a week and running 3 miles daily and she admits to maintaining a strict diet which included eating chicken and vegetables but she now also admits she could never keep up that diet regimen forever.
NowLoss.com Created by Adrian Bryant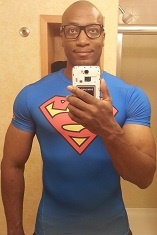 Adrian is one of the world's most sought after Body Transformation Specialist. Many People (like these here) have used NowLoss.com to Look Better Naked for free.
Even Models seek out Adrian's advice and Doctors use Adrian's unique techniques to help their patients lose weight fast and his new YouTube Channel already has over 35 Million views!
Contact Adrian Follow Adrian on FaceBook, Instagram & Twitter
Get These Free Videos…
(Offer Expires in 0:60 Seconds)
Lose 22 Pounds in 23 Days with the Emergency Diet.
How to Lose 20 Pounds in 30 days with a Bed Sheet.
How to Get a Flatter Stomach in 60 Seconds using a chair.