Jump to on this page…
What 12 Celebrities Did to Lose Weight Fast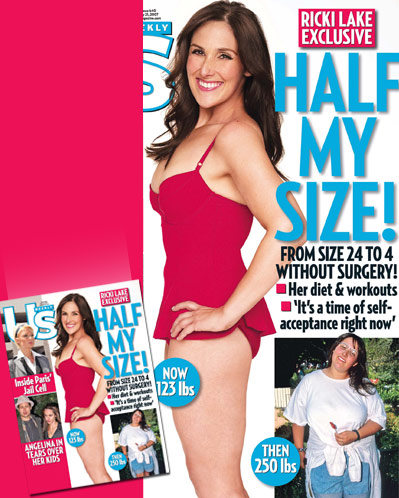 1. How Ricki Lake lost 127 pounds
Ricki Lake lost 127 pounds via a 1200 calorie daily diet and doing 4.5 mile hikes 4 times a week.
2. How Nick Carter lost 49 pounds
Nick Carter went from 224 pounds to 175 pounds & dropped his waist size from 38 to 34 by eating only 1400 calories a day & avoiding alcohol but Nick did have one cheat day a week where he ate ice cream.

Nick hit the gym 6 days a week lifting weights and using the elliptical and Nick now only workouts 4-to-5 times a week to maintain his weight. Here's some elliptical workouts you can do…
3. How Marissa Jaret Winokur lost 45 pounds
Marissa Jaret Winokur lost 45 pounds with a 1200-to-1800 calorie daily diet and she did 1 hour of Cardio Barre class (a combination of cardio & ballet), ran 45 minutes, swam daily and Marissa lost 7 more pounds being on dancing with stars.
4. How Missy Elliot lost 71 pounds
Missy Elliot lost 71 pounds after being motivated to lose weight by her doctor who told her she would have a stroke if she didn't do anything about her weight so…
Missy Elliot began eating tiny Mini Meals all day & instead of Fast Foods she ate more Weight Loss Foods like brown rice and…
Missy started going to the gym working out on the Stairmaster, doing spin classes, dancing, and light weights.
5. How Janet Jackson lost 60 pounds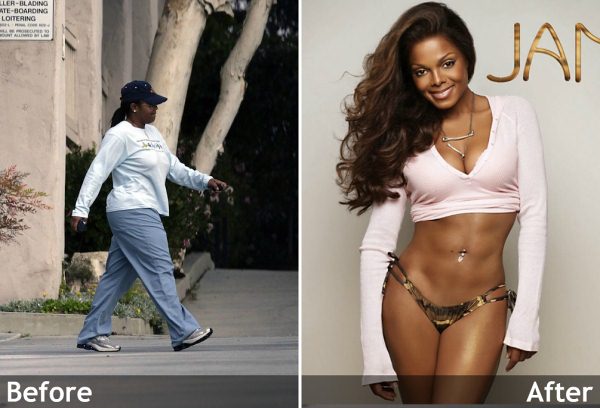 Janet Jackson lost 60 pounds with a 3 meal, 2 snack, 1300-to-1600 calorie a day diet plan and Janet's diet also contains protein with every meal and snack to help curb hunger and for her workout…
Janet did Interval Training and here's an example of one of Janet's workouts according to her trainer…
She'll walk on the beach for a minute, then side-shuffle for 30 seconds, then run for a minute - Next…
She'll go to a reverse lunge with 3 pound weights for 30 reps, and back to a run again and in another workout…
Janet Jackson hits tennis balls with her trainer and If she misses… Janet has to do pushups and If she misses again… She'll do walking lunges around the court.
10 ways to lose 10-to-15 pounds every 3 weeks doing intervals
6. How Jennifer Hudson lost 60 pounds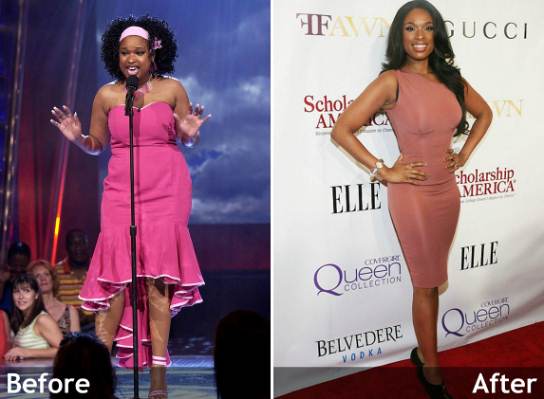 Jennifer Hudson also lost 60 pounds by cutting out fried foods and her reported weight loss meals consisted of palm size servings of protein (grilled chicken), fiber (veggies & fruit), and complex carbohydrates plus…

She wakes up at 4am to run for an hour, followed by an hour long workout in the gym with her trainer by doing stuff like 4 sets of squats, push-ups and sit-ups
2 Ways to Burn More Fat Quickly In the Morning
7. How Joey Fatone lost 40 pounds
Joey Fatone lost 40 pounds using Nutrisystem ® and by being a contestant on dancing with the stars which had him doing 5 hour a day, 6 day a week dance rehearsals.
8. How Tyra Banks lost 30 pounds
Tyra Banks lost 30 pounds in 5 months by engaging in high intensity interval training workouts like these…
Tyra stopped eating at IHOP breakfast, a burger or pizza for lunch and steak and some sort of sweet come dinnertime and instead… Tyra ate better by cooking soup dishes for herself from her favorite cookbook 400 Best-Ever Soups by Anne Sheasby.
9. How Monica Seles lost 33 pounds
Monica Seles lost 33 pounds going from a size 14 to a slim size 6 with a diet of 60 percent protein, 20 percent carbs & 20 percent healthy fats and she also did 20 minutes on the elliptical and 30 minutes of body sculpting twice a week plus she did 10 minute walks everyday.
4 ways protein helps you lose weight faster
10. How Queen Latifah lost 20 pounds
Queen Latifah lost 20 pounds on Jenny Craig and going to the gym 5-to-7 days a week by spending 1 hour either on an elliptical or treadmill…
11. How Fergie lost 20 pounds
Fergie lost 20 pounds on a low 1200 calorie diet with meals made by Carrie Wiatt of DietDesigns.com but she now maintains her weight with a 1600 calorie daily diet and a very active lifestyle.
Fergie also uses 2 tablespoons of Apple Cider Vinegar each day to help speed up her metabolism, break down fat and even block fat formation.
12. How Kelly Osbourne lost over 50 pounds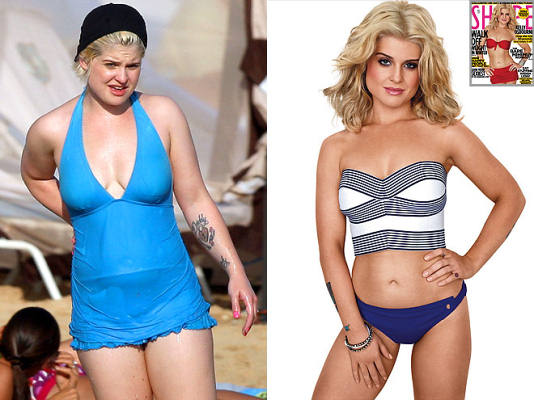 Kelly Osbourne lost over 50 pounds just by making better food choices so…
Instead of having ten sodas a day - she only had one soda and
Instead of having potato chips - she ate rice cakes and here's another weight loss tip from Kelly…
"Get rid of your microwave! It's the easiest thing to chuck some three-minute meal in. If you don't have one, you'll pick up something fresh."Kelly Osbourne
How 5 Celebrities Lost Their Last 10 Pounds
1. How Brittney Spears lost her last 15 pounds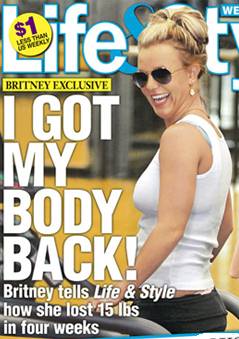 To go from 140-to-125 pounds…
Britney Spears worked out for an hour a day, 5 days a week with a personal trainer by spending 45-to-60 minutes on a treadmill and since she wasn't overweight to begin with…
Britney had to use vigorous workouts along with her very active lifestyle that includes plenty of dance rehearsalsto drop her last 15 pounds (see how hard you need to workout to lose weight) but…
The main thing Britney Spears did to lose weight was change her eating habits by NOT eating the bad foods that made her gain weight in the first place so…
She stopped eating junk foods, avoided Starbucks Frappuccinos (which contained 400 calories each) and Red Bull and…
Britney Spears ate 1200 calories a day by eating various weight loss foods like chicken, salmon, rice, and avocados including having egg whites for breakfast and sometimes turkey burgers for lunch and…
To curb her sugar cravings Britney would eat low-fat yogurt or have a sugar free popsicle but…
Britney did have 1 cheat day a week where she limited herself to only 3 cheat meals on her cheat day.
2. Lauren Conrad lost her last 10 pounds by…
Eating 6 meals a day for a total of 1,500 calories a day and her diet was mostly fish, beans, other proteins & veggies but she does eat more carbs on her cheat day and…
Lauren did 1 hour sessions of weight training and treadmill work twice a week and She stayed active during the other days of the week by doing 45 minute hiking sessions in LA's Runyon Canyon.
3. How Penelope Ann Miller lost 10 lbs. in 8 weeks
Penelope Ann Miller lost 10 lbs. in 8 weeks eating 1600 calories a day by eating every few hours making sure she got most of her carbs from fruit & veggies and avoiding bad foods plus…
Penelope worked out for 60 minutes 3 times a week with her personal trainer and did 2 additional cardio workouts on her own.
4. How Natasha Bedingfield lost her last 15 pounds
Natasha Bedingfield lost her last 15 pounds in 4 months by doing 30 minute intervals 3 times a week and working out with a trainer on weights twice a week.
5. How Anna Faris lost her last 10 pounds
Anna Faris lost her last 10 pounds to look better for her role in the new movie House Bunny by doing Pilates 6 times a week and running 3 miles daily and she admits to maintaining a strict diet which included eating chicken and vegetables but she now also admits she could never keep up that diet regimen forever.
How 15 Celebrities Lost Weight After Their Pregnancy
1. How Constance Zimmer went back to 110 pounds
Constance Zimmer went all the down to 110 pounds (5 pounds less than her pre-pregnancy weight!) by using freshmommy.com & walking with a 4 pound vest to burn more calories.
How weight vest speed up weight loss
2. How Christina Aguilera lost 40 pounds in 4 months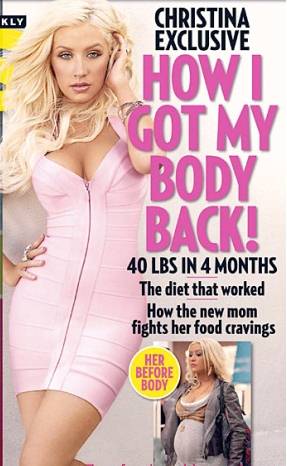 Christina did 90 minute vigorous workouts with her Personal Trainer 5 days a week consisting of…
Her workout began with 40 minutes of intervals on a treadmill or elliptical and then…
Christina did 40 minutes of various toning exercise like bicep curls, chest presses, push-ups, lunges, and ab exercises usually for 3 sets of 8-to-12 reps and she finished up with her workout with 10 minutes of stretching and here's another good tip…
Christina's Personal Trainer Tee Sorge didn't have her doing the same toning or body sculpting exercises each workout to prevent plateaus to keep the results coming in.
For her diet…
Christina was on a 1800 calorie diet of protein, veggies, and whole grains which consisted of 3 meals & 2 snacks and although 1800 calories may seem like a lot…
Christina was breastfeeding which means she needed to eat up to an extra 500 calories per day but Christina credits breast-feeding for helping her shed her post-pregnancy weight…

I think they say that when you're breastfeeding, your weight kind of slims down. It's a little easier. It's like a workout within itself. It's very tiring actually and you find yourself snacking more often. Christina Aguilera telling US TV show Access Hollywood

Christina had 1 cheat day a week with foods like with chili cheese fries and she admitted to having cravings for candy.

I'm not into depriving myself, I limit the bad foods that I like. Christina Aguilera from US Weekly Magazine
3. How Nicole Sullivan lost 41 pounds
Nicole Sullivan lost 41 pounds & went down to 128 pounds which is 3 pounds less than she weighed before she was pregnant and…
Nicole ate 1100 calories a day with foods from freshdining.com while having one cheat day a week with pizza and she walked up hills with her dog and lifting her 23 pound baby also helped her lose weight fast.
4. How Melanie Brown lost 40 pounds
Melanie Brown aka "Scary Spice or Mel B" lost 40 pounds after giving birth mainly by exercising regularly and by being a contestant on dancing with stars
I don't believe in diets, I believe in listening to your body and being consistent. If you want a burger, have one, but balance it out the next day by eating salmon and vegetables.Melanie Brown
5. How Heidi Klum lost 30lbs in 6 months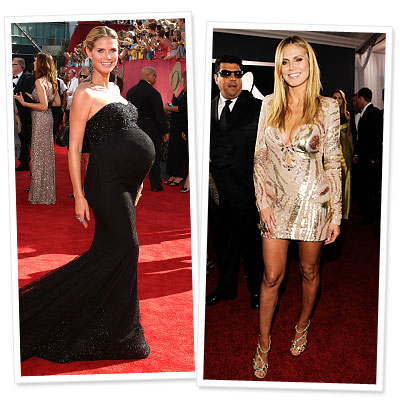 Heidi Klum lost 30lbs in 6 months after her pregnancy simply by motivating herself to exercise with photographs she took of herself nude every week to keep track of the way her body was changing.
6. How Denise Richards lost 30 pounds in 4 months
Denise Richards lost 30 pounds in 4 months after her pregnancy by getting up at 5am every morning to workout with her personal trainer and doing cardio.
2 Ways to Burn More Fat Quickly In the Morning
7. How Jamie Pressley lost 42 pounds
Jamie Pressley lost 42 pounds of baby weight with help from the cabbage soup diet
It's not the most amazing in terms of the kind of food you get to eat and the tastes but it did really well for me.Jamie Pressley
8. How Catherine Zeta-Jones lost 50 pounds
Catherine Zeta-Jones lost the 50 pounds she gained while pregnant with the Atkins diet by eating more low-carbohydrate and high protein foods like lean meats, fish and veggies.
9. How Melissa Joan Hart lost her baby weight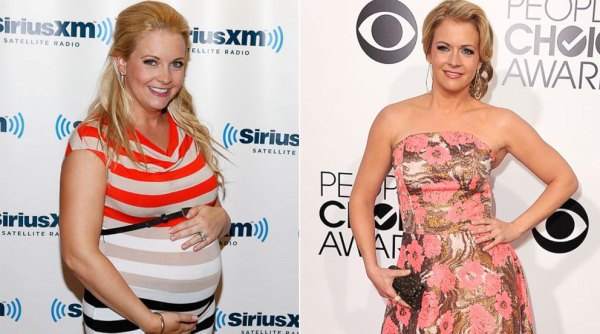 Melissa Joan Hart lost her baby weight basically by eating no bad foods & by having protein with every meal but she does cheat once in a while and indulge in ice cream, chips and guacamole and…
Melissa did 30 minutes of spinning and 30 minutes of floor exercises 3 days a week with a trainer 4 weeks after giving birth.
10. How Gabrielle Reece lost 34 pounds in 5 months
Gabrielle Reece lost 34 pounds in 5 months just by going back to being natural active by doing Pilates, swimming, and circuit training and her diet consisted of weight loss foods like oatmeal, salads, brown rice, and various protein sources and she admitted to having some chocolate almost every day.
11. How Leah Remini lost 80 pounds
Leah Remini finally lost the 80 pounds she gained during her pregnancy with five workouts a week and by following the 1st Personal Diet which is a customized diet made for you based on results of your blood test but the 1st Personal Diet isn't recommended for breastfeeding women.
12. How Reese Witherspoon got her movie star shape
Reese Witherspoon went back to her movie star shape only 8 weeks after having her baby by doing yoga, eating healthy, and getting plenty of outdoor exercise and walking when she can.
13. How Uma Thurman lost 25 pounds in 6 weeks
Uma Thurman lost 25 pounds in 6 weeks after having her baby doing the sword-fighting and martial arts training she had to do for the Kill Bill movie but YOU can get the same martial arts style workout with Tae Bo
14. How Kate Hudson lost 60 pounds in 4 months
Kate Hudson lost 60 pounds in only 4 months by working out 2-to-3 hours per day, 6 days a week and her diet consisted of smaller meals spread throughout the day made up of higher protein foods and she avoided certain carbohydrates such as grains and some fruits.
15. How Jennifer Lopez lost 40 after having twins
To lose 40 pounds after having twins Jennifer Lopez…
Ate 1400 calories a day that was divided into 4 separate mini-meals during the day and…
Her 1400 calorie diet consisted mainly of fresh fruit, raw vegetables, she had protein at each meal, and she was always drinking water and…
She avoided all red meats until she reached her goal weight of 120 pounds and Jennifer Lopez worked out for 45-to-75 minutes four times a week.
What 10 Celebrities Do to Always Look Good Naked
1. Evangeline Lilly
Evangeline Lilly maintains a sexy body by staying active doing many activities like running, yoga, Pilates, dance, weights, scuba diving, golfing, ice skating, canoeing, kayaking, snowboarding, rock climbing and surfing but here's her 2 top health tips for looking good…
Get 8 hours of sleep and drink plenty of water.
See why Sleep & Water are important.
2. Pamela Anderson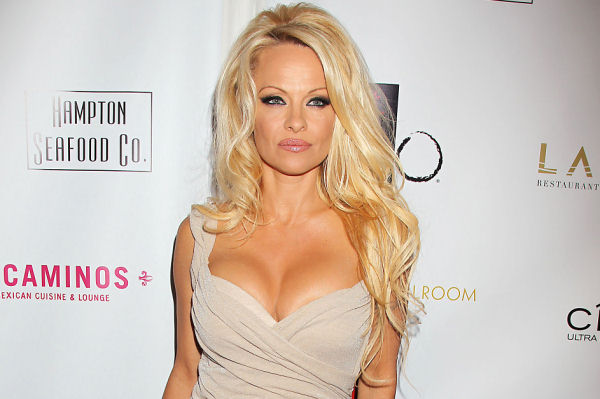 Pamela Anderson's vegetarian diet, running, and doing Tae Bo keeps her looking good naked.
3. Shania Twain
Shania Twain maintains a healthy Vegetarian diet which makes her not crave junk food and she drinks white tea.
Shania still gets her protein from sources like cashews or yogurt and she stays naturally active by enjoying power-walking and horseback riding.
4. Rihanna
Rihanna's trainer makes her eat small meals every three hours and very rarely she'll eat only once or twice a day and…

Rihanna workouts almost everyday with a trainer and she does lot a lot of cardio to prevent her legs from getting bulky to maintain her slim, perfectly-toned legs.
If I exercise every day for a week, I can drop several pounds but If I diet (& exercise), I see even faster results.Rihanna
5. Sara Evans
Sara Evans eats only when her stomach growls, stops a soon as she is full and she never eats any of these bad foods and she doesn't follow any specific diet and exercise program to stay thin.
See 5 steps to lose weight without counting calories
6. Lauren Graham
Lauren Graham eats between 1600-to-1700 calories a day to maintain her figure and she allows herself to indulge in deserts and pasta on occasion and…

She workouts with a trainer 4 days a week and during their hour-long workout sessions and her trainer keeps her heart rate at about 145 bpm.
7. Stacy Keibler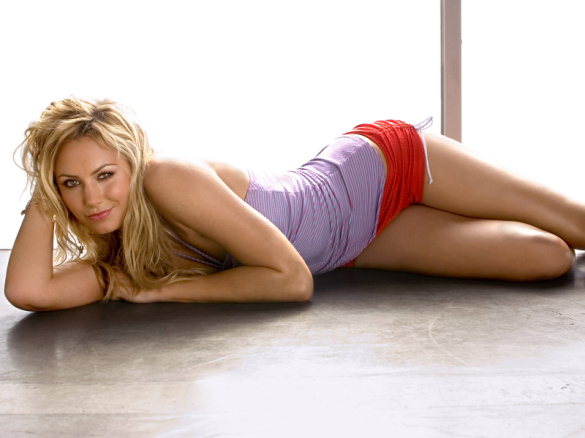 Stacy Keibler does things like power walking & light weight training to help keep her sexy figure plus she does lots of lunges with low weight for her legs and before a show…
She'll do 10 minutes of warm up cardio, 45 minutes of weight training focusing on one body part per workout, and then 20 minutes of cardio to end the workout.
8. Ali Landry
Ali Landry follows The Zone Diet and has said that THE FIRM workout lifted her butt, tightened the backs of her legs and helped sculpt a longer, leaner look to them.
9. Rebecca Romijn
Rebecca Romijn also went on The Zone Diet and eliminated sugar, and alcohol for six weeks plus she also worked on the elliptical machine for 45 minutes a day to maintain her model figure for the X-men movies but her best stay thin tip is…
Order an appetizer as an entree. Order something that requires a little work like an artichoke. I try not to order things that obviously have too much fat, but also too much sodium. Soups have a lot of salt.Rebecca Romijn
Rebecca has also done Pilates for about eight years to keep her looking good naked.
10. Sandra Bullock
Sandra Bullock eats what she wants but tries to stay away from junk food until the weekend.
I really changed my eating habits, from pizza and Diet Coke to something like maybe a piece of chicken and some vegetables on the side.Sandra Bullock
How to eat whatever you want & lose weight
Make Sure You Also See…