To Get Thicker Thighs & a Smaller Waist…
Thicker Thigh Workout A
Do 4-to-10 sets of 5-to-12 reps of ONE of these thicker thigh exercises 1-to-2 days per week but…
Take at least 2 days off between workouts if doing this workout 2 days a week.
Click on photos to see how to do exercise
5 Tips To Get Thicker Thighs With Workout A…
1. Make sure you use enough weight.
Don't use weights that are too heavy or too light.
If you do more than 12 reps = weight is too light.
If you can't do at least 5 reps = weight is too heavy.
Pick a weight that keeps you in the 5-to-12 rep range.
Doing anything more or less than 5-to-12 reps doesn't count as a set.
You want to try to use heavier weight, do more reps (but no

more than 12 per set) and/or sets (but no more than 10) each time you workout and/or…
Try to do more on each set you do within a workout because…
As your thighs get stronger they will get thicker.
You can't get thicker/stronger thighs using the same weights, reps and sets each workout so keep a training log to know how much more you need to do to get thicker thighs each workout you do.
Training logs you can use…
3. Pre-exhaust
Do 1-to-4 sets of 15-to-40 reps of leg extensions or sissy squats using light-to-moderate weights.
This is optional. You only need to use this tip if you're having a hard time 'feeling it' in your thighs during a workout or…
You can use the pre-exhaust option as you get more advanced when your thighs are thicker & stronger.
4. More is not better
Doing more than 2 thigh workouts a week will only slow you down because your thighs need time to rest, recover and grow in between workouts.
Make sure you take 1-to-2 weeks off after every 2-to-8 weeks in a row of doing this thicker thigh workout.
5. Make sure you use this diet
Thicker Thigh Workout B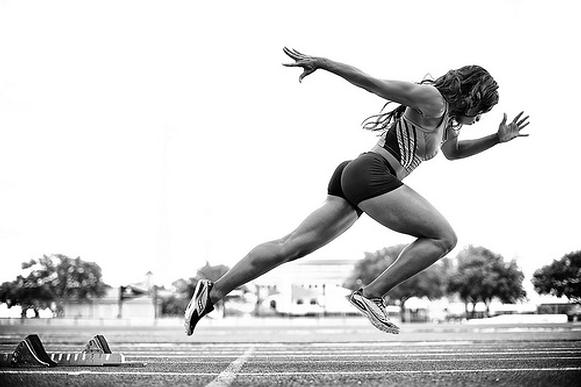 1. The Warm-up
2. The Workout
Do 3-to-10 40-to-100 yard hill sprints.

Rest up to 3 minutes after each sprint after you've walked back down the hill &…
Rest up to 10 minutes after doing all 3-to-10 hill sprints & then…

Do a final set of 3-to-10 40-to-100 yard hill sprints.
Do this sprint workout 1-to-2 times a week.
3. What if you don't have hills?
Do regular sprints on a flatter surface but…

Don't expect the same results as using a hill unless…
You wear a weight vest or for an even better thigh workout…

Use a Sled and do the same workout sprinting backwards.
Run up 5-to-10 floors of stairs to count as 1 sprint or…

If you're running up bleachers or stadium steps then about 15 steps = 1 floor, 150 steps = 10 floors &…
Try to find a building where you can run up at least 3 floors at a time.
4. Getting faster results with Workout B
Wear a weight vest, book bag filled with heavy objects or put someone on your back for added resistance.
Use a Sled and maybe a vest at the same time when doing

sprints & if you do have a sled…
Sprint backwards using the weighted sled on a hill or flat surface for a killer thigh workout.
Find stepper & longer hill.
Try to do more sprints (no more than 10) or more total distance each workout.
Keep a training log try to do more sprints, sprint farther and/or use more resistance each time you workout.
5-Step Diet For Thicker Thighs & Smaller Waist
1. Eat anything you want as long as you…
Eat 1200-to-2000 calories per day & you make 25-to-50% of that protein (which works out to about 100-to-250 grams of protein per day) &…
You can eat anything you want for the other 50-to-75% of your diet but…
Try to make the majority or the 'Eat anything you want' part these foods instead of the salty, sugary & fatty foods because…
Those bad foods will make you have massive cravings causing you to eat more than 2000 calories making you fat plus…
You may not have the energy to have an intense enough workout that'll give you thicker thighs.
2. Eat whenever you want
See the nowloss diet to see why it doesn't matter what or when you eat but it's going to take at least 2 meals (at any time of the day) to get the 1200-to-2000 calories you need for thicker thighs.
3. You may need supplements
You'll need about 100-to-250 grams of protein daily to build thicker thighs & you can get your protein from…
4. Drink at least 1 liter of water per day.
Use a food journal so you can adjust the amount of calories & protein you're eating if you're not satisfied with the results you're getting but if you're not getting results then more than likely…
You're not doing the exercises in the workout above correctly and/or…
You're using weights that are too light by doing more than 12-to-15 reps per set and/or…
You're using weights that are too heavy by doing less then 4-to-6 reps per set and/or…
You're using the same amount of sets, reps and/or weight every workout.
Expect to get thicker thighs every 2-to-4 weeks &…
You'll also get curvier hips & butt as well &…
How fast you get a smaller waist depends on how overweight you are so expect to lose 10 pounds every 4-to-6 weeks (especially if you do this fat loss workout) but…
Before you start this plan…
Get a food journal
Make sure you know how to count calories
Get a weight training log
Get a fat loss workout log
Optional Workout For a Smaller Waist
(You don't have to do this but you'll get a smaller waist much quicker)
Do one of fat loss workouts below for 20-to-40 minutes 3-to-4 days a week 1-to-2 times per day…