To burn fat faster while working out…
You need to workout when your body is low on glycogen (or when your body is glycogen depleted) and if you don't know…
Glycogen is the carbs that are stored in your muscles and liver for energy and usually when you workout your body burns both carbs (muscle glycogen) & fat for energy so…
When your body is low on glycogen then your body will have no choice but to burn more fat for energy and this is the main reason why you burn more fat when you workout first thing in the morning before eating breakfast because your body is low on glycogen at that time (See 2 ways to burn fat quickly in the morning) so…
To lower the amount of glycogen stored in your body to make you burn fat faster…
Go on a low carb diet while working out at the same time because When you workout you're going to naturally burn off

glycogen (carbs) & FAT for energy and…
When you don't eat enough carbs your body isn't going to be able to replenish it's supply of glycogen for energy so that means…
Each time you workout while on a low carb diet you're going to gradually burn a higher percentage of fat each time you workout as your body's supply of glycogen gets lower but…
Only use this fat burning tip for a short period of time or…
Only use this fat burning tip to help you break out of a weight loss plateau or to help you lose your last 10-to-20 pounds because..
Going on a low carb diet is not a good long term permanent weight loss strategy unless you're someone who can realistically stay on a low carb diet for a long time without serious cravings for carbs and…
Working out while glycogen depleted (or on a low carb diet) gives you less energy making it harder for you to workout at a high intensity to burn more total calories plus…
Lifting heavier weights or doing more reps to build muscle fast becomes harder while on a low carb diet and…
Working out while glycogen depleted is stressful and miserable and it increases the risk of injury (Medicine Science Sports Exercise, in press; published online February 4, 2010) so basically…
If you got over 20 pounds to lose and you want to burn fat fast…
You really don't need this fat burning trick and you can lose weight fast simply by sticking to the basics of eating higher quality foods, eating enough calories to lose weight fast and exercising at the same time because Overweight people lose weight faster anyway and…
Even If you're less than 20 pounds overweight…
Working out while glycogen depleted is only something you want to try after you've tried these other tips to burn fat faster and…
As a side note…
Going on a low carb diet will initially always result in quick weight loss (not fat loss) due to you losing lots of water weight because about 3 grams of water is stored with every gram of carbs (glycogen) stored in your body and…
Make sure you also see…

I Will Help You Look Good Naked…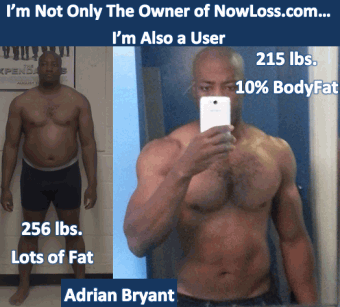 Subscribe or Follow:





Adrian Bryant
it will not have any affect on your muscles
November 05, 2013
Adrian Bryant
what is your weight and height now?
October 13, 2012
Patrick
Shameika,
I am here to tell you now that a pound of muscle burns 6-8 calories a day where as a pound of fat burns 2-3 calories a day. Also if you are wondering, there is no such thing as spot reducing, only muscle strengthening as doing crunches does not make you lose fat in your omentum. Balance your workout with doing a 5-10 minute cardio warm up (no static streching!!!), spend some time with entire body muscle strengthening(not 2 lb dumbells, it does nothing for you, last 2 reps should be difficult) and around 19 minutes with aerobic moderate intensity. Make your work out difficult for yourself but dont walk back home in pain, but tender is good. Oh and always work your largest muscles to your smallest muscles due to necessity of dexterity for smaller groups.
April 14, 2013
casey
your body had now adapted to your workout because of doing the same workout. So, now adding more intensity to your workout does not have a much greater affect. I would change my workout completely and switch off each day so your body cannot adjust, causing it to work harder and burn more calories!
June 24, 2012
Adrian bryant
you'll lose weight pretty quickly with a low carb diet but the question you need to ask yourself is how long can I stay on the low carb diet and keep the weight off?
December 02, 2011
ian
hi adrian, just came across your post on google, im looking to lose a little weight as i got a lil fat around my ab area and neck but im thin. ive just cut out all processed foods, fizzy juice etc, i was on protein shakes which i think is cause of it all, so now i use chicken,turkey and tuna to feed my muscles, work out 4 times a week for around 45 mins, lifting weights mainly on my homegym and dumbells as well as push ups, would what im doing make me gradually lose the lil bit of weight anf tone up? i was thinking of getting a row machine to help during the workuts, any tips you could give me would be great, thanks :)
June 12, 2012
Adrian Bryant
it's better than nothing but yes...
eventually or REAL SOON...
you will need to workout longer and/or more intense to help you get back to 185
August 25, 2011