How Christina Aguilera lost weight after giving birth to her son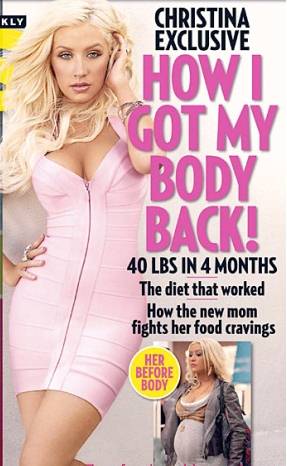 According to US Weekly & other various sources…
Christina Aguilera Lost 40 pounds in 4 months but usually… Women do tend to lose at least 10 pounds (weight of baby, placenta & amniotic fluid) after giving birth so here's what Christina Aguilera did to lose her 30 or less pounds after having a baby…
Christina Aguilera's Workout plan: Christina did 90 minute vigorous workouts with her Personal Trainer 5 days a week and she only started this workout 6 weeks after having her son due to doctors orders but… Here's what Christina's 90-minute workout consisted of…
Her workout began with 40 minutes of intervals on a treadmill or elliptical and then…
Christina did 40 minutes of various toning exercise like bicep curls, chest presses, push-ups, lunges, and ab exercises usually for 3 sets of 8-to-12 reps and she finished up with her workout with 10 minutes of stretching and here's another good tip…
Christina's Personal Trainer who is Tee Sorge didn't have her doing the same toning or body sculpting exercises each workout - Tee Sorge changed the workouts every session to prevent plateaus to keep the results coming in.
Here's the diet plan Christina Aguilera used to lose weight after having her baby…
Christina Aguilera ate 1800 calories a day which may seem like a lot for her small frame but…
Since she breastfeeds her son - Most nutritionist & doctors agree that breast feeding moms need to eat at least an extra 500 calories a day and believe it or not…
The act of breastfeeding itself burns a lot of calories and Christina Aguilera herself also credits breast-feeding for helping her shed her post-pregnancy weight…
"I think they say that when you're breastfeeding, your weight kind of slims down. It's a little easier. It's like a workout within itself. It's very tiring actually and you find yourself snacking more often." - Christina Aguilera telling US TV show Access Hollywood
Here's the rest of Christina Aguilera's diet secrets…
Christina Sticks to a 6 day a week 1800 calorie diet of protein, veggies, and whole grains which consisted of 3 meals & 2 snacks (see 201 weight loss foods) and…
Christina has 1 cheat day a week with foods like with chili cheese fries and she admitted to having cravings for candy and she said this while she was losing her post-pregnancy weight…

"I'm not into depriving myself, I limit the bad foods that I like." -Christina Aguilera from US Weekly Magazine
More stuff to help you lose weight after giving birth…
Fit Yummy Mummy - 3 Fat Burning Secrets To Losing The Baby Fat, Getting a Flat Tummy and Finally Fitting Back Into Your Skinny Jeans!
NowLoss.com Created by Adrian Bryant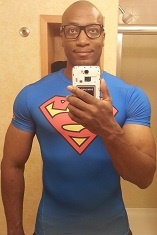 Adrian is one of the world's most sought after Body Transformation Specialist. Many People (like these here) have used NowLoss.com to Look Better Naked for free.
Even Models seek out Adrian's advice and Doctors use Adrian's unique techniques to help their patients lose weight fast and his new YouTube Channel already has over 35 Million views!
Contact Adrian Follow Adrian on FaceBook, Instagram & Twitter