Here's How 24 Celebrities lost weight after having their babies…
Kerri Russell, Nicelle Herrington, Model Camila Alves, Gwyneth Paltrow & Debra Messing ALL credit breastfeeding to most of their post-pregnancy weight loss.

"Breast feeding - that's my number one secret," said Nicelle Herrington after losing 25 of the 29 pounds she gained during pregnancy.

FACT: Women burn 500 calories a day producing breast milk while breastfeeding.
Constance Zimmer went all the down to 110 pounds (5 pounds less than her pre-pregancy weight!) by using

freshmommy.com & walking with a 4 pound vest to burn more calories.(See fast weight loss tips #18)
Nicole Sullivan lost 41 pounds & went down to 128 pounds which is 3 pounds less than she weighed before she was pregnant and…

Nicole ate 1100 calories a day with foods from freshdining.com while having one cheat day a week with pizza plus… Nicole walked up hills with her dog and lifting her 23 pound baby also helped her lose weight fast.
Melanie Brown aka "Scary Spice, or Mel B" lost 40 pounds after giving birth mainly by exercising regularly and by being a contestant on dancing with stars and Mel B offers this advice on dieting -

"I don't believe in diets, I believe in listening to your body and being consistent. If you want a burger, have one, but balance it out the next day by eating salmon and vegetables."

Heidi Klum lost 30lbs in 6 months after her pregnancy simply by motivating herself to exercise with photographs she took of herself nude every week to keep track of the way her body was changing and… Heidi Klum also credits breastfeeding for her rapid post-natal weight loss.
Denise Richards lost 30 pounds in 4 months after her pregnancy by getting up at 5am every morning to workout with her personal trainer and doing cardio.
Jamie Pressley lost 42 pounds of baby weight with help from the cabbage soup diet but she even admits that… "It's not the most amazing in terms of the kind of food you get to eat and

the tastes but it did really well for me." said Pressley.
Catherine Zeta-Jones lost the 50 pounds she gained while pregnant with the Atkins diet by eating more low-carbohydrate and high protein foods like lean meats, fish and veggies.
Melissa Joan Hart lost her baby weight basically by eating no bad foods & by having protein with every meal but she does cheat once in a while and indulge in ice cream, chips and guacamole and 4 weeks after giving birth… Melissa did 30 minutes of spinning and 30 minutes of floor exercises 3 days a week with a trainer.
Gabrielle Reece lost 34 pounds in 5 months just by going back to being natural active by doing Pilates, swimming, and circuit training and her diet consisted of weight loss foods like oatmeal, salads, brown rice, and various protein sources and she admitted to having some chocolate almost every day.
Leah Remini finally lost the 80 pounds she gained during her pregnancy with five workouts a week and by following the 1st Personal Diet, which is a customized diet made for you based on results of your blood test but the 1st Personal Diet isn't recommended for breastfeeding women.
Reese Witherspoon went back to her movie star shape only 8 weeks after having her baby by doing yoga, eating healthy, and getting plenty of outdoor exercise and walking when she can.
Uma Thurman lost 25 pounds in 6 weeks after having her baby doing the sword-fighting and martial arts training she had to do for the Kill Bill movie but YOU can get the same martial arts style workout with Tae-Bo.
Angelina Jolie lost weight after having Shiloh by doing Yoga. It is also rumored that she used Ginger Root and garlic tea to help drop pounds.
Kate Hudson lost 60 pounds in only 4 months by working out 2-to-3 hours per day, 6 days a week and her diet consisted of smaller meals spread throughout the day, made up of higher protein foods and she avoided certain carbohydrates such as grains and some fruits.
More stuff to help you lose weight after giving birth…
NowLoss.com Created by Adrian Bryant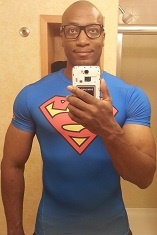 Adrian is one of the world's most sought after Body Transformation Specialist. Many People (like these here) have used NowLoss.com to Look Better Naked for free.
Even Models seek out Adrian's advice and Doctors use Adrian's unique techniques to help their patients lose weight fast and his new YouTube Channel already has over 35 Million views!
Contact Adrian Follow Adrian on FaceBook, Instagram & Twitter
Get These Free Videos…
(Offer Expires in 0:60 Seconds)
Lose 22 Pounds in 23 Days with the Emergency Diet.
How to Lose 20 Pounds in 30 days with a Bed Sheet.
How to Get a Flatter Stomach in 60 Seconds using a chair.