How to Get Rid of Stretch Marks

7 Essential Oils that Eliminate Stretch Marks
Get any of these oils at Pure Path Essential Oils
1. Lemon
Lemon is one of the most useful essential oils to get rid of stretch marks. It can fight damage caused by free radicals in your skin, and lemon essential oil prevents the death of cells that produce collagen and keratin. Collagen and keratin are the building blocks of your skin.
2. Patchouli
Antioxidants fight against skin damage caused by free radicals while encouraging collagen synthesis. Patchouli essential oil contains an abundance of antioxidants, which is why it is a great choice for stretch marks. For maximum benefits, try combining with another essential oil on this list.
3. Lavender
If you have a wound on your skin, lavender essential oil has impressive wound healing abilities. Lavender increases collagen production and helps form granulation tissue. This tissue forms over raw, broken skin as your body recovers from a wound. You can use lavender to help heal new stretch marks.
Try mixing lavender essential oil with vitamin E oil. Then, rub it over the area with the undesired stretch marks.
4. Jasmine
Jasmine is one of the essential oils that are fantastic to combat dry skin and balance the oils within the skin. Jasmine essential oil can help to make your skin more elastic, reduce stretch marks, and get rid of scars.
5. Neroli Oil
Also known as bitter orange tree oil, neroli oil is an oil commonly used in folk medicine to improve and lighten the appearance of scars and stretch marks. Neroli oil contains antioxidants that help your skin regenerate and heal. Both of those properties are perfect for getting rid of stretch marks!
Neroli oil mixes well with almond oil if you want to use it as a massage oil.
6. Rosehip Oil
Rosehip essential oil comes from the seeds of a rose bush, and it is a powerful oil that is full of vitamins and antioxidants. These vitamins and antioxidants aid your skin during the regeneration process.
Using rosehip oil can reduce the prominence of stretch marks on your body. Try combining rosehip with a carrier oil and using it as a massage oil over the area daily.
7. Rosemary
Aside from cognitive functions, rosemary also assists the regeneration process of your skin as it heals from wounds. Rosemary can improve the elasticity of your skin and reduce stretch marks on your body.
You can mix rosemary and other essential oils for the ultimate stretch mark combating massage oil. Use it two to three times per day.
6 Home Remedies for Stretch Marks
Use a Coffee Scrub for Stretch Marks like this↑
Massage your stretch marks 3-to-4 times a day with creams that contain Cocoa Butter, Shea butter, Vitamin A, E and/or C as the main ingredients.
Use Tretinoin creams to reduce the appearance of stretch marks. Don't use tretinoin for stretch marks if you're pregnant or breast feeding.
You can use Emu Oil, Jojoba Oil, Castor oil, Wheat Germ Oil, Vicks VapoRub, Aloe Vera, Almond Oil or Olive Oil to get rid of stretch marks.
Break open capsules of Vitamin A or E and spread it on your stretch marks daily so your skin will heal & rebuild itself.
People have used egg whites and/or egg powders to effectively reduce their stretch marks.
Getting Rid of Old Stretch Marks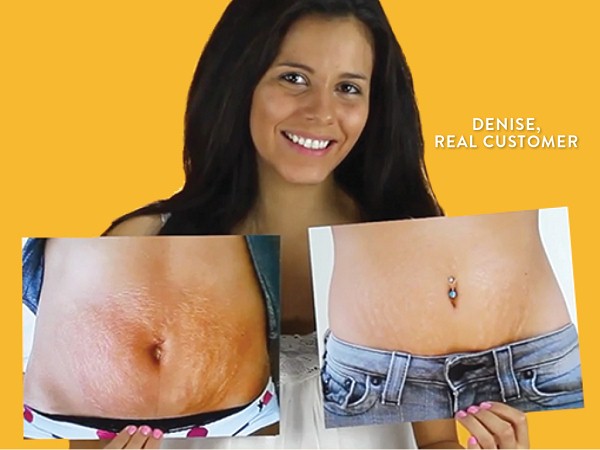 Denise used TriLASTIN-SR to get rid of older pregnancy stretch marks
Essential Oils & Home Remedies are best used early when your stretch marks are still red, purple, pink, or brown but,
Once your stretch marks are more than 6 weeks old or become white, silver or a lighter shade than your skin… You'll need to use a more powerful stretch mark treatment like TriLASTIN-SR
TriLASTIN-SR is used by Dermatologist
TriLASTIN-SR is an advanced formula specifically developed to reduce the appearance of stretch marks associated with pregnancy, growth spurts, weight gain or bodybuilding.
TriLASTIN-SR will also enhance the skin's natural elasticity to help avoid new stretch mark scarring.
To Prevent Stretch Marks,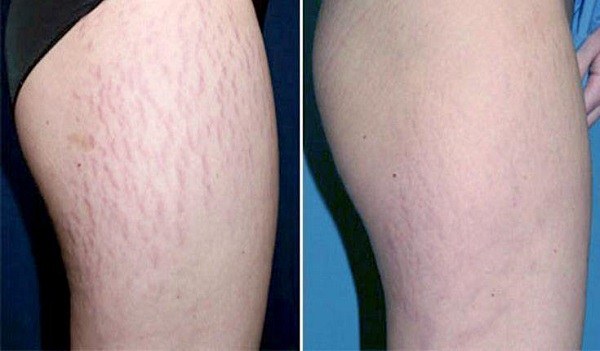 Increase the elasticity of your skin so your skin can stretch out more in case you do get pregnant or gain lots of weight so you won't get stretch marks.
6 Ways to Increase Skin Elasticity
Use any lotions, oils or creams made for getting rid of stretch marks like Cocoa Butter or TriLASTIN-SR to keep your skin more elastic.
Supplementing with or eating a diet high in Vitamin A, C, E, & zinc will increase the strength and elasticity of the collagen within your skin.
Eating foods containing essential fatty acids like vegetables, fish & vegetable oils help promote good skin care.
Drinking water keeps your skin hydrated, soft & flexible and rushes vitamins to your skin for speedy healing to remove & prevent stretch marks.
Stay out of the sun for long periods of time because sunlight on new stretch mark scars can make them permanent.
If you are planning on become pregnant… Start preparing your skin with cocoa butter but Consult your doctor first as lotions can contain ingredients that may be passed to your unborn baby or into breast milk.
Other Than Stretch Marks,
Swipe to See Everybody, Tap to Pause
Click Arrows to See Everybody, Click Photo to Pause