To make your muscles look bigger without lifting weights…
You need to find ways to force more water, carbs, blood and other nutrients into your muscles to "pump them up" to make them look bigger so…
Pretend your muscles are a deflated balloon and when you start to put more water, blood & other nutrients into your muscles you blow the balloon up making it look bigger so…
The best 2 ways to make your muscles look bigger are to…
1. Drink more water!
Your muscles are made up of mostly water & protein so you should be drinking 1 ounce of water for every pound you weigh so if you weigh 200 pounds you need to drink 200 ounces of water each day to keep your muscles looking big and…
When you don't drink enough water (or get dehydrated) your muscles will look smaller or flatter like a deflated balloon and…
2. Make sure you're eating enough carbs because…
Some of the carbs you eat get stored in your muscles as glycogen and next to water & protein, muscle glycogen is one of the largest contributors to the volume, size, and weight of your muscles and…
The glycogen (or the carbs stored in your muscles) attracts even more water into your muscles "pumping them up" making them not only look bigger but also feel harder so basically…
If you don't eat enough carbs along with drinking more water then your muscles won't look as big as they actually could and drinking water + eating enough carbs will make your muscles look bigger for a much longer time than these other…
2 ways to make your muscles look bigger without lifting weights…
1. Use Creatine but just like carbs…
Creatine makes your muscles look bigger by drawing extra water into your muscles and although taking creatine will also give you more energy (just like carbs will) to lift heavier weights and do more reps & sets to build muscle faster…
You'll probably lose some of the water weight you gained in your muscles once you stop taking creatine but all you need to do is take is 2-to-5 grams of creatine a day to make your muscles look bigger.
2. Take NO or Nitric Oxide Supplements
NO or Nitric Oxide supplements like the popular Xtreme NO supplement helps increase the blood flow throughout your body forcing more blood into your muscles making them look bigger so think of NO supplements as like Viagra for your muscles but just like with creatine…
The muscle pumping effects will probably only last as long as you're taking the NO supplement and…
You can easily force lots of blood into any muscle you want to by doing a muscle building workout for the body part you want to look bigger and you can also…
Lose fat to make your muscles look bigger without lifting weights…
This will really only work if you've been previously working out to gain weight & build muscle and you have a body fat percentage that is over 15% but when you get rid of the fat that is hiding your big muscles…
You will look more ripped making your muscles look bigger - Take a look at the picture below of the guy who started at 197 pounds & had 16% body fat and then see how much bigger he looks after he lost fat (using the ultimate diet 2.0) to 179 pounds with only 7% body fat…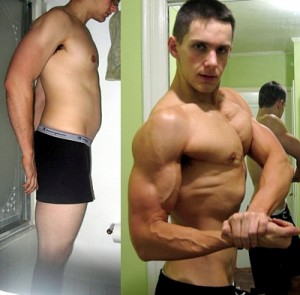 To lose fat you just need to go on any fat loss plan here to burn fat with or without lifting weights but…
To really make your muscles look bigger…
You still have to lift weights and as your muscles get bigger & bigger… Your muscles can hold more water, carbs (glycogen), blood & other nutrients that'll further enhance the size of your muscles making them look bigger so…
Only after you've started lifting weights on a muscle building workout plan can you expect to do all the things on this page to make your muscles look bigger than they actually are or "pump them up" without lifting weights.
Make sure you also see…