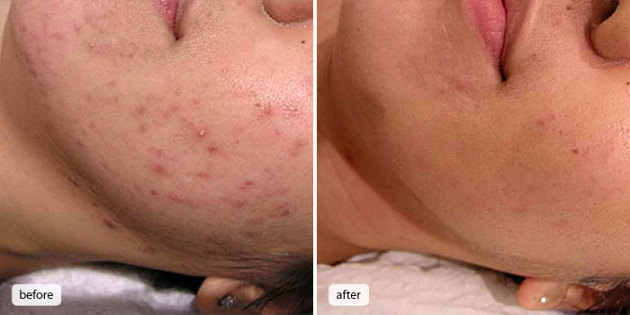 To Get Rid Of Acne Fast At Home Without Any Topical Drug Treatments…
When getting rid of acne…
Use 1 of these 5 Acne Treatments along with the basic steps on this page…
Prescription formulas & OTC drugs like Clearasil containing benzoyl

peroxide, salicylic acid, resorcinol, and sulfur are quite effective against acne.
Oral antibiotics like amoxicillin, tetracycline, erythromycin, doxycycline, and minocycline are good acne treatments.
Topical antibiotics that are directly applied on the affected areas of the skin like erythromycin, dapsone, and clindamycin are also good acne treatments.
A pill known as spironolactone had been found effective on women suffering from acne due to hormonal problems.
Medicines such as Retin-A & Accutane also abolish acne but… Pregnant women should not take these medicines because they can cause serious birth defects.
If these tips don't help you have any less acne after 2 months…
You'll need to see a dermatologist who would…
Why do you have Acne in the first place?
According to Doctors and dermatologists…
These are the top 4 causes of acne…
Hormonal changes that are related to stress, adolescent age transition, menstrual periods, use of birth control pills, and pregnancy and…
Use of oily or greasy hair and cosmetic products and…
Use of a few types of drugs, such as estrogens, steroids, testosterones, and phenytoin and…
High level of sweating or presence of high humidity in the atmosphere and…
Does chocolate or certain foods cause acne?
People believe that certain food items such as chocolates and nuts cause acne but medical research had not been able to prove this.
However, several studies on the relationship between food habits and acne had concluded that food having simple carbohydrates lead to acne due to the glycemic nature of these diets and…
A strange fact about acne related to nutrients is that people with low levels of Vitamin A and Vitamin E in their blood tend to acquire acne and suffer heavily from that problem, compared to people with higher levels of these two vitamins and at the same time…
An overdose of Vitamin A is also dangerous and could lead to dizziness, vomiting, menstrual problems, and serious liver damage but overall Acne is not the direct result of any particular type of eating habits.
More Tips
How to Lose Weight Fast with Adrian's DVDs Because…