To Make Your Muscles Bigger…
To get stronger & make your muscles bigger each time you workout…
You need to lift heavier weights every time you workout and/or…
Do more reps every time you workout and/or…
Do more sets every time you workout and…
Here's an example of how you would get stronger doing bench presses for bigger chest, arms & shoulders…
In your first bench press workout you may do 5 sets of 5 reps using 100 pounds and then to get stronger…
In your next bench press workout (which'll be at least 2 days later) you could…

Do 5 sets of 5 reps with 105 pounds or…
Do 5 sets of 6 reps with 100 pounds or…
Do 6 sets of 5 reps with 100 pounds or you could just lift more weight, do more reps and sets and…
Do 6 sets of 6 reps with 105 pounds and then…

In every other bench press workout after that you would try to lift heavier weights, do more reps and/or more sets to get stronger every time you workout because…
That's why it's extremely important you Keep a Training Log because…
You need to know How Much MORE weight to lift, how many more reps and/or sets to do to keep getting stronger because…
If you keep lifting the same amount of weight, doing the same number of reps and sets each time you workout then your muscles WILL NOT get any stronger which means they WILL NOT get any bigger so…
Make sure you Keep a Training Log so that in your next workout you'll know exactly how much more reps, sets and/or weight you need to use to get stronger &…
Your muscles get bigger every time they get stronger because…
Every time you work out with or without weights you're

breaking down your muscles so they can grow back bigger & stronger and when you break down your muscles…
You're actually damaging your muscles by causing tiny tears (or little microscopic injuries) in your muscles so every time you breakdown your muscles…
Your body is going to repair your damaged muscles by making them grow back bigger and stronger and If you want your muscles to keep getting bigger & bigger…
You're going to have to break down your muscles all over again But since your muscles are now bigger & stronger…
You're going to have to work out even harder by lifting heavier weights, doing more reps and/or sets to breakdown your muscles again & again to keep them growing bigger & bigger and that's why…
You can't build muscle that fast if you lift the same amount of weights, do the same number of reps and/or sets each time you workout so each time you workout…
You need to work out harder and harder (even if it's only by a little bit) by lifting heavier weights, doing more reps and/or sets every time you workout to continually break down your muscles to make them get bigger and stronger &…
This picture shows you how your muscles get bigger…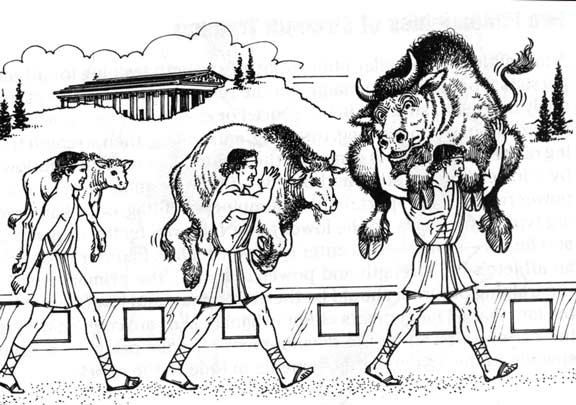 The man gets bigger as the bull he is carrying gets bigger/heavier the same way your muscles will get bigger as you lift heavier weights, do more sets and/or reps but…
2 more things you must do to get bigger muscles are…
1. You must eat right so…
Start off eating 2000-to-3000 calories per day because there's no need to get fat while gaining muscle mass &…
Make sure 25-to-50% of your diet is protein because your muscles are made out of protein and protein rebuilds your muscles into bigger & stronger ones.
See tips 11-thru-19 here for more on how to eat to build muscle.
2. You must Rest your muscles because…
Your muscles cannot get bigger and stronger if you keep working out your muscles without giving them enough time to rest, recover & grow (see how often you can workout the same muscle) but usually…
It takes about 2-to-10 days off in between workouts to give your muscles enough rest to get strong enough to lift heavier, do more reps and/or sets in your next workout so you can keep getting stronger making your muscles bigger so…
The 4 steps to get bigger muscles are…
You need to break down your muscles with or without lifting weights and then…
You got to eat right by feeding your muscles the building blocks they need like protein, water, carbs & fats and then…
You got to rest your muscles long enough to allow them to repair, recover, and get bigger and then you go back to step 1 but…
You got to get stronger every time you work out so you can continually keep breaking down your muscles to make them grow back bigger & stronger and…
Watch this video to better understand how your muscles get bigger…
Bonus Tip: The quickest way to build bigger muscles is to…
Do mostly compound exercises and not so many isolation exercises because…
With compound exercises you lift much heavier weights which means you'll get stronger faster and as you already know the stronger your muscles are = the bigger they'll be plus…
With compound exercises you'll be working multiple muscle groups instead of ONLY 1 muscle at a time with isolation exercises so for example…
If you do an isolation exercise like bicep curls your biceps will get bigger but your biceps AND Back will get bigger much faster doing chin-ups where you're lifting a much heavier weight and…
Do you seriously think your triceps would get bigger FASTER doing triceps extensions with a light weight or doing a compound exercise like bench presses or dips with a much heavier weight?
Make sure you also see…
You Should Also See…