The Only 3 ways To Make Your Penis Look Bigger is…
1. Shave your pubic hair
Go here to see how to shave your pubic hair because shaving your pubic hair will make your penis look bigger by revealing the hidden length of your penis hidden behind all that bushy hair in your pubic area.
2. Lose Weight
Losing weight will only make your penis look dramatically bigger if you're at least 30 pounds overweight because as you lose weight…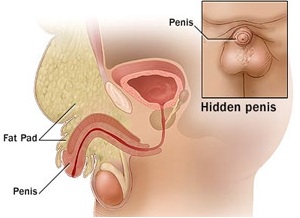 The pad of extra fat over your pubic bone hiding your penis (see the picture on your right) will get smaller or go away helping you reveal more of your penis so actually…
You can gain an extra inch in penis size just by losing weight (if you're already at least 30+ pounds overweight) but overall…
Losing weight will make your penis look bigger by increasing how proportionate your penis appears to the rest of your body.
3. Increase blood flow to your penis (Get an erection)
The more blood you have flowing to the penis the bigger it will look so basically…
Exercising regularly keeps your blood flowing or…
You can do PC exercises for your penis to get blood flowing or…
You can get sexually stimulated (by masturbating with or without ejaculating) to increase blood flow to your penis to make it look bigger and…
The only true way to get a bigger penis is surgery because…
All those gimmicks like the pills, jelqing exercises, penis pumps

etc. will only make your penis LOOK Bigger mainly by increasing blood flow to the penis and even if those gimmicks seem to work…
They'll only work for a short period of time and…
Stretching your penis or hanging weights on your penis will only cause irreversible damage to your penis so don't do anything stupid like that to your penis.