How much Protein, Carbs & Fats do I need to eat to build muscle?
Protein should make up 25-to-50% of your diet because…
Your muscles are made up of mostly protein and water so you

need to eat ½-to-1½ grams of protein for every pound you weigh to help your body repair and rebuild your muscles into bigger and stronger muscles after you work out and…
If you eat ½-to-1½ grams of protein for every pound you weigh then protein will usually make up 25-to-50% of your diet (or your total daily calories) so if you weighed 200 pounds you would need to eat 100-to-300 grams of protein a day and…
Trying to eat TOO MUCH PROTEIN is not going to help you build muscle any faster since your body uses any excess protein for energy and…
Making protein less than 25% or your diet or eating less than ½-to-1½ grams of protein for every pound you weigh is going to slow down your muscle growth and…
Carbs should make up 30-to-60% of your diet because…
You need carbs for energy to help you lift heavier weights, do more reps and/or sets to keep continually gaining

muscle and if carbs are less than 30% of your diet…
Your body may use the protein you eat and/or burn off the muscle you already built for energy making it harder for you to build and maintain muscle so basically…
Eating enough carbs lets the protein you eat do its job which is to build more muscle on your body and…
As you get closer to or lower than 30% for carbs in your diet you may also feel sluggish and have less energy for your muscle building workouts and…
Fats should make up 10-to-20% of your diet because…
There's no magic amount of Protein, Carbs & Fats YOU need to build muscle but usually…
You should start off by making carbs 40% of your total daily calories and…
You should make Protein 40% of your total daily calories and…
You should make Fat 20% of your total daily calories so basically…
You're eating all of your carbs/proteins/fats at a 40/40/20 ratio to begin with and to make things easier for you…
Make sure you're eating 2000-to-3000 calories to gain muscle mass and then…
Use this calculator here to see exactly how many grams of carbs, proteins, and fats you need to eat to build muscle but like I said…
There's no magic amount of Protein, Carbs & Fats YOU need to build muscle &…
You should only use the ratio that works best for you so…
If you are not happy with the amount of muscle you are gaining you could increase your protein to up to no more than 50% of your diet while lowering the amounts of carbs and/or fats you eat or…
If you think you are gaining too much fat you could eat less calories by lowering your carbs to no less than 30% & fats to no less than 10% of your diet while increasing the amounts of protein or…
If you need more energy to lift heavier weights, do more reps and sets for your muscle building workouts you can make carbs no more than 60% of your diet while lowering protein and/or fats &…
Protein at 25-to-50%, Carbs at 30-to-60% & Fats at 10-to-20% is normally what works best but…
That doesn't mean you can't break the rules because like I said…
Find what works Best FOR YOU by tracking everything with a food journal and who knows…
You may get awesome results with less than 25% protein, 70% carbs or 50% fat (it's unlikely) but stick to the ratio that gives you results.
To help you plan your muscle building diet…
You Should Also See…

You Deserve to
Look Good Naked
I'm Adrian Bryant (the ripped guy on the right) & I'm here to help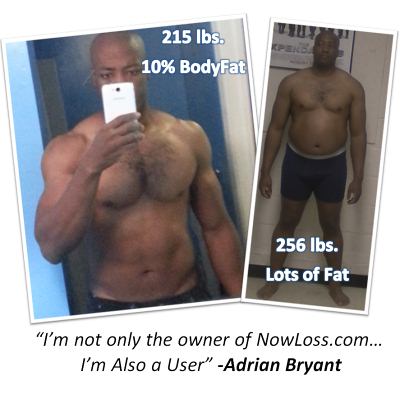 you look much better with your clothes off or on so…
Adrian Bryant
then you'll need to invest in protein shakes (like everyone else) to help you meet your protien needs
June 04, 2013
Adrian Bryant
if you're trying to build muscle you may need that much but when you're trying to lose weight, Just focus on eating 1500 cals and it doesn't matter what you eat. see this here
May 23, 2013
James
Awesome, thanks!
May 23, 2013
Adrian Bryant
112 grams is only about 448 calories worth of protein
November 01, 2012
NICOLÁS
HI.
I was vegan and also know about China study. I recomend you to see also the data they kept out, for example, the healthiest chinies were some villagers who eat meat, drink milk, and have some vegetables and starches.
I was vegan and my health at first was ok but then start to go down badly. You get LOTS of defficiencies on vegan diet. I am recovering now for that awfull expirience. The only way you can stay alive on a vegan diet is to consume some kind of multivitamin with minerals but that can be threatend to health. So do not buy all the crap they sale, i take the time to writte you this because i want you to know my expirience cause probably you are vegan or consider it. THe first sign of health declination are your teeths and nails. Also high fiber diets are very dangerous and leads to constipation, expand all your intestinal track and leave you very screw up inside. In order to the body to digest fiber it has to create mold and funfus ( just like the one in bread) and that leads to an overgrowth of candida wich is a very nasty condition. Well there you go, it sucks soo bad. And meat is not bad for you, actually cholesterol is essential and also other nutrients like lithium to proper brain function that can ONLY be found in animal flesh. That´s why vegans and vegetarians tend to be violent and are obsese with their topics, mental disorder. So read more, there are tons of studies out there that claim what i am telling you. You can read about phitic acid in whole grains and how a studie shows that ppl were getting more nutrient from white bread rather than from whole wheat bread, and the glicemix index of the whole wheat bread is the same.
October 03, 2012
MsV
My question is: if I'm trying to only consume $1200 calories a day and weight 112 lbs, how can I stay with in my calorie goal and still get enough protein (1g per lb) to gain muscle?
October 31, 2012
you are amazing
hey, just wanted to let everyone know you are giving false information. 50-60 grams of protein is the protein intake someone who weight 35 lbs should have, which would be a little child. you see what your problem is is common, do not feel sad or bad about this, it is expected from the un-educated. all you see protein is is meat products. there are many sources of protein for example yes like you said meat so beef chicken pork, HOWEVER there are MORE SOURCES OF PROTEIN SUCH AS **BEANS****TOFU***EGG WHITES***FISH*** and many other foods supply protein such as pasta, a regular serving of pasta (60g) should provide ~~~8g protein~~~ aswell even BREAD givves protein,EVEN MILK!!!! (not that bread is a good source of protein) the point is you can get protein from many sources of food NOT JUST MEAT you MEAT HEAD. anyways adios! HEALTH IS WEALTH BABY!!! by the way marijuana is an excellent source of protein
December 10, 2012
Adrian bryant
it's on there. did you click on the arrow for the other side?
August 08, 2012