To Get Thinner Thighs…
FIRST, Look at this if you're not overweight…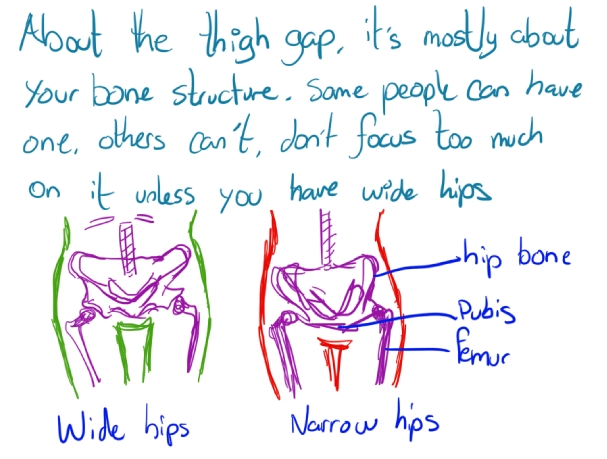 So if you're not overweight with a slimmer figure then the reason why you may not have an inner thigh gap or why your inner thighs touch or why it may seem like you have inner thigh fat is because of your bone structure and NOT BECAUSE YOUR FAT! but…
If You Are overweight or if you have a high body fat percentage then…
To Truly Get Thinner Thighs…
You have to lose weight all over your body and unfortunately

you just can't lose weight in your inner thigh area so you need to go on any of the weight loss plans here while doing 1 of these inner thigh workouts to get slimmer, firmer and tighter inner thighs and…
As you lose weight you will lose weight in different areas on your body at different times so you may end up losing much of your arm, back and belly fat before you start to see your inner thigh fat go away but in most cases…
Your belly and hip fat is the last to go and be patient. Expect to lose only 10 pounds every 4-to-6 weeks and the more overweight you are = the longer it'll take you to get slimmer inner thighs.
3 Ways To Tone Up Your Inner Thighs…
Option 1:
You can do the 7 minute inner thigh workout below 2-to-4 times per day 2-to-4 days per week and wear ankle weights or do option 2 or 3 as this workout gets easier…
Option 2:
You can do the inner thigh exercise below dragging a heavy object 40-to-100 yards 1-to-3 times per day 2-to-3 days per week and do option 1 or 3 as this workout gets easier…
Option 3:
Do 4-to-6 sets of 8-to-20 reps 2-to-4 times per week and do option 1 or 2 as this workout gets easier…
Bonus: Here's an exercise for your outer thighs…
Make sure you also look at…
NowLoss.com Created by Adrian Bryant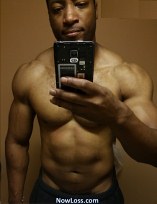 Adrian Bryant is a Body Transformation Specialist. Many People (like these here) have used NowLoss.com to Look Better Naked for free.
Even Models seek out Adrian's advice and Doctors use Adrian's unique techniques to help their patients lose weight fast and his new YouTube Channel already has over 35 Million views!
Contact Adrian Follow Adrian on FaceBook, Instagram & Twitter