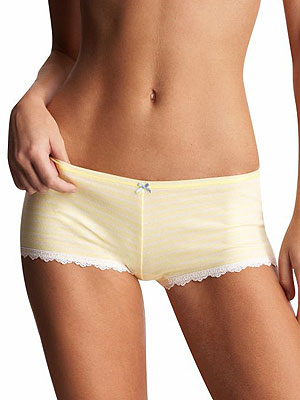 4 Ways To Tone Up Your Inner Thighs…
Option 1:
You can do the 7 minute inner thigh workout below 2-to-3 times per day 2-to-3 days per week and as this workout gets easier…
You can wear ankle weights to make the workout tougher or…
You can do option 2 or 3 or better yet…
You can do this workout right after doing tae-bo (option 4)
Option 2:
You can do the inner thigh exercise below dragging a heavy object 40-to-100 yards 1-to-3 times per day 2-to-3 days per week and as this workout gets easier…
Option 3:
Do 4-to-6 sets of 8-to-20 reps 2-to-4 times per week and as this workout gets easier…
Option 4:
You can do Tae-bo at least 3 times per week & this is probably the best option since it helps tone your inner thighs and burn off inner thigh fat (along with the other fat in your body) to help you get skinnier legs.
But to truly get rid of inner thigh fat…
You have to lose weight all over your body and unfortunately you just can't lose weight in your inner thigh area so you need to go on any of the weight loss plans here while doing the inner thigh workout on this page to get slimmer, firmer and tighter inner thighs and…
As you lose weight you will lose weight in different areas on your body at different times so you may end up losing much of your arm, back and belly fat before you start to see your inner thigh fat go away but in most cases…
Your belly and hip fat is the last to go and be patient. Expect to lose only 10 pounds every 4-to-6 weeks and the more overweight you are = the longer it'll take you to get slimmer inner thighs but if you're not overweight &…
If you have a slim figure & you're still worried about inner thigh fat…
Then take a look at this…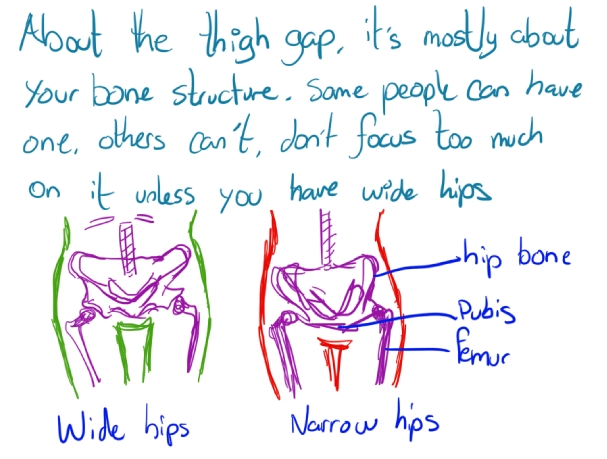 So if you look at the picture above and if you're not overweight with a slimmer figure then the reason why you may not have an inner thigh gap or why your inner thighs touch or why it may seem like you have inner thigh fat is because of your bone structure and NOT BECAUSE YOUR FAT!

Ashley
Do lunges, squats and run a lot. This would burn your fat faster and you will get a slim butt and other areas around it.
May 19, 2013
Elaina
Tyler, you are totally fine! If anything you are probably underweight. Try sports or something. Not everyone has a thigh gap.
May 06, 2013
Mackenzie
Im 5'7 and 140 pounds and i know how you feel!! My body is very athletic looking too but my theighs are HUGE and i hate it!!!!! I know how you feel.
May 12, 2013
Kaitlyn
hi charlotte, i am going to be honest, and i know you have heard this before. you have you eat right, get in the exercise you need, and understand the food pyramid and what you need to eat. NEVER cut out something completely from your diet. it will take a while, but trust me, it's worth it.
April 16, 2013
Meena
Hey Charlotte, I was about 15 when I had a massive weight gain and I was 190 and 5 ft even. I totally know how you feel and the desperation to get slimmer. What I did was join a sport (Brazilian jiu jitsu) and I just stuck with it at least three times a week for two school years. I lost 50lbs within my junior year which allowed me to train harder and continue to lose. I know that may seem like a long time, but I'm sure you know losing too much weight too fast is really bad for your body and your brain chemistry/hormone levels. I suggest you find something that you can do everyday that isn't just plain exercise that is kind to newcomers so that you will stick to it. Oh, and don't worry about forcing yourself to eat straight salads and crap right away, ease into your new lifestyle and take time to build habits so that you don't relapse. Best of luck!
May 01, 2013
Elizabeth
Will this include my thighs as well ?
April 09, 2013
Elizabeth
So If I decide to do the bathroom Work Out Twice a Day .. Everday Will i achieve tonloose 20-30 lbs && Stay with diet eating Raw fuits && veggies,fish.. etc.. ?
April 10, 2013
Adrian Bryant
yes, but which weight loss plan did you pick?
April 11, 2013
Elizabeth
Emergancy Weight loss Plan ... To loise 20 pounds in 3-4 weeks ...
April 11, 2013
Elizabeth
How about my Abs ... Now i really need to work on that ... My upper stomach and my arms .. Any suggestions ?
April 23, 2013
Elizabeth
Adrian!, I've lost 3 Pounds .. My mom says to weigh myself every week and I've have chose Tuesday as my weekly day to check my weight ... Now I'm starting to see results ! ... Now I feel really confident in myself :) ..
April 24, 2013