300 Calorie Meals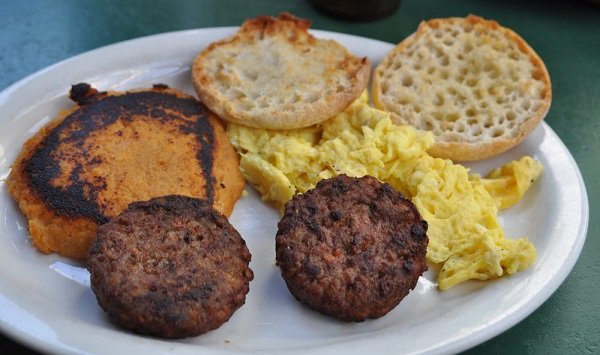 Breakfast
1 cup Cheerios with 1 small sliced banana, 1 Tablespoon chopped walnuts, and ½ c fat-free milk.
2 cup of cheerios mixed with 1¼ cups of skim milk.
Quaker Oat Bran hot cereal with 1 cup fat-free milk, and ½ cup orange juice.
1 fried egg, 2 pieces whole wheat toast, and ½ cup orange juice.
8 ounces fat-free French vanilla yogurt with 1 Tablespoon slivered almonds, half an apple, 1 Tablespoon raisins, and 1 Tablespoon ground flaxseed.
McDonald's: Plain English muffin (150 calories) plus two scrambled eggs (160 calories), Egg McMuffin (300 calories), Sausage Breakfast Burrito (290 calories), or 1 low-fat apple bran muffin at McDonald's.
Burger King: Croissan'wich with Egg and Cheese (350 calories). Skip the sausage option on this one; the meat adds another 260 calories.
Subway: Western Egg Breakfast Sandwich (300 calories). Note that all breakfast sandwiches are between 300 and 350 calories -- a touch high, but not bad.
Arby's: Biscuit with butter (280 calories), sourdough with ham (220 calories) or croissant with ham (310 calories)
Lunch
One 6½ whole wheat pita, 4 Tablespoons red pepper hummus, ½ c broccoli sprouts, ½ cup cucumber slices, 2 pieces looseleaf lettuce, and ½ cup cranapple juice.
1 cup Nile Spice Sweet Corn Chowder, 1 cup fat-free milk, and 1 large apple
.
1 Tablespoon peanut butter and 1 Tablespoon grape jelly on whole wheat bread (2 slices)
1 cup Boston Market chicken chili, and 1 cup Boston Market broccoli with red peppers.
3 ounces of tuna and 37 almonds.
Subway Veggie Delight 6" sub, and 1 can diet soda.
Burger King: Four Chicken Tenders and a small order of onion rings.
Wendy's: Grilled Chicken Sandwich.
Subway: Any "7 Under 6" sandwich. Warning: The moment you add mayo, oil, or cheese, the calorie count starts climbing.
Dairy Queen: Grilled chicken sandwich or DQ Homestyle cheeseburger.
KFC: Tender Roast Sandwich without sauce. Two Original Recipe fried drumsticks or two wings.
Arby's: Light Grilled Chicken sandwich.
Boston Market: Quarter-pound skinless white-meat chicken (170 calories) with butternut squash (150 calories)
300 Calorie Snacks
Dinner
Lean Cuisine Herb Roasted Chicken, and 1 cup of 1 percent milk.
Fantastic Foods Spicy Jamaican Rice and Beans, and 1 steamed broccoli stalk.
Boca Burger (Vegan original) on a bun with 2 pieces looseleaf lettuce, 1 slice tomato, and 2 Teaspoons ketchup, and 1 c steamed spinach with 2 Teaspoons reduced-calorie margarine.
3 oz salmon fillet and small oat bran dinner roll.
6 large shrimp with 2 Tablespoons cocktail sauce, 2 cups of salad with 2 Tablespoons Italian dressing, and iced tea with 1 sugar cube.
5 Delicious 300-Calorie Recipes To Kill Hunger
1. The 5-Minute stir fry
Veggie-based stir fries are a quick and easy way to fill your plate with low-calorie vegetables. Use spray oil and lean protein to slash the calories.
Ingredients (for one serving)
Spray oil
1/4 onion
1/2 red bell pepper
100g carrot
100g broccoli
100g cabbage
1 chicken breast
Fresh coriander
Salt & pepper
Low sodium soy sauce
Instructions
Peel and chop all the veggies, making sure they're all the same size (so they cook evenly)
Chop the chicken breast into strips
Heat a large heavy pan, spray with spray oil and cook the chicken until the outsides are sealed
Add the onion and broccoli, stir and cook for 1 minute
Add the rest of the vegetables, stir and cook for 1 minute
Add the salt, pepper, and soy sauce
Cook over a high heat, stirring continuously, until the vegetables have softened slightly
Serve with freshly chopped coriander on top
2. Low-fat low-carb bolognese
This is a super low-cal version of everybody's favorite weekday dinner… spaghetti bolognese. Use turkey breast mince (it's one of the lowest fat protein sources), and switch the pasta for courgette noodles. Less fat, less carbohydrate, more protein, and more flavor!
Ingredients (for 4 servings)
Spray oil
2 garlic cloves (minced or chopped)
1 large onion
1 large carrot
200g white mushrooms
400g turkey breast mince
4 courgettes
1 x 400g tin chopped tomatoes
2 tbsp tomato paste
1/2 tsp each dried basil, oregano, and Italian herbs
Instructions
Chop all the vegetables apart from the courgettes
Spiralise the courgettes into long noodles (if you don't have a spiraliser, use a sharp knife)
Heat a large heavy pan, spray with oil, and add the garlic, onion, and carrot. Cook for 2 minutes
Add the turkey mince, break it up with a spatula, and stir over a high heat until the meat is browned
Add the chopped mushrooms and dried herbs, stir, and cook for 1 minute
Add the tinned tomatoes and tomato paste, lower the heat, and cook for 10 minutes
Steam the courgetti (this can be done in the microwave), plate it up, and top with the turkey bolognese sauce
3. Tortilla-style omelet
This Spanish style omelet is kinda deep dish, so you can pack it with plenty of low-cal high-fiber veggies. If you're really short on calories, use liquid egg whites instead of eggs (or substitute some of the whole eggs for egg whites). Liquid egg whites are pure protein, so you save on calories from the yolk. Of course, if you have the calories for whole eggs then go for it - the yolk is where the nutrition is.
Ingredients (for two servings)
1 white onion
200g white potato
1 red or yellow bell pepper
Handful baby spinach
5 eggs or a combination of whole eggs and egg whites
Salt and pepper
Spray oil
Instructions
Peel and slice the onion and potato (make sure they're similar size so they cook evenly)
Steam the potato until it's soft
Spray a large heavy pan with spray oil, add the onion and bell pepper, and cook for 2 minutes
Meanwhile beat the eggs or egg whites in a bowl with the salt and pepper
Add the potatoes and stir
Pour the eggs over and turn the heat to medium
Put the spinach on top of the omelet and cook on a low heat for 5-10 minutes until the sides lift away from the pan cleanly
Slice and serve with a salad, or eat cold later
4. Vegan high-fibre chili
Skip the meat and make chili from beans and pulses. It's cheaper, healthier, and means you can eat more for the calories! What's not to like? This recipe is super filling thanks to the fiber in the beans and vegetables. It's vegan, but meat eaters will love it too. Please note that we've added the option of topping with low-fat dairy - this will obviously make it non-vegan.
Ingredients (for 4 servings)
10ml oil or 10g coconut oil
1 onion
2 cloves garlic, chopped or pressed
1 small green chili pepper
1 green bell pepper
2 carrots
1 x 400g tin kidney beans
1 x 400g tin chickpeas
1 x 400g tin lentils
2 x 400g tins chopped tomatoes
2 tbsp tomato paste
Optional: low-fat creme fraiche or Greek yogurt
Instructions
Rinse all of the beans and pulses and leave to drain
Chop all the vegetables into even sized pieces
Heat a large pan (choose one with a lid) and add the oil
Add the onion, bell pepper, and carrots, stir and cook for 3 minutes
Add the garlic and green chili and cook for 1 minute
Add all the beans and pulses, stir and then add the tomatoes and tomato paste
Put the lid on the pan and cook on a medium heat for 15 minutes
Serve with a little low-fat creme fraiche or Greek yogurt for extra protein
5. Pumped-up protein smoothie
The addition of just one ingredient to this protein smoothie takes it from so-so to whoa! Remember, you're going for high-volume foods here. And this sure packs the volume in. This recipe can be as low as 100 calories for a ton of volume, meaning you can add toppings and mix-ins, or keep it super low calorie.
Ingredients (for one serving)
1 scoop protein powder
Handful ice cubes
50g frozen berries
Cold water
1/4 tsp xantham gum
Optional: frozen banana, cacao nibs, dark chocolate shavings, chopped nuts, puffed rice cereal
Instructions
Put the first four ingredients in a high powered blender and blend briefly
Add the xantham gum and blend again
The mixture will thicken up and expand in the blender, add more ice or water to create the right texture
Pour into a bowl and add any toppings that you wish (the ones we've suggested are just to get you started!)
More Tips
Swipe to See Everybody, Tap to Pause
Click Arrows to See Everybody, Click Photo to Pause