To Make Your Boobs Look Bigger…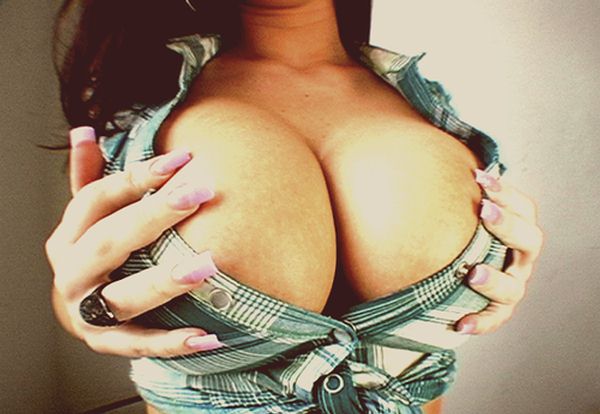 Bigger Breast Workout
Do 2-to-6 sets of 8-to-15 reps of ONE of the exercises below 1-to-3 times a week…
Click on photos to see how to do exercise
5 Workout guidelines for bigger looking boobs…
Do the workout to make your boobs look bigger 1-to-3 days a week but never do it on back-to-back days & take at least 1 day off if doing it 2-to-3 days a week.
Try to increase the amount of weight, reps and/or sets you do (as long as you don't do more than 6 sets or 15 reps) each time you do the breast workout or better yet…
Try to increase the weight and/or reps on each set you do while maintaining almost perfect form &…
Make sure you keep a training log to help you make your breast look bigger faster.
Take at least 1 week off from doing the breast workout after you've done it 2-to-8 weeks in a row.
The Bench Press can be done with dumbbells or a barbell. You can also use a decline, flat or incline bench.
Cable Flyes can be done standing or on a decline, flat or incline bench.
Better Posture = Bigger Boobs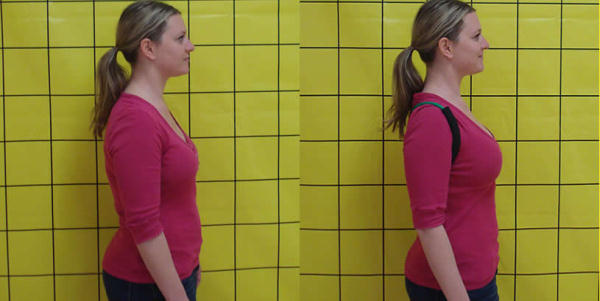 The woman's boobs in the picture above look much bigger after fixing her posture using the posturemedic device
If you walk around with your shoulders hunched forward, you will look shorter and your breasts will look smaller (as well as less pert).
To improve your posture…
Better posture will make your breasts stand out from your torso, helping them to appear larger. As a bonus, fixing your posture will help to reduce back, head and neck aches.
5 Fashion tricks that will enhance your bust
1. Have a professional measure your bust size
If you want to make your breasts look good, the first step is to make sure that your bra fits properly. You may think that you know your own bra size, but it is surprising just how many women are wrong about their measurements.
If you are wearing bras that are too large, your breasts may sag and the excess material will create a strange bust shape. Meanwhile, if your bras are too tight, your breasts will be pressed up against your body and will look much smaller and flatter than they actually are.
To make sure that your bras are just right, go for a professional fitting in your favorite lingerie store.
2. Make your waist look slimmer
If you ensure that your waist looks narrow and slender, your bust will appear larger by contrast. If you want to instantly slim your waist without waiting for diet and exercise to work their magic, try wearing a flared dress with a tight, wide belt around your waist.
A loose tunic with a nipped-in waist will work in a similar way.
See 10 things you can do to look 10 pounds slimmer
3. Think about the neckline of your clothes
Buying shirts and tops that have detail on the neckline can help to enhance your bust as well. For example, look for lace, bright patterns, pleated material or sequins around the neckline.
These features draw attention to your chest and help to make your breasts look larger. Meanwhile, avoid form-fitting vest tops or dresses that will cling to your chest and make it look flatter.
4. Invest in a bra that is designed to make breasts look larger
When it comes to enhancing your bust, one of the most obvious fashion tricks is to buy a bra that is specifically made for that purpose. Padded bras contain foam inserts, gel packs or air pads that help to make your breasts look fuller, while push-up bras instantly add perkiness and cleavage.
If you are willing to spend enough money, you can buy a padded push-up bra that will help you in both of these departments.
5. Look for bright and light tops
Lighter colored material typically makes things look larger, so if you want to enhance the size of your bust then wearing pale tops can be a smart choice.
If you wear dark colored pants or skirts, this will ensure that you still look slim at the same time, and will help to make your chest look larger by contrast.
Make sure you also see…