300 Calorie Meals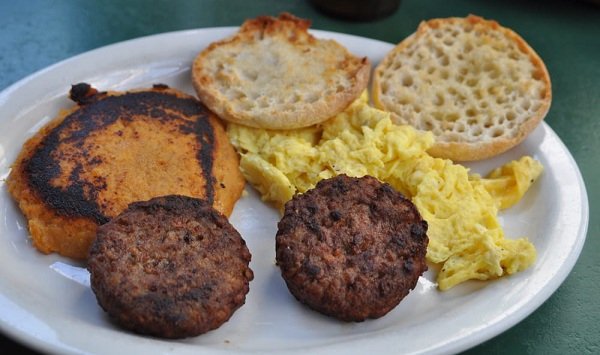 Breakfast
1 cup Cheerios with 1 small sliced banana, 1 Tablespoon chopped walnuts, and ½ c fat-free milk.
2 cup of cheerios mixed with 1¼ cups of skim milk.

Quaker Oat Bran hot cereal with 1 cup fat-free milk, and ½ cup orange juice.
1 fried egg, 2 pieces whole wheat toast, and ½ cup orange juice.
8 ounces fat-free French vanilla yogurt with 1 Tablespoon slivered almonds, half an apple, 1 Tablespoon raisins, and 1 Tablespoon ground flaxseed.
McDonald's: Plain English muffin (150 calories) plus two scrambled eggs (160 calories), Egg McMuffin (300 calories), Sausage Breakfast Burrito (290 calories), or 1 low-fat apple bran muffin at McDonald's.
Burger King: Croissan'wich with Egg and Cheese (350 calories). Skip the sausage option on this one; the meat adds another 260 calories.
Subway: Western Egg Breakfast Sandwich (300 calories). Note that all breakfast sandwiches are between 300 and 350 calories -- a touch high, but not bad.
Arby's: Biscuit with butter (280 calories), sourdough with ham (220 calories) or croissant with ham (310 calories)
Lunch
One 6½ whole wheat pita, 4 Tablespoons red pepper hummus, ½ c broccoli sprouts, ½ cup cucumber slices, 2 pieces looseleaf lettuce, and ½ cup cranapple juice.
1 cup Nile Spice Sweet Corn Chowder, 1 cup fat-free milk, and 1 large apple
.
1 Tablespoon peanut butter and 1 Tablespoon grape jelly on whole

wheat bread (2 slices)
1 cup Boston Market chicken chili, and 1 cup Boston Market broccoli with red peppers.
3 ounces of tuna and 37 almonds.
Subway Veggie Delight 6" sub, and 1 can diet soda.
Burger King: Four Chicken Tenders and a small order of onion rings.
Wendy's: Grilled Chicken Sandwich.
Subway: Any "7 Under 6" sandwich. Warning: The moment you add mayo, oil, or cheese, the calorie count starts climbing.
Dairy Queen: Grilled chicken sandwich or DQ Homestyle cheeseburger.
KFC: Tender Roast Sandwich without sauce. Two Original Recipe fried drumsticks or two wings.
Arby's: Light Grilled Chicken sandwich.
Boston Market: Quarter-pound skinless white-meat chicken (170 calories) with butternut squash (150 calories)
300 Calorie Snacks
2 small bags of popcorn.
2 small bags of barbecue potato chips.
A pack of nabs.
1 bag of chex mix.
Dinner
Lean Cuisine Herb Roasted Chicken, and 1 cup of 1 percent milk.
Fantastic Foods Spicy Jamaican Rice and Beans, and 1 steamed broccoli stalk.
Boca Burger (Vegan original) on a bun with 2 pieces looseleaf lettuce, 1 slice tomato, and 2 Teaspoons ketchup, and 1 c steamed spinach with 2 Teaspoons reduced-calorie margarine.
3 oz salmon fillet and small oat bran dinner roll.
6 large shrimp with 2 Tablespoons cocktail sauce, 2 cups of salad with 2 Tablespoons Italian dressing, and iced tea with 1 sugar cube.
More Tips