Will I Lose My Butt If I Lose Weight?
The quick answer is YES & NO
YES - if you're overweight you'll lose the fat (not the muscle) off your butt & hips and this will make your butt smaller as you lose fat off your butt area but don't worry about that because you have 3 options to save your butt as you lose weight…
Make sure you exercise. Your butt will still get smaller but by doing normal lower body cardio or interval workouts to lose weight you can at least firm up & round out your butt to make it look bigger as you lose weight (see pic below)
Wait. Once you've lost all the ugly fat off your butt and the rest of your body… You can build a bigger & sexier butt doing this butt workout
Lose weight & Maintain and/or get a bigger butt at the same time. As you lose weight you can do this butt workout or the perfect body plan to not lose so much butt, maintain what you have or make your butt bigger as you lose weight but…
No - if you're not overweight, have a low body fat % or if you're only trying to lose your last 10+ pounds…
Then chances are you probably don't have much butt or leg fat and the little bit you lose won't make your butt look that much smaller since your butt is already mostly muscular, round & firm.
But I'm really scared I may lose my butt as I lose weight!!
If you seriously have doubts about losing weight because you may lose your butt then chances are that you have a butt that only looks good when you wear tight pants and the reason is because…
You have a butt that is mostly a saggy or fatty butt that can only be firmed up & rounded out to look sexy depending on the type of jeans you wear so…
Let me ask you this…
How good does your butt look in a thong or bikini as compared to when you wear tight jeans or spandex?
Take a Look At This…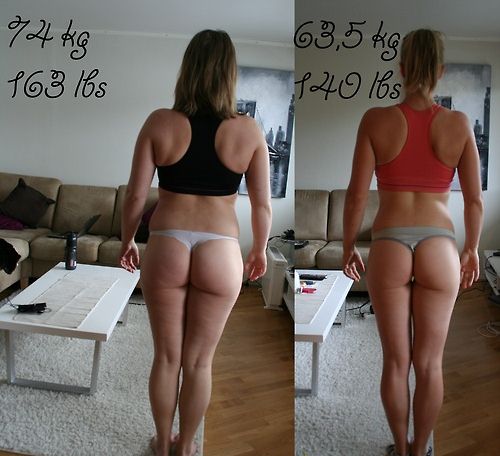 After losing 23 pounds (11 kilos) you can clearly see the lady in the above photo did lose some of her butt BUT…
Plans to Lose Weight without Losing Your Butt
More Womanly Tips
New Workouts