20 Home Remedies for Frizzy Hair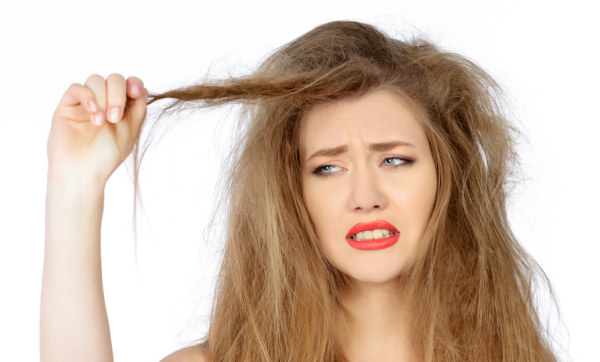 1. Sparkling Water
Club soda, fizzy water or soda water all falls under sparkling waters as they contain Carbon-Dioxide gas fused in them. There are some Ph. levels in it that assist to overcome with the crunch of frizzy hair.
Application
Wash hair with your regular shampoo followed up to rinse your hair with this carbonated water ordinarily. You need to apply it for some time to change your frizz into flowing.
2. Apple Cider Vinegar
Mix water with apple cider vinegar in fifty-fifty proportions.
After washing hair with shampoo, use this solution as a final rinse of your hair and goes on every 2-to-4 weeks. This helps you keep the frizz at its bay and also adds up some shine to your hair.
3. Avocado with Olive Oil
Both these ingredients are high with hydrating elements and fatty acids too. Whip 2-to-3 teaspoons of olive oil with mashed avocado very well to prepare a mask.
Application
After shampooing your hair, anoint your hair with this avocado mask ensuring hairs are fully covered with it.
Rinse hair completely with normal water after 30-to-60 minutes from application of the mask.
4. Raw Egg & Olive Oil
An egg is full of proteins, fats and is naturally moisturized. The egg helps killing bacteria while olive oil restores the moisture content of hair.
Application
These solutions need to be greased in your hair prior to washing hair with shampoo. Leave it for half an hour after application then washes off with shampoo.
5. Bananas with Yogurt
As we all know bananas are rich in vitamin A, C, E and natural oils and carbohydrates. Thus, they can be used to help fight the battle of frizzy hair with split ends too.
Application
Take one banana and mash it up till no lumps left.
Then mix it with 3 tablespoons of yogurt, 4-5 drops of rose water and a single teaspoon of lemon juice.
Evenly spread this banana mask for at least 60 minutes and then rinse your hair with regular cold water.
6. Almond Oil & Eggs
Take an egg and mix it with 2-3 teaspoons of almond oil
Apply this solution on your scalp covering the whole scalp area and leave it up to 40 minutes.
Wear a shower cap to avoid the solution to flow down on your neck.
Wash-off hair with your regular shampoo. Reiterate the process to observe the difference for a month once every week.
7. Avocado with Curd
Avocado also contains fatty acids that help in dealing with frizzy and brash hair.
Application
Mash one ripe avocado to a creamy paste and mix 2 teaspoons full of curd to it.
Apply it on scalp evenly before shampooing your hair.
Let it sit for 30 minutes and wash hair with regular use shampoo.
Repeat the procedure once or twice a week to get smooth and soft hair.
8. Bananas Honey mask
Take a banana and mash it up to zero lumps and then mix it with two tablespoons of honey and 2 tablespoons of olive oil too. Also, add a spoonful of curd to it.
Whip all ingredients well to make a smooth mask.
Apply the mask all over the scalp evenly and leave for 30-to-60 minutes.
Finally, rinse your hair thoroughly and love your smooth and shiny hair.
9. Coconut Milk
Dig out the coconut milk from the brawn of the coconut or pick the market one. It gives you the bouncy and frizz-free hair.
Application
Get the two tablespoons of coconut milk warm and apply on scalp. Cover your head with the towel and leave for 3 to 4 hours to get best results.
10. Lemon and Honey
Take two tablespoons of honey and lemon juice each in a bowl and add some water to it.
Prior to its application rinse your hair with normal water and then apply the solution on damp hair avoiding its contact with the scalp.
After 15 minutes shampoo your hair thoroughly and enjoy the frizz-free healthy hair.
11. Mayonnaise and Egg mask
Simply mix the ¼ cup of mayonnaise with one egg and 2-3 tablespoons of almond oil to make a smooth paste.
Apply it properly and leave for 20 minutes and wash hair with shampoo.
You can go for it two times a week.
12. Beer
It contains vitamins, nutrients, antioxidants and much more that is needed for your hair. Use dark beers for ace outcomes.
Application
Give a bath to your dull and frizzy hair with beer and let it sit for some time. Lastly, wash them with cold water.
13. Coconut Oil with Vitamin E
Add one Vitamin E capsule to required quantity of oil and apply it on your hair. Wash after 40 minutes of application and repeat it once or twice a week.
14. Curd and Honey
Add one tablespoon of honey to two tablespoons of curd and mix well.
Massage your scalp with this mask and let it spread for 20 minutes.
Wash off hair properly to get best results and repeat once a week to maintain a good texture.
15. Honey
Honey can nurture the hair and make them shine, smooth and softer.
Application
Gently massage your scalp and hair with honey and leave it for 30 minutes. Rinse hair with the use of lukewarm water. For better results apply twice a week.
16. Aloe Vera Gel
Mix ½ cup of Aloe Vera gel, 2tsp of castor oil, 2tsp of fenugreek & 1tsp of basil powder and make a paste.
After applying the paste cover your head with a shower cap and leave it for overnight and shampoo your hair in the morning.
Use this remedy for once a week for 2 months.
5 Benefits of Castor Oil for Hair
17. Aloe Vera with Hibiscus Flower
In this remedy first, you have to crush some hibiscus flowers to make a paste.
Then add 2tsp of paste to ½ cup aloe Vera gel and mix.
Apply and wash after some time.
18. Chamomile tea and olive oil
Make a fresh Chamomile tea and add olive oil to it.
Now pour this lukewarm solution on your hair ensuring all hair gets covered.
Comb the hair in a backward direction covering all the strands.
Leave for 15 minutes and rinse hair with normal water backward.
19. Emu Oil
Emu oil is beneficial for repairing dry and frizzy hair due to its moisturizing properties.
Application
Use Emu oil on hair mixed with coconut oil and leave it for overnight. Shampoo your hair in the morning.
20. Banana and avocado
Make a paste of half banana, half avocado, 2tsp olive oil and ½ cup Aloe Vera gel
You can use a blender to make a paste. Apply it on scalp evenly and leave for 20-30 minutes.
More Tips for Beautiful Hair