The best way to do sit-ups to build ripped abs
When you do a normal sit-up (unlike in the video above)… Your hip flexors are the prime movers or the main muscle that helps you move back and forth when doing sit-ups so while you're doing regular sit-ups…
All your abs are dong is stabilizing or contracting real hard to keep your back straight while doing sit-ups and your abs are contracting the hardest in the middle of the sit-up movement and…
At the beginning of your regular sit-up exercise your hip flexors are doing almost all the work and towards the end of the sit-up your abs are almost not doing any work at all so…
It makes sense that when you do a sit-up you spend most of the time in the middle of the sit-up exercise where your abs are contracting the hardest and that's why if you do your sit-ups as shown to you in the video above you'll clearly get a much better workout for your abs over regular sit-ups and as a matter of fact…
I bet you right now you'll get a better ab workout doing sit-ups as shown in the video above doing ONLY 5-to-10 FIVE second reps than you doing 100 sit-ups in a row the old way because like I said…
When you do regular sit-ups most of the work is done by your hip flexors and your abs are only actually contacting or working for mere seconds when compared to you doing sit-ups MY WAY where you hold & contract your abs at least 5 seconds on each rep &…
To make this exercise tougher…
You can lean back farther until you almost touch the floor or…
You can put your hands up higher or…
You can hold a weight in your hands and/or…
You can also hold it longer than 5 seconds plus…
The best way to do Ab crunches for building six pack abs
Click Play To See How To Do Crunches Correctly
The only problem with doing regular crunches off the floor is there is not enough range of motion for you to get a better ab workout so in order to increase that range of motion…
Use a Stability Ball as shown in the video above or…
Use anything that will curve your back like a Bender Ball, basketball, placing a bunch of towels or shirts under your back or…
Whatever creative way you can think of to increase your range of motion because unlike regular sit-ups where your hip flexors are the main muscles moving you…
In crunches your abs are doing all the work moving you up back and forth but without that extra range of motion from a stability ball or anything else…
Then moving just a few inches off the floor for 100 reps or more is doing you no good at all and when you've got that much needed extra range of motion...
All you'll need to do is 8-to-12 reps at a time and if you find that doing those 8-to-12 reps is too easy then…
Do weighted crunches by holding a dumbbell or something weighted in your hand and/or…
Hold each rep by squeezing your abs for 2-to-3 seconds at the end of the movement where you've curled all the way up.
Warning: These 2 exercises will only help you build a six pack &…
They will do very little to help you lose belly fat so you can see your six pack abs so look at how to lose belly fat & yes…
You will definitely build a six pack quickly after 2-to-4 workouts by doing 1 of these 2 exercises for 2-to-6 sets of 8-to-12 reps per workout 2-to-4 days per week but…
You won't be able to see the fruits of your labor (your newly built six pack) until you've lost all your belly fat.
Other exercises you can use to build a six pack…
Click on photos to see how to do exercise
Make sure you also see…
NowLoss.com Created by Adrian Bryant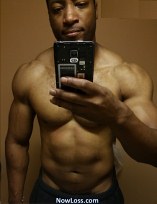 Adrian Bryant is a Body Transformation Specialist. Many People (like these here) have used NowLoss.com to Look Better Naked for free.
Even Models seek out Adrian's advice and Doctors use Adrian's unique techniques to help their patients lose weight fast and his new YouTube Channel already has over 35 Million views!
Contact Adrian Follow Adrian on FaceBook, Instagram & Twitter