4 Ways to Use Herbs in Beauty Treatments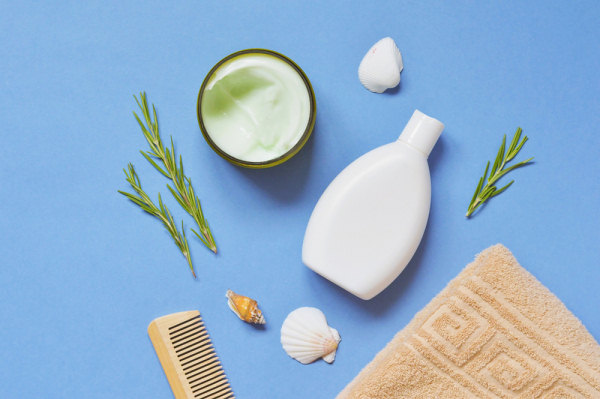 Herbal Facial Steams
Facial steams open the pores and remove impurities. You can steam normal skin once a week, oily skin 2or 3 times a week, and dry skin approximately once in two weeks. Don't try facial steams if you have cuperose or other similar skin conditions heat could irritate.
Herbs for Facial Steams:
For an Herbal Facial Steam,
Remove your makeup & cleanse your face. (If you have long hair, pull your hair away from the face.)
Use 2 handfuls of fresh herbs or 3 tablespoons of dry herbs, place the herbs in a bowl and pour boiling water over them. Stir well.
Keep your face above the bowl, but not so close your skin will burn. If your skin is sensitive, keep your face further away from the bowl.
Place a large bath towel over your head and the bowl.
Close your eyes and let the steam open the pores and cleanse your skin for 10-to-15 minutes.
Rinse your face with lukewarm water and follow with cold water, a toner and your favorite natural moisturizer.
Herbal Baths
Herbs can be added to baths to relax muscles, to boost circulation, to energize the body and the mind, or for stress relief. Use a handful of fresh herbs or a couple of tablespoons of dry herbs for one bath. Choose up to 4 different herbs.
2 ways to Make Herbal Baths
1. Muslin Bag
Fill a small muslin bag with herbs and hang it from the tap when you run the bath, letting hot water run over the bag.
Then untie the bag and drop it in the bath water.
The herbs will infuse the water with their therapeutic properties and their scent.
2. Herbal Infusion
Place a handful of fresh herbs in a bowl and pour approximately half a liter of boiling water over the herbs.
Leave to infuse for at least 10 minutes, then pour the infusion in the bath water and mix well before you step in.
Herbs to Use in a Bath:
If your skin is dry, add a little vegetable oil, such as sweet almond oil, to the bath water.
Herbal Foot Baths
A foot bath refreshes and invigorates your feet and softens your skin. Herbs ideal for foot baths include Lavender, Rosemary, Thyme, Peppermint, Sage, Chamomile or Marjoram
Make a strong herbal infusion & add it to your foot bath or drop a handful of fresh herbs into a bucket full of hot water.
Leave to infuse for 5-to-10 minutes while the water cools down, and then put your feet in the bucket.
Soak your feet for 15-to-20 minutes.
You can also add sea salt into the foot bath, scrub your feet with a homemade salt scrub, or perform a home pedicure.
Always dry your feet well and use a good moisturizer after a foot bath.
Herbal Hair Rinse
Herbal hair rinses are a natural way to add shine to your hair and boost your hair color. Herbal rinses condition the scalp, relieve itchiness and may prevent dandruff
Herbs for Hair Rinses:
To Make a Herbal Hair Rinse,
Make an herbal infusion with your favorite herbs, using approximately half a liter of water and a handful or two of fresh herbs.
Place the herbs in a bowl or a jug and pour boiling water over them.
Leave to infuse until the water cools down to a comfortable temperature.
Strain the infusion well before use.
Wash your hair and condition as usual.
Then pour the herbal water over your scalp and comb it through your hair.
Use the rinse as the last rinsing water and leave it in your hair until the next wash.
Before Using any Herbal Treatments,
Make sure you are not allergic or sensitive to any ingredients. It is always a good idea to do a patch test on a small area of skin before attempting a full treatment.
More Skin Care Tips
Swipe to See Everybody, Tap to Pause
Click Arrows to See Everybody, Click Photo to Pause