6 Ways to keep losing weight while you're injured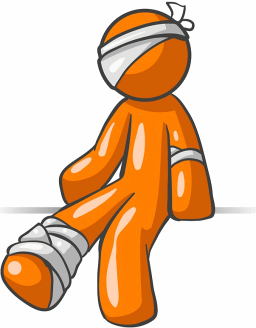 1. Do fat loss workouts that don't involve your lower body
Here's 4 examples of workouts you can do that don't involve your lower body…
1. Bed Sheet Workouts
2. Upper body bike
The same type of workout you do on a treadmill, bike or elliptical can be done on an upper body bike to help you lose weight but the only problem is…
You probably don't currently have access to an upper body bike so what you can do is…
You can buy your own upper body bike or better yet…
You can convince your local gym or ymca to buy one and explain to them how it will help them attract more members who are older, handicap or injured like you who need better options than treadmills, stair climbers and ellipticals.
Play the video below to see an Upper Body Bike in action…
This is another fat loss workout that doesn't involve the lower body that much and it can be done seated if you're unable to stand for a long period of time.
Example of a Battle Rope Workout:


Do this if you have no battle ropes:

Please Note: For the battle rope workout above you can alternate between battle rope waves (or bed sheet waves) & battle rope hip tosses (or chair swings) if Jumping Jacks aren't an option for you.
12 battle rope exercises you can do seated…
If your injury still allows you to stand up on your own 2 feet with very little movement then the sledgehammer workout is also good for you and if you don't have a sledgehammer…
You can use a baseball bat, broomstick or any other object you can swing forcefully that will not break on impact but if your injury is so bad where you can't stand for too long then the upper body bike and/or a strict diet is your best option.
Below I have 2 sledgehammer workouts you can do…
Sledgehammer workout #1 involves jumping jacks so you can either do them (if your injury allows it) or skip that part of the workout and…
Sledgehammer workout #2 involves no jumping jacks at all.

Sledgehammer Workout #1


Sledgehammer Workout #2

2. For bad knees or bad joints…
You want to do low impact exercises like riding a bike, Elliptical or swimming and you want to limit high impact exercises that put too much shock or pressure on your joints like walking, running, jumping and step aerobics classes and…
As your joints get healthier from you doing lower impact exercises you may be able to ease back into the higher impact weight loss activities.
3. For plantar fasciitis, shin splints or sore lower legs…
You want to avoid walking, running, and jumping as much as possible while applying ice to those areas or doing whatever your doctor told you to do that's safe and for exercise…
Biking, Swimming or even the Elliptical where almost no lower leg movement is needed can all be used to help you lose weight with aliments such as plantar fasciitis, shin splints or sore lower legs.
4. Be more strict with your diet
If you're unable to exercise at all (meaning for example that you've broken both arms & legs) then the less active you are = the more strict you have to be on your diet to keep losing weight or to maintain your weight while injured so this basically means…
Sometimes the best you can do while injured is to maintain your current weight with a strict diet until you're able to exercise again but…
You can choose to eat less which will help you lose weight at the same rate you were when you were healthy and exercising but…
You should only lower your calories to a really low amount if you can maintain that low calorie diet while injured and after you are able to exercise again…
You can eat more (or eat the same amount you were eating when you was dieting & exercising) to keep losing weight at about the same rate without eating a really low amount of calories.
5. Ask your doctor what you can do
Before following the advice on this page or before even going with your own instincts… Ask your doctor what is safe for you to do to prevent you from making your injury worse.
6. If you're sick…
The good news is that you'll probably lose weight faster than you already are on your current weight loss plan because…
Whatever flu or sickness you have will probably cause you to lose your appetite and have you drinking lots of fluids and that brings us to the bad news which is…
Being sick is like being on a fad diet so you'll lose a lot of weight quick while sick but once you start eating normal or going back to your regular weight loss diet you're going to gain back some or all of the weight you lost while you were sick and this is nothing to panic about because…
Any real fast weight loss from being sick or from being on a fad diet does not last very long so it's best to safety lose 10 pounds every 4-to-6 weeks and keep it off for good!
Make sure you also see…

NowLoss.com Created by Adrian Bryant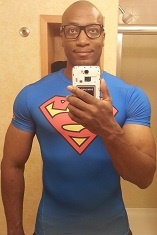 Adrian is one of the world's most sought after Body Transformation Specialist. Many People (like these here) have used NowLoss.com to Look Better Naked for free.
Even Models seek out Adrian's advice and Doctors use Adrian's unique techniques to help their patients lose weight fast and his new YouTube Channel already has over 35 Million views!
Contact Adrian Follow Adrian on FaceBook, Instagram & Twitter