Handstand push-ups are the best thing you can do to get bigger, wider & stronger shoulders &…
Handstand pushups build up your trapezius (traps or neck)

muscles, give you bigger arms (triceps) plus…
Handstand pushups will help you build thicker back muscles and…
Handstand pushups will help you build a six pack because your abs are forced to stay tight while doing Handstand pushups so…
Follow these 4 steps to get strong enough to do Handstand pushups…
Step 1
Start off by doing 5-to-10 sets of 5-to-10 reps of walking into a handstand and then holding your handstand for 5-to-30 seconds (see video above) and…
Once you can easily get into a handstand and hold it for 5-to-30 seconds… you move on to step 2
Step 2
Now you can actually do handstand pushups by doing pushups ¼ or ½ way down to the floor by placing boxes or other objects under your head (see video above) and as you get stronger…
You can do handstand pushups coming down closer & closer to the floor and for your handstand pushup workout…
You want to start off by doing 10 sets of 3-to-5 handstand pushups and even if you're only able to do 1 handstand pushup…
Just do 30-to-50 sets of 1 handstand pushup or 25 sets of 2 handstand pushups so…
Just do whatever you need to do to do 30-to-50 handstand pushups in each workout and…
You only need to do this handstand pushup workout once a week for great results and…
Make sure you keep challenging yourself doing handstand pushups by going down lower & lower until you can do handstand pushups coming all the way down to the floor and…
Once you can do 3-to-5 handstand pushups coming all the way down to the floor - Go to step 3 but if you're still have trouble doing handstand pushups…
Do Handstand Push-ups Negatives: Just take 5 seconds or longer to lower yourself to the bottom position of a Handstand Push-ups and don't push yourself back up (Just stand up & complete another negative) to build up enough strength to do regular handstand pushups.
Step 3
Now you can start doing elevated Handstand pushups and the same rules apply…
Do 10 sets of 3-to-5 elevated handstand pushups or…
Just do whatever you need to do to do 30-to-50 elevated handstand pushups in a workout even if it means you doing 30 sets of 1 elevated handstand pushup at a time or if you have to…
You can do 25 reps of elevated handstand pushups and another 25 reps of regular handstand pushups and the main thing is that you do 30-to-50 handstand pushups in each workout and…
You only need to do this workout once a week to get bigger shoulders, back, arm, and build six pack abs.
Step 4 - Advanced
You can get into a handstand position and walk on your hands back and forth on a wall for sets of 30 seconds-to-3 minutes and/or…
You can do handstand step-ups where you can do about 5 sets of 10 handstand step-ups stepping up 5 times with each hand and you can do your handstand step-ups on lower-to-higher elevations to make handstand step-ups harder or easier.
For women to get sexier shoulders, firmer arms & abs with Handstand pushups…
Women: You need to do your handstand pushups coming all the way down until your head touches the floor and you can even see good results just coming ¼-to-½ down to the floor (see video) but before you start doing handstand pushups…
Start off by doing 5-to-10 sets of 5-to-10 reps of walking into a handstand and then holding your handstand for 5-to-30 seconds to get used to being in a handstand position (see video) and…
Once you can easily get into a handstand and hold it for 5-to-30 seconds…
Then you can start doing handstand pushups coming all the way down to the floor or just coming ¼-to-½ down to the floor and…
You don't really need to do elevated handstand pushups to get the shoulder and arm toning + belly firming results you really want and…
Here's the workout you can do to get sculpted shoulders, firmer arms & belly…
Do 10 sets of 2-to-3 handstand pushups or 5 sets of 5 handstand pushups and…
Even if you can only do 1 handstand pushup - Just do 20-to-30 sets of 1 handstand pushup or 15 sets of 2 handstand pushups so…
Do whatever you need to do to do 20-to-30 handstand pushups in a single workout and…
You only need to do this handstand pushup workout once a week to get great results and…
If you can't do handstand pushups - you can Do elevated push-ups or… This exercise here to Sculpt & Tone Up Your Shoulders
More Shoulder Exercises…
Click on photos to see how to do exercise
Make sure you also see…
You may also want to look at…
NowLoss.com Created by Adrian Bryant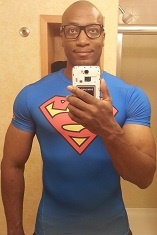 Adrian is one of the world's most sought after Body Transformation Specialist. Many People (like these here) have used NowLoss.com to Look Better Naked for free.
Even Models seek out Adrian's advice and Doctors use Adrian's unique techniques to help their patients lose weight fast and his new YouTube Channel already has over 35 Million views!
Contact Adrian Follow Adrian on FaceBook, Instagram & Twitter