See how many Carbs, Proteins & Fats you need in 3 steps…
To help you plan your weight loss diet…
Make sure you also see…

I Will Help You Look Good Naked…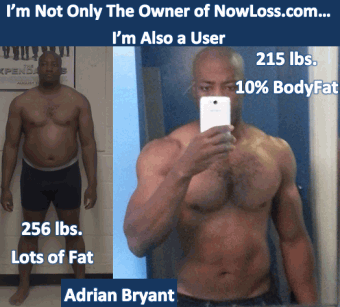 Subscribe or Follow:





Adrian Bryant
start off with a 40-40-20 ratio of carb-protein-fat
August 15, 2013
Adrian Bryant
you can start with 1400 and just remember to keep track of that daily and then you can adjust your calorie intake depending on how fast or slow you are losing weight along with your hunger level
March 22, 2013
Adrian Bryant
#1 - it's not the low carb that makes you lose weight its the low calories that the low carb makes you eat that causes weight loss
#2 - are you exercising
#3 - are you tracking calories
November 13, 2012
Adrian Bryant
You weigh 150 pounds so do you know how many total calories you are eating? if so then simply make sure 30% of that is protein and 50 carbs and 20 fats to basically start bulking up
September 15, 2012
Adrian Bryant
as you lose weight you will lose weight all over including the back fat SO even when you get down to 130 you may have just 5-10 more stubborn pounds of fat to lose to finally get rid of the back fat
August 13, 2012
Anonymous
More protein then carbs to cut.
July 28, 2012
Adrian Bryant
How many calories per day are you eating per day and how fast did you lose 20 pounds
March 12, 2012
kayla
How long did it take you to loose 37lbs and how long did u exersize daily?
February 12, 2012
Adrian Bryant
you can burn fat off any ratio but you need to play around with it and see what is best for you
September 19, 2011
sarah
i like this plan, i am trying loose fat and gain muscle so i can burn 50+ calories when im at rest..i workout everyday at the gym for about and hour and a half. I need a meal plan thats based high on protein and low in good carbs..thanks!
November 17, 2011
Adrian Bryant
there's no difference
carbs & protein have 4 calories per gram and fat has 9 cals per gram so in your case for example...
281 grams of carbs x 4 calories per gram = 1126 calories
September 12, 2011
Brett
Emily,
As Adrian stated, a calorie is a calorie, with one exception.
Fat has 9 calories per gram while carbs and proteins have 4.
When it comes to losing weight, it doesn't matter what your macronutrient breakdown is, all that matters is that you create a constant caloric deficit.
November 05, 2012