How TENS Therapy Relieves Chronic Low Back Pain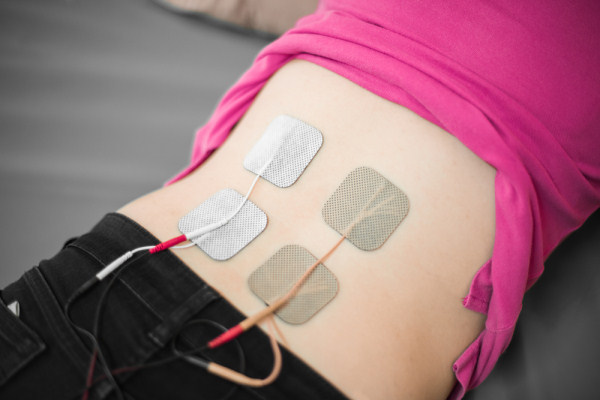 Transcutaneous electrical nerve stimulation (TENS) therapy is used by many physical therapists. Here are some things you need to know about TENS, what healthcare professionals recommend and if an Over The Counter TENS device is right for you.
How TENS Devices Work
Electrical stimulation type treatments aren't a revolutionary new chronic pain therapy. The Romans applied electric eels to treat headaches and gout pain. More recently, electrotherapy garnered a lot of attention, and use, from the late 1800s up into the 1930s.
The OTC TENS devices available today first gained FDA approval in 2004.
TENS Works by Applying Electrical Impulses
Electrodes send electric pulses through your skin to activate your natural pain response mechanism. The electrical impulses stimulate nerve activity to block pain receptors and get your body to release endorphins, your body's natural pain relief chemicals.
TENS Therapy Relieves,
Joint pain
Pain due to arthritis
Muscle pain
Pain from a sports injury
Talk to Your Doctor First Because,
According to Marijke Vroomen Durning, RN, there are numerous studies evaluating the efficacy of TENS therapy. Not all the studies agree and results are not completely conclusive, but the research indicates TENS treatment can be useful for relief of chronic low back pain.
This treatment is not for everyone. Individuals with a pacemaker or any implanted metal or electronic medical devices should avoid using TENS.
Where to Get TENS
After consulting your doctor, you can opt to buy an over-the-counter TENS unit or a specific device prescribed by your healthcare provider, chiropractor or physical therapist.
Before Using TENS,
Your doctor may recommend a specific unit as being more suited to your unique situation and/or,
Many primary care providers refer patients with chronic low back pain to a physical therapist for supervised therapy.
A physical therapist may recommend a TENS unit as part of a treatment plan to provide relief while addressing the underlying causes of your back pain.
TENS Things to Consider
Where and how the electrodes are attached is essential for your safety and achieving maximum benefit from the therapy.
Never place electrodes near your heart or under your ears.
Carefully read and follow all the instructions that came with your TENS unit.
You may have to repeat the therapy several times a day to get relief from chronic low back pain.
More Tips for Low Back Pain Relief
Trending