How To Lose Weight By Mountain Hiking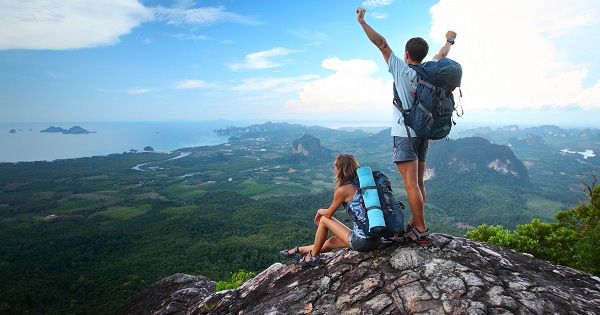 Weight loss solutions have made hot news headlines on several occasions. While it is easy to pile up those fats, it often seems more difficult trying to get them out of our system.
The worst being that most people, who are looking to lose as much weight as they can, end up choosing difficult, boring methods that will harder sustain their interest to seeing a significant calorie loss.
While weight loss is supposed to be approached with some determination, it is more effective when a fun, easy method is chosen; talking about hiking, mountaineering, and skiing as opposed to indoor activities, like hitting the gym on daily basis.
You will definitely want more of the outdoor weight loss methods that does not only promise calorie loss, but allows you the opportunity to see more of the world, meet people and enjoy yourself along.
How You Can Lose Weight With Mountain Hiking
Mountain hiking is one of the best outdoor activities that have helped many people to achieve significant weight loss. Why is this so?
You lose calories: While hiking, the cool breeze on the open space tend to make your body become cold which will trigger your system to work more in order to produce more heat to sustain the body temperature. This extra work is drawn from the calorie that is stored in your body; the process of which enhances weight loss.
Studies have shown that a man can lose over 500 calories per hour hiking, and a woman over 450 calories per hour. Burn 500 Calories Without Exercise | Cold Exposure For Fat Loss
Use a backpack: Remember that fun is among the reasons you choose hiking. With a backpack, the work you are going through is not only increased, forcing your system to use up more calories, but it offers you the opportunity to take your diet and other necessary items along. Carrying a backpack with 15 lbs. / (6.8 kg) load, you will drop an additional 150 calories. 4 Ways to Burn More Calories
Mountain uphills: Moving uphills will engage your body on some extra work thereby using more of the stored calorie to provide the energy needed for such work. This will inevitably force your system to lose more weight.
Speed up for short periods: While this program is called Hiking, it will be more effective for weight loss reasons to increase your pace once in a while. This will put your system through some extra work needed for more calorie usage.
Things To Watch Out While Mountain Hiking
Here are some of the factors you need to pay attention to while mountain hiking for weight loss.
Use a good pair of hiking boots or trail shoes: To make the most use of your hiking sessions, you need a pair of hiking boots to facilitate your movement. Those interlocked slow and fast paces won't be possible if you have to drag your legs along due to injuries.
Avoid rays - use sunblock: Consistent exposure to rays can cause several other damages on the body while you only meant to lose weight. It is therefore necessary that you use a sunblock whenever you are going for a hiking session, especially during mountain hiking and weekend outdoor activities. How to use sunscreen
Don't overdo it: Too much of everything is bad. Scheduling aggressive hiking sessions for yourself can set some imbalance in your professional or family life and worse still, you can get tired, bored and thus develop some resistance to the problem. Take it gradually but consistently, and ensure that you have all the necessary outdoor gears and accessories you need to hike safely. .
Hiking is one of the best outdoor activities for weight loss. It also has so many other benefits despite this traditional function.
Through effective hiking sessions, you can improve your overall healthy lifestyle by improving the health of your heart, enhancing fluid circulation in the body, supercharging the performance of your joints and a whole lot other health benefits.
For the best result, it is advisable to hike several times a week. But if the time is not there, perhaps a few hours up the hill behind your house or a hike in the city during the week can do. However, it's better no to pass up your weekend mountain hiking sessions!
More Tips
New Workouts