Think Salad Is Healthy? Think Again…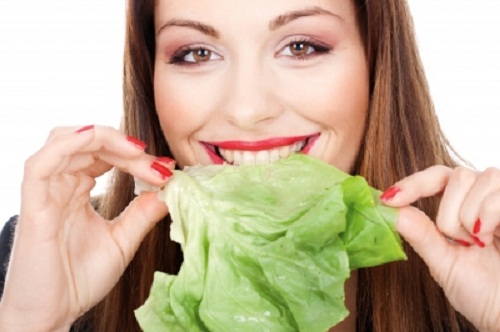 Everything that the body requires to burn fat, build energy levels and muscles is found in a great salad. But the beauty of a bed of greens is often hampered by fatty additions that completely negate its goodness. Ideally, it is important that a salad be consumed at every meal and most people do so, but what they don't realise is that the calorie laden fatty dressings smothered on top of an amazing spread of greens and veggies is actually doing them more harm than good. Here are some ways to check if you are using any of the salad additions that is harming your attempt in eating a clean and balanced salad.
1. Packaged salad dressings.
If you reach out for French salad dressing, Caesar salad dressing or Ranch salad dressing in the bottled form you are actually transforming your initially robust appetizer into a food product that is akin to a junk fast food meal. Most importantly, do not be under the assumption that non-fat or low-fat salad dressings are healthier -- on the contrary the amount of salt and sugar that is added in so-called healthy salad dressings in order to make up for the flavour lost in removing the fat is actually more harmful than the original salad dressing. If you are looking to dress up your salad, it is best that you do it yourself. A few ingredients such as apple cider vinegar, extra virgin olive oil, balsamic vinegar, freshly squeezed lemon juice and mashed avocado can do the trick. Since avocado and olive oils are abundant in monounsaturated fats, it is important to include these ingredients in your salad. According to a study conducted by the Molecular Nutrition and Food Research Journal, natural salad dressings that contain an abundance of monounsaturated fat help the body to better assimilate the nutrients found in fresh produce.
2. Dried fruit.
It is important to include fresh fruit in your diet, and in moderation, as it supplies vital nutrients to the body. The issue, however, is when fruit comes in the dried format it becomes difficult to know how much to include in just a single serving. For instance, one small portion of fresh grapes comes down to one fourth portion of raisins, yet still delivers the same quantity of calories and sugar. One of the biggest offenders in a salad bar is dried cranberries. Dried cranberries are sweeter than fresh cranberries because of the added sugar in it, which is over 50%! Keep far away from dried cranberries, and if you are looking for a dash of sweetness in your salad opt for freshly diced or sliced fruit such as strawberries or pears.
3. Croutons.
Croutons should not belong in any healthy food dishes, especially faraway from a fresh salad. White bread that has been buttered, processed and deep-fried to get that crunchy flavour, is anything but healthy. If you are looking to get carbohydrates from a salad, opt for complex carbs such as quinoa or diced, boiled sweet potatoes tossed in your salad. Croutons do not offer any nutrition to the body apart from loaded calories. If you need a crunch in your salad, go for slivered sliced almonds or even some kale chips for added green goodness.
4. Sugary candied nuts.
Crumbled walnuts or sliced almonds are excellent complements to fresh, veggie rich salad. But sometimes, some of us go overboard by choosing sugary nuts that have been coated with candy, over the real thing. It is obvious that nuts doused and coated in sugar is not exactly the healthiest thing to be munching on, and hence it is important not to mistake it as a necessary addition to your salad. Keeping nuts as raw and natural as possible is not only healthy for you, but can also help you live longer, according to a Harvard study on the goodness of nuts for a healthy life, conducted over a period of 30 years.
Joe Bianchi enjoys blogging on health related issues. He is currently associated with nutra pure hcg drops shop, that sells hcg drops to lose weight naturally.
Make sure you also see…
NowLoss.com Created by Adrian Bryant