4 Ways to Make Your Nose Look Smaller
1. Contouring & Highlighting
This way of reshaping your nose takes a lot of exercise and a proper set of tools. You need good makeup and high quality brushes to make this work.
First, you need to make sure that your primer is of the right shade and that your foundation is perfect
Secondly, you need to understand what is it you want to fix about the appearance of your nose. You may want to shorten it visually, to narrow it down or simply to correct the tip of your nose.
For shortening of your nose,
You need to create a shadow down the line of your nose.
It should go just above the nostrils and under the tip of your nose.
It will seem like your tip is lifted and therefore shorter.
For narrowing down your nose,
Use the angled brush to make lines from the inner corners of your eyes, along the sides of your nose.
Continue over the nostrils if you want them narrowed as well.
It is important to blend those lines well with your foundation.
To visually get rid of the bulbous nose, do the same, but create a little "u" shaped line beneath the tip of your nose.
2. Nose Exercises
A really great exercise for shortening your nose is done by placing your index finger on the tip of your nose.
Try to apply downward pressure on your finger using your nose.
To straighten your nose, you will do this fun exercise at least 20 times a day.
Simply smile and push the tip of your nose up.
This exercise will build the muscles of your nose and they will make your nose look straight.
3. Face Yoga
The last, but not to least is to simply, really make your nose smaller by including face yoga into your daily routine. It will require patience and regular exercise.
Open your mouth and put them in the "o" shape.
Look up and press the sides of your nostrils with your index fingers.
Do not press them too much because you want to be able to breathe through nose.
Try to push the index fingers away with your nostrils.
4. Non-Surgical Nose Shaping
If these do not help you, it is time to do some more serious and permanent nose reshaping. However, it does not have to mean that you are about to have a surgery.
There are non-surgical options nowadays that give amazing results. A non surgical nose job can be used to straighten a crooked nose. The procedure is done by injecting the fillers made of hyaluronic acid or polyacrylamide gel.
Those fillers make the nose even and well-shaped. After the procedure, the swelling and bruising last for no more than 24 hours. This means that the procedure is both fast and effective.
Other Than Your Nose,
More Makeup Tips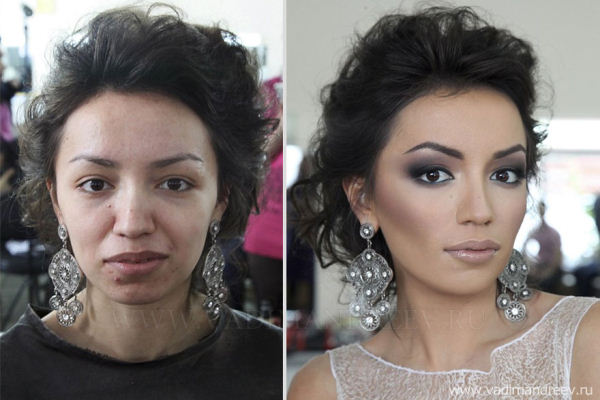 More Womanly Tips
Swipe to See Everybody, Tap to Pause
Click Arrows to See Everybody, Click Photo to Pause