Get Fit at Home: Creating a Home Gym
Are you guilty of using the excuse "It was too inconvenient to go to the gym today?" Most people are, and that's why home gyms are becoming super popular among those who are wanting to make fitness and health a priority in their lives and cut out any room for excuses.
Not sure where to start? Let's get you started with some perspiration- er, inspiration!
Select a Gym Space
Even the tiniest of spaces can cater to your workout needs. You'd be impressed with the spaces a treadmill can squeeze itself into. Your old storage area, unused bedroom, basement, or even an attic can be the perfect area to melt off some pounds.
Get the Gear
To ensure that you're actually going to burn up a sweat in your gym, invest in getting the right gym equipment to suit your needs and to get the job done. A variety of exercise machines and weights can do wonders for those puny lumps you call muscles.
Get Vain
Ever wondered why gyms are lined with mirrors? Despite the fact that it's fun to tease fitness gurus about being vain, it's actually a little more complex than that. Multiple views of yourself encourage correct form to prevent injury.
Floor-to-ceiling mirrors also help to enhance focus and concentration on the body and isolated areas to improve technique, movement, and muscle aesthetics.
Occupy the Kids
If you have young kids, ensuring that they're well occupied in a space within view of the home gym can make all the difference. No more potential accidents, escapes, and extra bodies climbing on you while you're perfecting upward dog.
Personalize Your Gym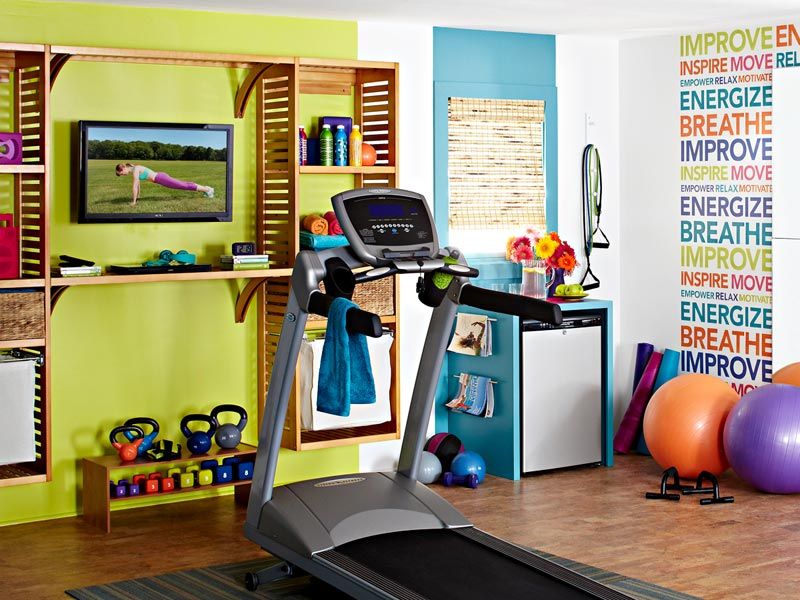 Via: Zillow Digs
You're not bound to the decor rules of a public gym. Use color, decor, and accent walls to personalize your space so that it's a place you'll enjoy being in. We love the words of inspiration painted as an accent wall for motivation, support, encouragement and for pleasing visual stimulation.
Get the Family Involved

Via: Zillow Digs
Dinner parties just took on a whole new meaning! With a large space like this, you can imitate a public gym and invite workout buddies to join in on the session. Obviously, it's going to be more encouraging to work out with others versus being alone. This home gym was made to be shared.
Don't Forget Ventilation
Patio doors and lots of windows allow for the room to be aired out every once in a while. Needless to say, you'll avoid the inevitable sweaty-sock and body odor smell.
The whole idea of an at-home gym is to make working out in the comfort of your own home a more convenient, enjoyable, and productive experience for you. Treat yourself to a sauna session or a relaxing soak in the tub afterwards. Remember: the best home gyms are the ones that are used often.
For more home gym ideas check out Modernize.com!
More Tips