5 Ways a Food Journal Will Make You Look Good Naked
1. You'll lose weight faster
Losing weight is mainly about how many calories you eat so if you ever get to a point where you're not losing weight or you're not satisfied with how fast you're losing weight…
Then you can look at your food journal…
See how many calories you're eating and then…
You can start to eat less (and/or workout better) to lose weight faster so if you didn't keep a food journal…
You wouldn't know where to start or exactly how much you need to eat to lose weight but to get an idea of where to start…
Use this weight loss calculator to get a fairly accurate estimate of how many calories you need to start off eating to lose weight.
2. More Muscle For Men
After you break down your muscles working out with or without weights you'll need protein to rebuild your muscles into much bigger & stronger muscles and by using a food journal…
You'll know for sure exactly how much protein along with how many carbs & fats you need to gain muscle &…
You'll see how many total calories you can eat to gain as much muscle mass as possible while gaining very little or no fat and from that point…
You'll keep making changes every 2-to-4 weeks in the amounts of calories, protein, carbs & fats you eat based on the results you're getting.
3. More Curves For Women
If you're skinny…
You'll need to use a food journal to figure out the maximum amount of calories you can eat to get curves as fast as possible

while gaining very little or no belly fat &…
You can figure the exact amount of protein, carbs and fats you need to build up your sexy curves (like a bigger butt & firmer breast) and from that point…
You'd make changes if necessary every 2-to-4 weeks using your food journal based on the results you get but…
If you're overweight…
You'll look at #1 above to lose weight to accentuate or bring out your curves hidden underneath all your fat plus…
You could use the food journal to add enough protein to enhance or maintain your curves as you lose weight.
4. The right amount of carbs, proteins & fats
When it comes to losing weight it does not matter what you eat nor does it matter how many carbs, proteins and fats you eat in your diet as long as you eat the right amount of calories to lose weight &…
The same goes for building muscle & getting curves except you need to make sure you get enough protein in your diet to get results but…
Depending on the amount of carbs, protein and fat in your diet…
You may see you have more energy to workout longer & harder or…
You may see you are less hungry (this is usually due to a higher protein diet) or for some odd reason…
You may just simply feel better or feel less sluggish but the point is…
A food journal can help you find the right ratio of carbs, proteins & fats That YOU need to be successful but generally…
To lose weight or build muscle a ratio of 40% carbs, 40% protein and 20% fats is a good place to start.
5. No belly bloat or false fat
When you keep a food journal you can find out what foods may cause you to get bloated plus…
You'll be able to find out how much water you need to drink to also prevent you from getting bloated or retaining water. Please Note: not drinking enough water causes you to retain water making you gain unnecessary belly bloat.
See how to get a flatter stomach in a week for more on dealing with false fat.
Keep a Reverse Food Journal for better results
Instead of writing down the foods you eat in your food journal as you eat them… In a reverse food journal you will write down all the foods you are going to eat for that day (or even the whole week) in advance because…
Using a reverse food journal will prevent you from cheating and keep you more prone to eating ONLY what you have already written down in your reverse food journal.
Use any 1 of these free food journals…
Don't forget to keep a workout log!
Keep a fat loss workout log to make changes in your workout to lose weight faster by working out harder, longer and/or more often.
Keep a muscle building workout log to gain muscle or curves faster by being able to beat your last workout by lifting heavier weights, doing more reps and/or sets.
Here's some free workout logs you can use…
Make sure you also look at…
NowLoss.com Created by Adrian Bryant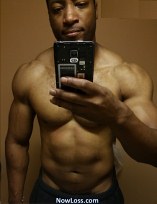 Adrian Bryant is a Body Transformation Specialist. Many People (like these here) have used NowLoss.com to Look Better Naked for free.
Even Models seek out Adrian's advice and Doctors use Adrian's unique techniques to help their patients lose weight fast and his new YouTube Channel already has over 35 Million views!
Contact Adrian Follow Adrian on FaceBook, Instagram & Twitter